Opening to the public on June 19th, 2020, is Ronewa Art Projects' first online exhibition—the beginning of a new era of online art. Swiss artist Tashi Brauen presents a new series of works born out of the COVID-19 pandemic lockdown.
Brauen repurposes pages of old collected copies of the Swiss art and culture DU magazine. Inspired by analog printing techniques, he experiments with pressing paint between these appropriated surfaces. Images of art, people and places, become obscured by splotches of colour. Read the full exhibition text here.
Brauen's relationship to materials is like a conversation, testing their physical character and feeling out how they respond. This study of materials and how surfaces respond to interventions is at the heart of Brauen's practice.
Studio photos by Tashi Brauen
---
April Dell: TELL ME ABOUT DU MAGAZINE. DO YOU HAVE A PERSONAL CONNECTION TO IT?

Tashi Brauen: It's a Swiss magazine that has existed since the early 1940s. It started as a culture magazine then more and more visual art was featured. My parents always had it around, issues from the '80s, '90s and 2000s. Later, I started to collect them too. I have huge stacks of the magazines full of beautiful images and nice articles. I always thought, one day I will use these somehow, for inspiration.
During the COVID lockdown in Zurich, I had access to my studio and a lot of time. I saw the magazines and thought, I've got some leftover paint, let's do something with these magazines. I also started collecting older issues from the '60s and '70s on Ebay. It is interesting to see what kind of content the had back then.
---
AD: YOU TYPICALLY WORK WITH TRADITIONAL ART MATERIALS—PAPER, CARDBOARD, PAINT—FOREGROUNDING THEIR PHYSICAL CHARACTERISTICS. WHEREAS, THESE WORKS EMPLOY FOUND OBJECTS.
IN THE CONTEXT OF YOUR WORK, DO YOU VIEW THE MAGAZINE'S MATERIAL FORM AS PAPER OR AN OBJECT?
TB: I see these works as paper works. I chose the magazine as a material because of its potential as a paper surface. But it is also a found object. Before I began with cardboard works I used found objects, like bookends that I painted and photographed.
The idea actually came out of having printed monotypes for the first time several weeks earlier. Working at the printing studio, I was interested by the process of simply pressing two surfaces together with paint in the middle, without a brush. I also liked the symmetry of it. Back at my studio I started experimenting with scraps of paper and old sketchbooks. This is when I saw the magazine and thought to use it as a surface. So, for sure, it started as a paper material.
---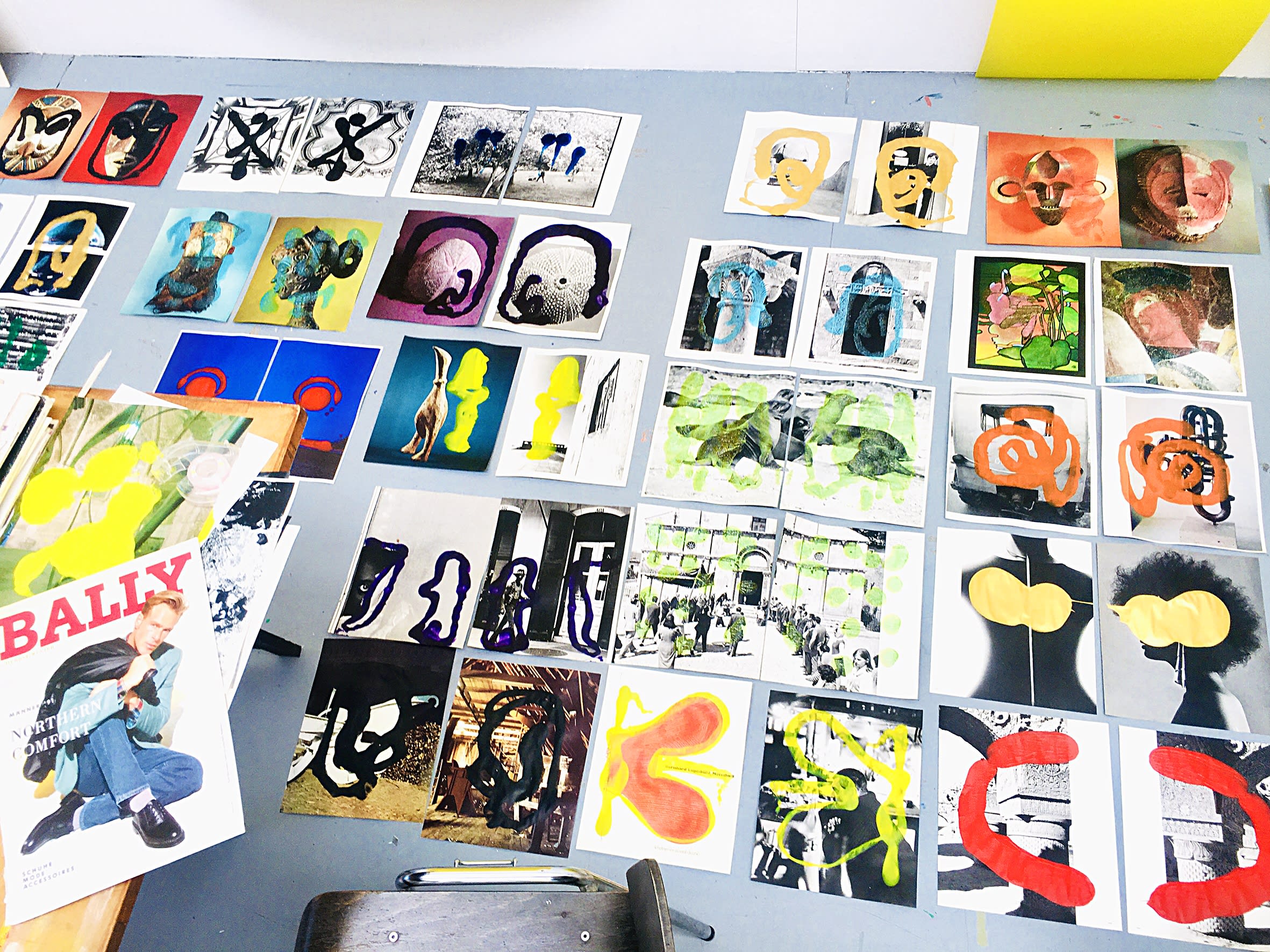 ---
AD: WERE YOU DRAWN TO CERTAIN IMAGES OR WAS IT RANDOM EXPERIMENTATION?
TB: In the beginning, I just took double pages, because of the initial folding technique. Then I was cutting out lots of pages and putting them together coincidentally. I applied the paint without anticipating the form. Over time, I introduced more consideration and control. Both control and coincidence create the final works.
---
AD: THERE IS AN OBSERVABLE ELEMENT OF CHANCE IN YOUR PRACTICE, IN THE WAY THE MATERIALS RESPOND TO INTERVENTION.
WHAT AMOUNT OF CONTROL DO YOU RELINQUISH IN YOUR ART MAKING?
TB: When I start using a new material, there is more chance involved. Once you really get to know a material and how it reacts then you end up trying to control the chance, because you don't want to keep naturally making the same marks and lines. But you can never control it completely, not on a centimeter scale.
With these works the chance factor was new again. When I was younger, we did this technique in school. It was like being young again and having fun. It was joyful to see what happens, like observing a small miracle. The more works I made, the more control there was, applying the paint in certain ways. But there's always quite a lot of chance involved.

At the end I selected from hundreds of these works. The act of selection brings another element of control back in.
---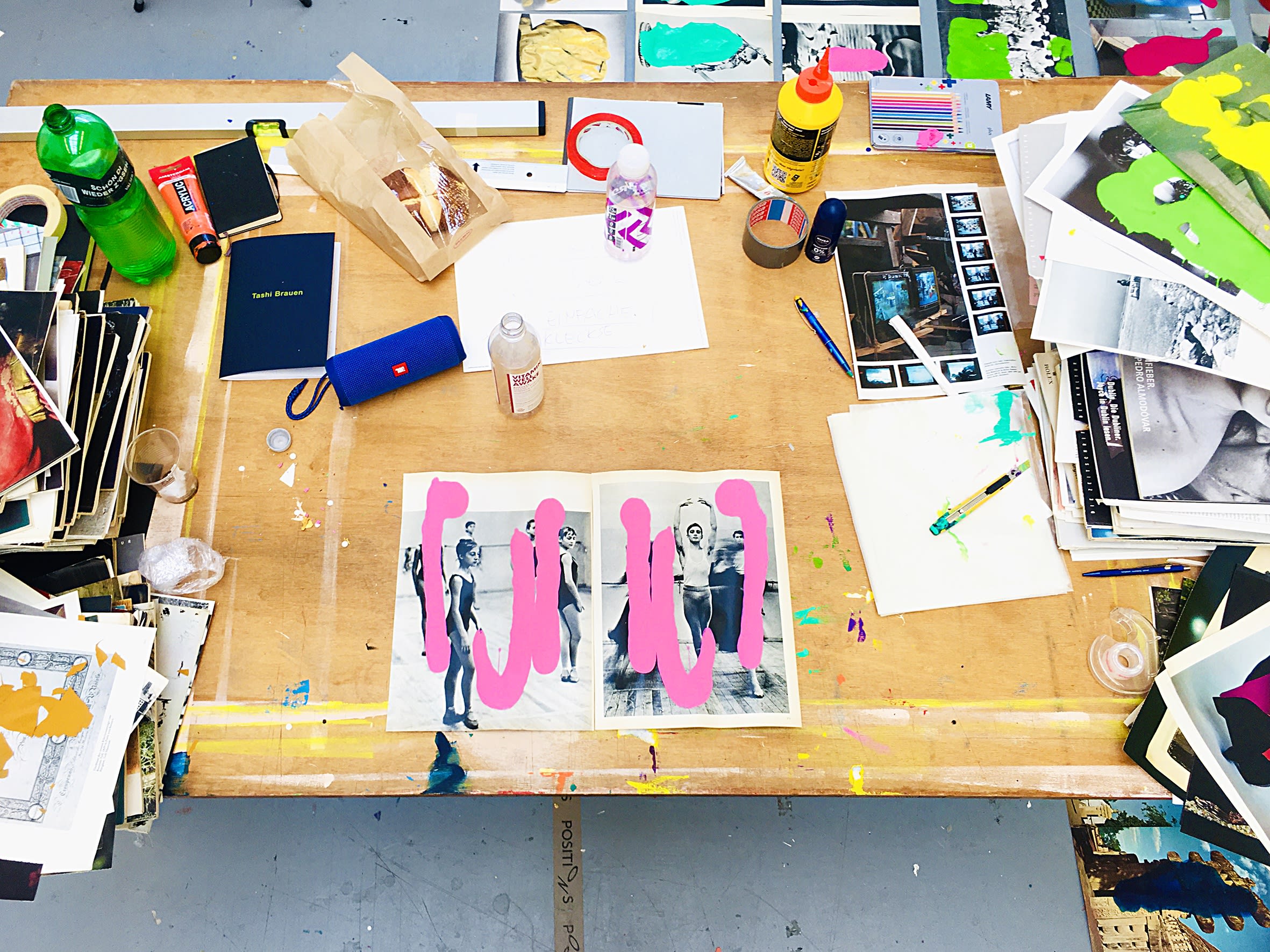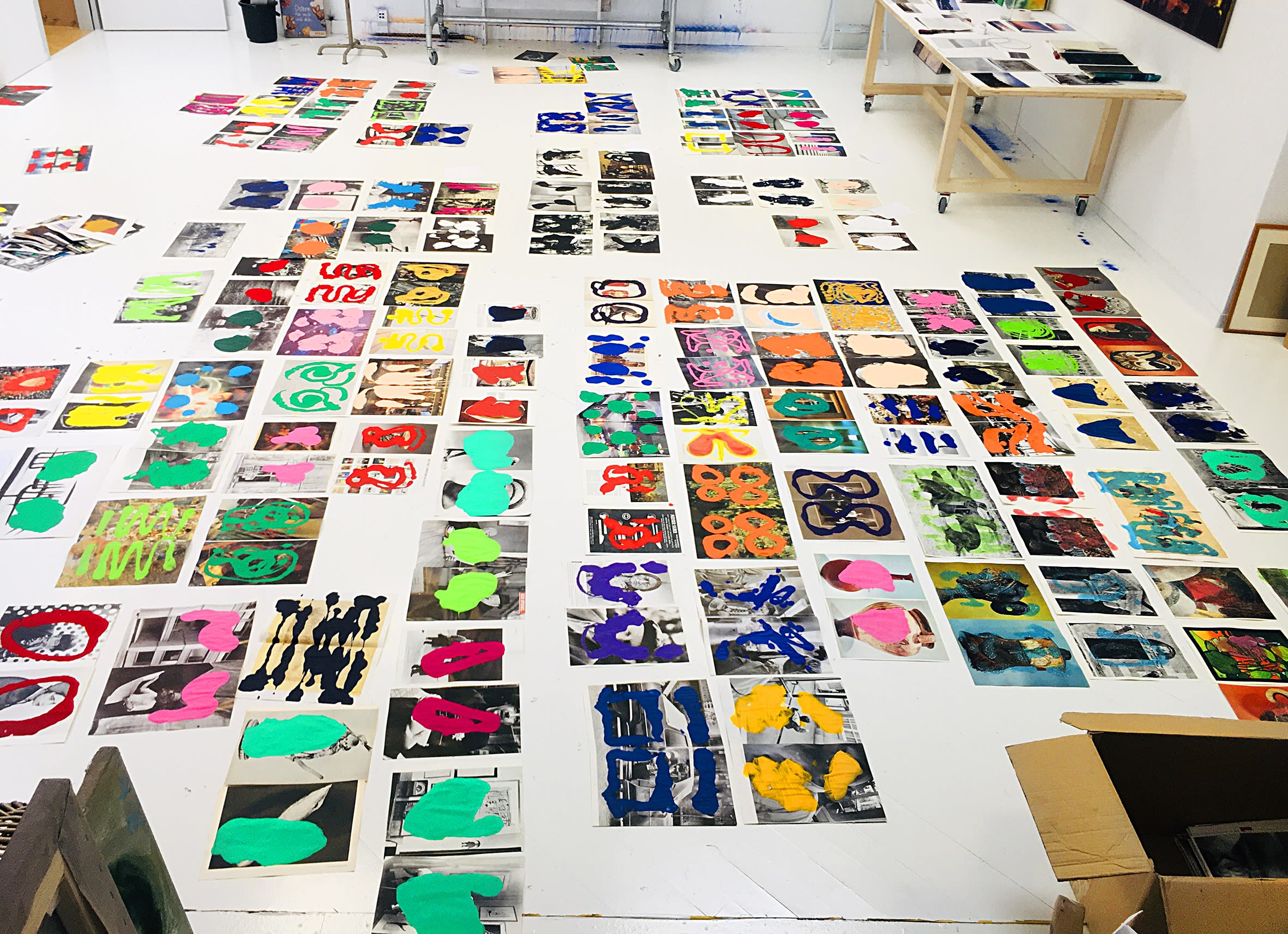 ---
AD: I FIND, OBSCURING THE IMAGE PERFORMS A NARRATIVE FUNCTION. A STORY IS CREATED FROM WHAT IS HIDDEN.
DOES NARRATIVE SHOW UP ELSEWHERE IN YOUR PRACTICE?

TB: Not so much. Thinking about my crack works, where I paint and then break the cardboard to form lines, perhaps these lines can introduce an element of narrative to an otherwise monochromatic painted surface.
When I look at the DU works now, I do see a narrative emerging—from the image but also the text that gets juxtaposed together from the different pages. The photograph, the text, and my paint together can create new meanings.
---
AD: YOUR UPCOMING EXHIBITION WITH RONEWA IS EXCLUSIVELY ONLINE. THE LAST FEW MONTHS HAVE SHOWN THE RESPONSIVENESS OF THE ART ONLINE WORLD REACTING TO THE COVID 19 PANDEMIC.
FROM AN ARTIST'S PERSPECTIVE, WHAT DO YOU THINK ABOUT THE ONLINE FORMAT?
TB: It opens up new possibilities. Two upcoming exhibitions of mine were cancelled or postponed during this time. As an artist you need an audience. I wouldn't say it's replacing real exhibitions, but it's an opportunity to have your works shown.
It also depends on the type of art, for example, installation is difficult to show with video. I'm happy to be showing these works online and thankful to Ronewa Art Projects to have this audience through the internet. But I hope it doesn't replace real exhibitions all together.


---
AD: DO YOU THINK THESE CHANGES WE HAVE SEEN IN THE ART MARKET—AN INFLUX OF ONLINE VIEWING ROOMS AND PRICE TRANSPARENCY IN ONLINE SALES—WILL CONTINUE AFTER THE EFFECTS OF COVID QUIETEN? OR MIGHT IT GO BACK TO BUSINESS AS USUAL?
TB: That's hard to say exactly. I personally like the price transparency, it attracts different people. The art world is often very closed. There is a fear surrounding asking for prices. At art fairs, even the big ones, it's not all blockbuster artists at high prices. It's good to let people see that.
Disclosing prices upfront can show new collectors that art can actually be affordable. It's helpful for collectors, and artists, to see where their entry point in the market might be. It's a positive thing and I hope it stays.
---
Ronewa Art Projects:
Friedrichstraße 171
10117 Berlin
Germany
Office hours:
Monday - Friday
11 am - 6 pm
By appointment only. Tel.+49 30 366 0878
Email: contact@ronewa.com Website: www.ronewa.com