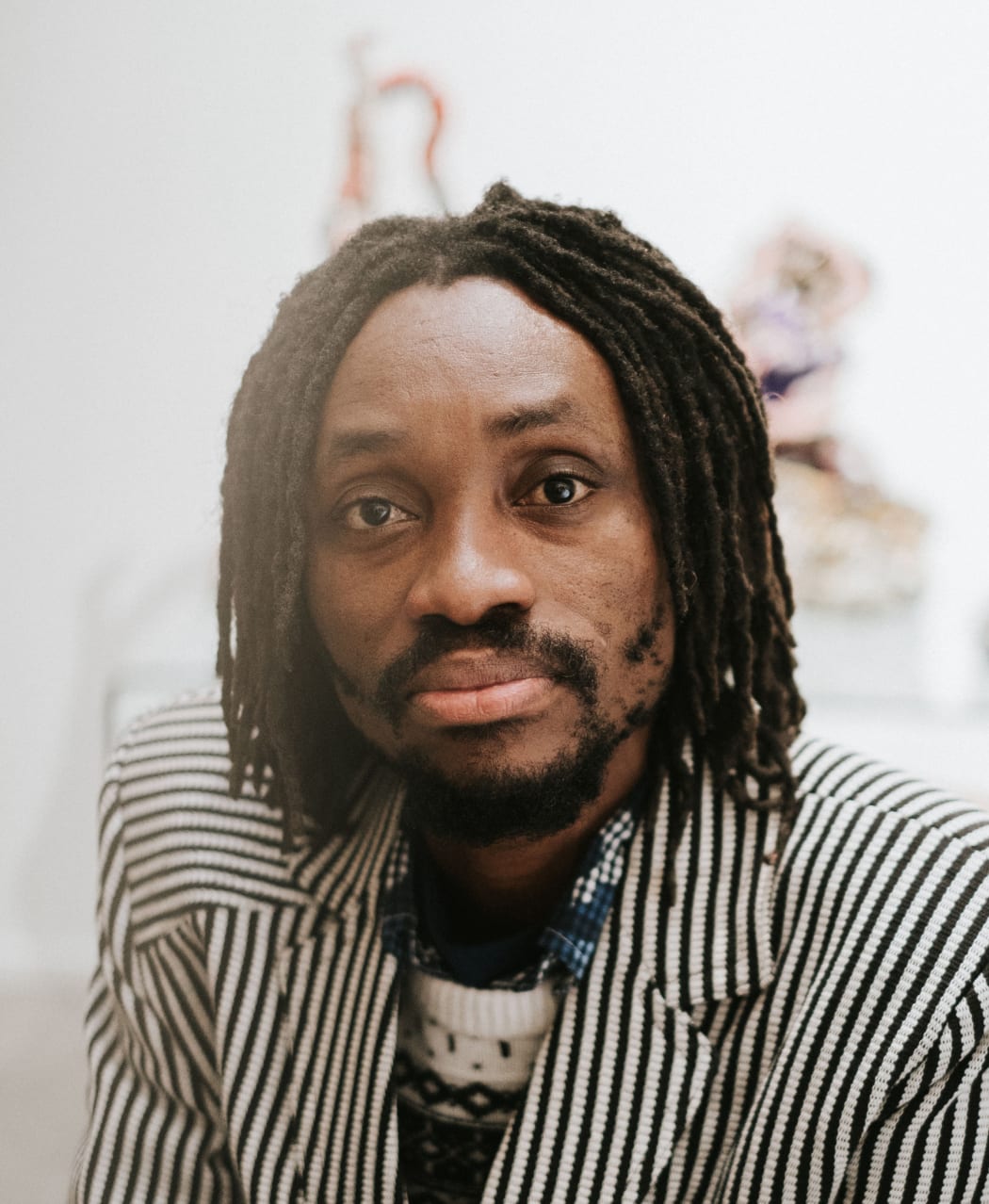 Hyacinthe Ouattara's textile sculptures currently on show at Ronewa Art Projects are intricate and colorful organic forms containing traces of memory and identity. We chatted to Ouattara about fabric as a reflection of humanity and his artistic quest to explore the emotion and spirit it can hold. The exhibition 'Reclaimed' runs from March 10 to April 19, 2023.
---
April Dell: You started working with textiles in 2010. What was the inspiration for using this medium?
Hyacinthe Ouattara: First of all, I came to painting through a passion that has animated me since my early childhood. I have experimented with different mediums over the years, undertaking workshops from live drawing to artistic initiations. In painting, I find a liberating and therapeutic aspect; an impulse is coming from within. I created my first work using fabrics in Burkina-Faso during an art event called FIAPO (Festival International des Arts Plastiques de Ouagadougou). Artists were challenged to create a work different from their usual practice. I presented my piece entitled 'France-Aurevoir,' which was composed of clothing sewn onto two large canvases. This work spoke to the fact that the African continent is not a dumping ground for the West. This piece was subsequently presented in a group show in Saarbrücken and Berlin, Germany, in 2011.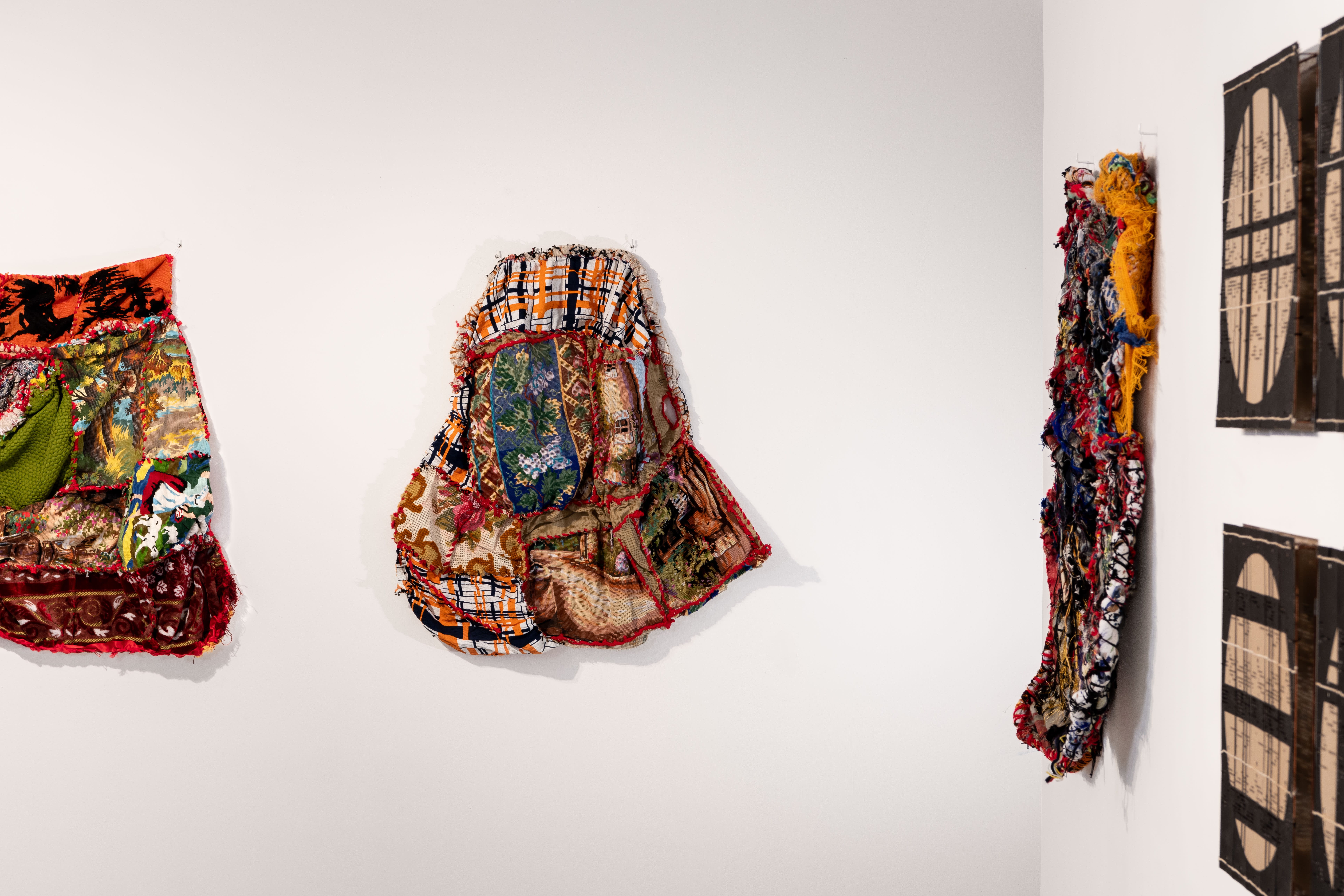 Hyacinthe Ouattara, installation view, Reclaimed, Ronewa Art Projects, Berlin, 2023. Photo by Jeremy Knowles.
AD: You've mentioned that textiles, particularly clothing, are a metaphor for humanity and collective identity. What do you mean by this?
HO: Fabric is a reflection of humanity. It has an emotional charge linked to life and to the traces of people. It is a place where the fragility of the human resurfaces constantly. As a place of memory, it is therefore necessarily ancestral, animist, and spiritual, and, in this way, it is living matter.
But there is also an ambivalence to fabric and clothing that interests me - it conceals us and represents us at the same time.
AD: Where do you source your textiles from?
HO: I get my fabrics from places like flea markets, garage sales, and textile markets. These places are open-air museums for me. I also often bring fabrics back from my travels as part of my artistic activity.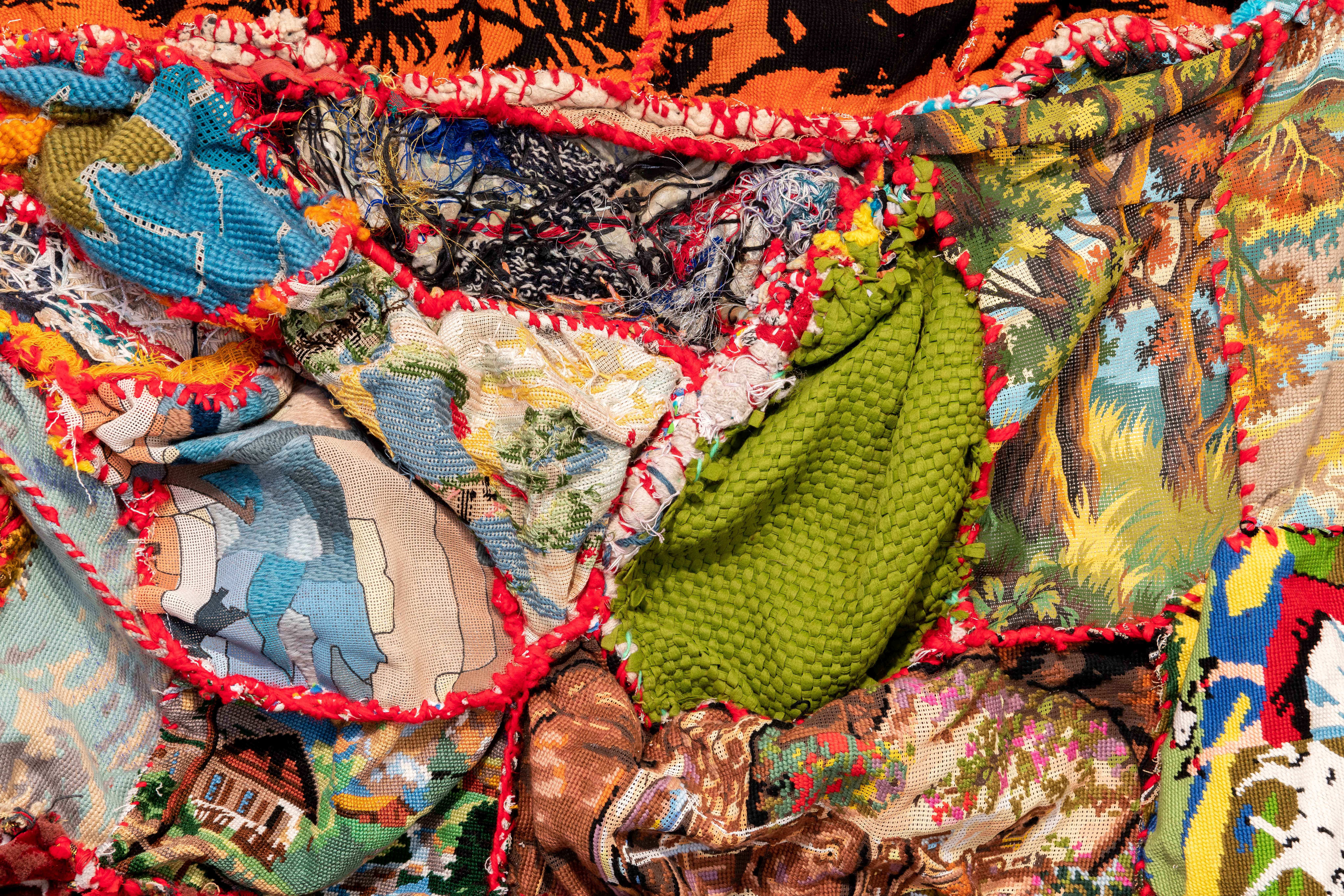 Hyacinthe Ouattara, Le Ballet (The Ballet), 2023, detail view, reclaimed woven and knotted fabrics and thread, 77 x 86 cm. Photo by Jeremy Knowles.
AD: The works exhibited in Reclaimed contain many types of textiles, including hand-stitched tapestry canvases (some of which are half-completed), clothing, wool, and even plastic mesh used for cleaning. What draws you to a specific item?
HO: I try to write my vocabulary and my artistic language through elements that already exist in the world. These elements are places of meetings and conversations, places of inner meditations and evocations. The visible emotional charge of a piece of fabric allows me to explore inside the human. Following this charge is a permanent quest for me. My work is a personal and intimate story while being connected to the world around me.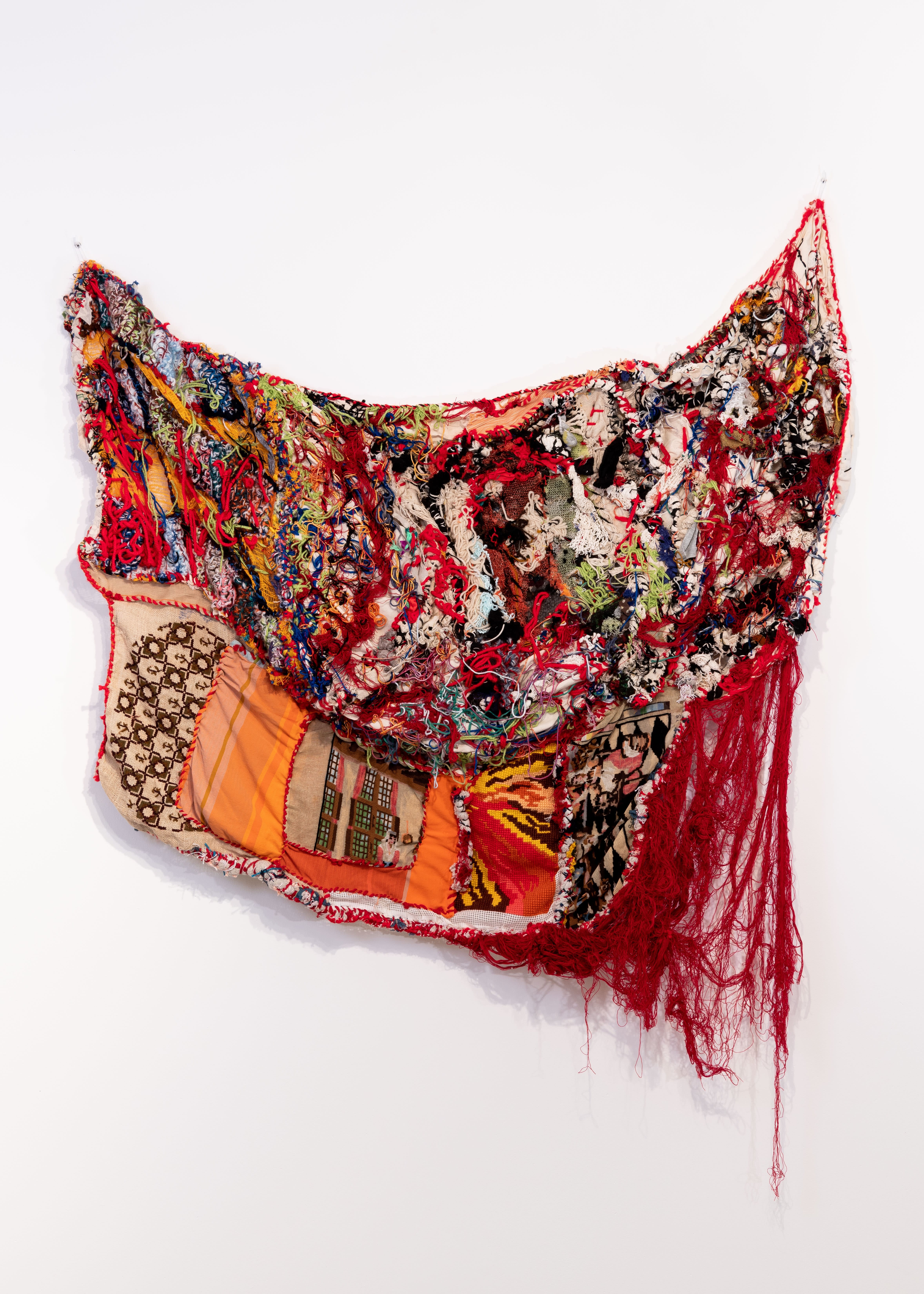 Hyacinthe Ouattara, L'Intime (Intimate), 2023, reclaimed woven and knotted fabrics and thread, 130 x 125 cm. Photo by Jeremy Knowles.
AD: How does the tradition of sewing and handcrafts play into your textile works?
HO: My artistic research is far from being artisanal. My textile practice is more like painting than sewing; it is spontaneous and gestural, with a lot of musicality.
Spontaneity and gesture have a very important place in my creative process. For example, the choice of colors is not determined in advance. Creation is an expression of oneself; it reflects the way we feel the vibrations of the outside world and everything that surrounds us.
AD: The textile fragments are bound together by thick, colorful thread, often creating chaotic webs or vein-like braided seams. Tell me about this organic element of your work.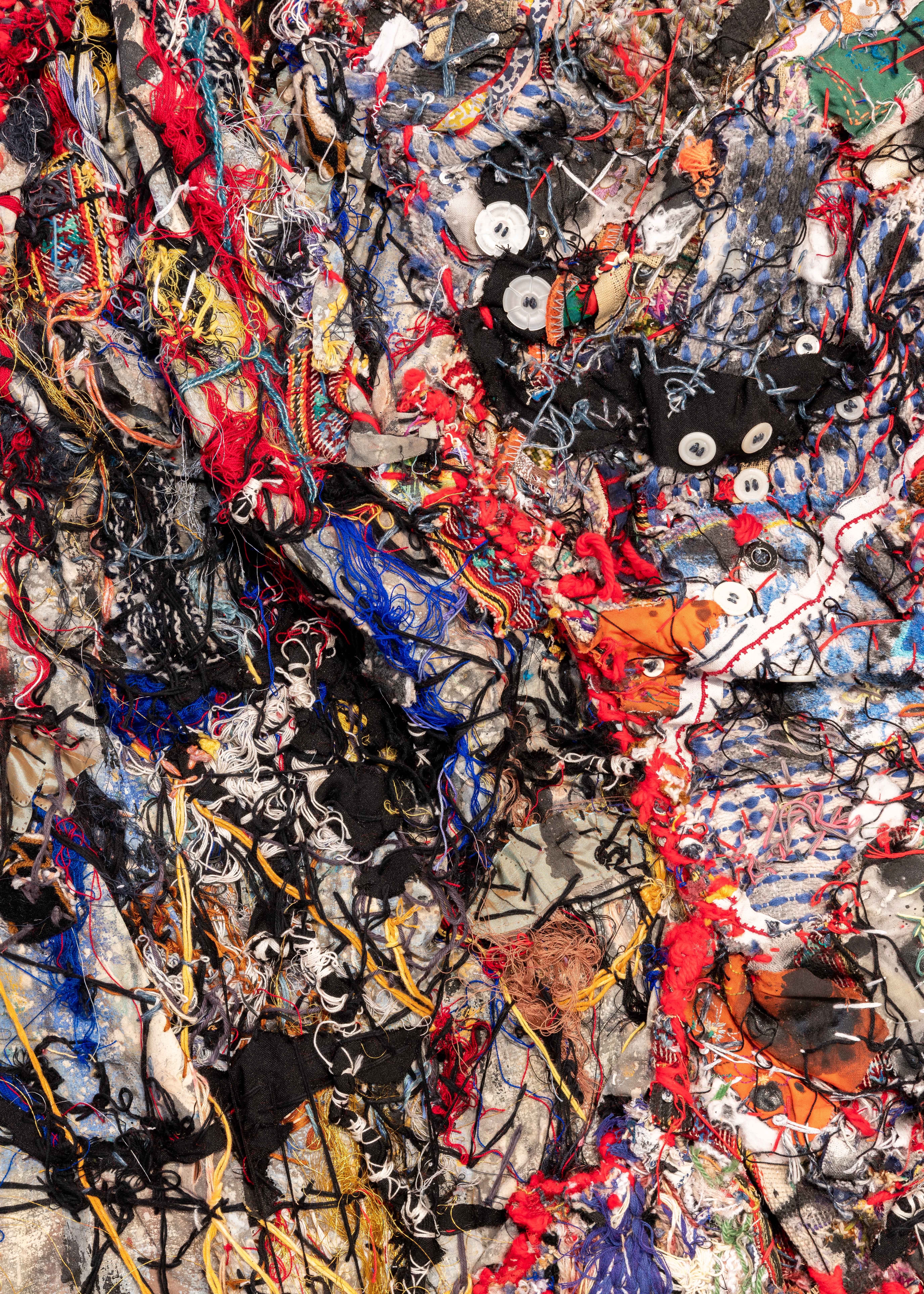 Hyacinthe Ouattara, Initiation, 2023, detail view, reclaimed woven and knotted fabrics and thread, 85 x 58 cm. Photo by Jeremy Knowles.
HO: This element is a kind of reinvention of my painting project Human Cartographies. For a long time, I represented human silhouettes in a dreamlike, ghostly, and sometimes childlike way. This figurative research gave birth to Human Cartographies: a sort of cellular anatomy of human tissue. My current textile work is similar to a spiritual and organic geometry of space: the inside and the outside, what the naked eye cannot perceive. It is organic abstraction, and it is within all of us. I call it the heartbeat of the Earth, because you have to be in the right place to hear it.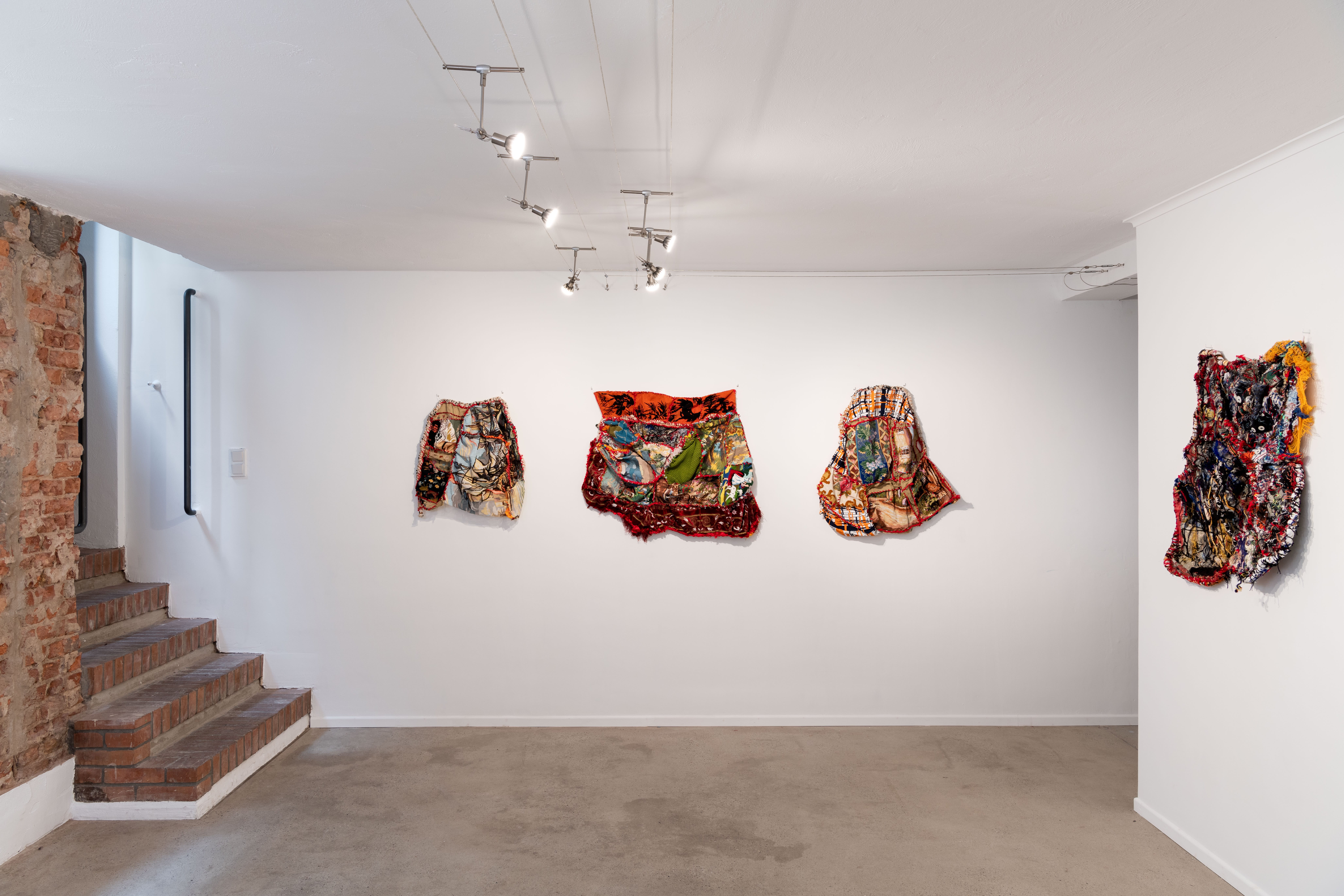 Hyacinthe Ouattara, installation view, Reclaimed, Ronewa Art Projects, Berlin, 2023. Photo by Jeremy Knowles.
---
Reclaimed: Hyacinthe Ouattara & Marinda Vandenheede
March 10 – April 19, 2023
Ronewa Art Projects
Potsdamer Straße 91, 10785 Berlin
Tel: ‭+49 30 77 37 87 30‬