We chatted to Swiss-Tibetan artist Tashi Brauen ahead of his exhibition Hold On To That Paper Again at SAC Gallery, Bangkok, and online exhibition in the Ronewa online viewing room, opening on April 8, 2021.
Brauen discusses the origins and different processes of the two series of works on show, which both employ unique mark-marking methods that balance intention and coincidence.

Images courtesy of Tashi Brauen, Ronewa Art Projects, SAC Gallery, and Peerawat Navicharern
---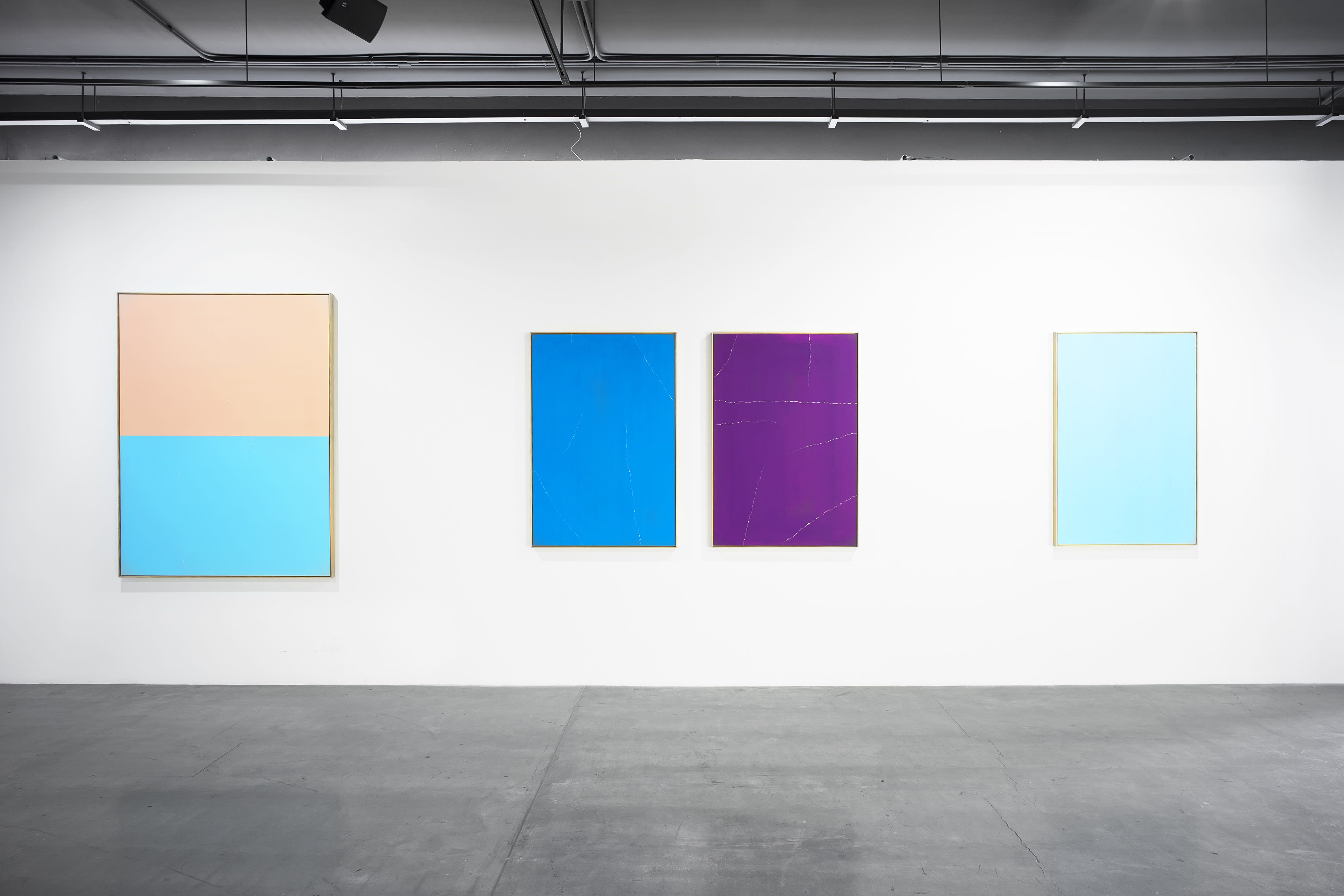 Tashi Brauen, Hold On to That Paper Again, 2021 (installation view, SAC Gallery, Bangkok), Photo curation: Peerawat Navicharern, Courtesy the artist, Ronewa Art Projects, Berlin, SAC Gallery, Bangkok
APRIL DELL: THERE IS A DISTINCT MATERIALITY TO YOUR PRACTICE WHERE THE PHYSICAL CHARACTERISTICS OF THE MATERIALS, PARTICULARLY PAPER, ARE FOREGROUNDED. WHAT IS IT THAT YOU LOVE ABOUT WORKING WITH PAPER?
Tashi Brauen: I started with photographing folded paper objects. As an everyday material that we have used since childhood, it was easy and natural to work with. I like the stability, on the one hand. I can make a small sculpture and place it on the ground. On the other hand, I can make a new fold and change it very fast.
I like that it's a material you work with directly. I used to make photographs and installations with heavy materials like iron and wood or objects like chairs. But the form was already given or I needed a tool to shape them. The Du works also use found objects, but I see them as paper works. I chose the magazine as a material because of its potential as a paper surface.
AD: TELL ME ABOUT DU MAGAZINE AND HOW THIS SERIES BEGAN?
TB: It's a Swiss art and culture magazine that has existed since the early 1940s. My parents always had it around and I would enjoy looking at the images, so it's a culture I grew up with. Later, I started to collect them too. I have huge stacks of them in my studio and I always thought I would use them for inspiration one day. During the COVID lockdown in Zurich, when I couldn't buy new materials, I saw the magazines and decided it was the right time to do something with them.
A month earlier, I made monoprints for the first time. I liked the simple process of pressing two surfaces together to create an image. When the printing studio was closed, a friend told me, anything can be a print - you can even put something on the floor and stand on it. I began experimenting with pressing paint straight from the tube between scraps of paper in my studio. So the Du series is printmaking but in a very primitive way. Each one is a unique print. I have made over 150 pieces altogether for this series, using magazines from the 1970s to the 2000s. I like the process of creating something new by combining different pages and seeing how the paint and the background images respond to each other.
Tashi Brauen, Bernhard Im Nichts (Bernhard in the Void), 2020, mixed media on paper, 32 x 42 cm, 12 5/8 x 16 1/2 in. Signed and dated.
AD: YOU HAVE BEEN MAKING YOUR CRACK SERIES FOR A WHILE NOW. WHAT KIND OF EXPERIMENTATION LED YOU TO THIS PROCESS OF CRACKING AND TEARING?
TB: I was doing photography for a long time, but I also like to paint, so I started painting cardboard as a colored background for my paper sculpture photographs. One day, I moved studios and had wrapped up one of these backgrounds with tape to throw away. It sprung open and I saw the lines made in the surface from the folds and thought, that's pretty interesting. So I took a few of these backgrounds to my new studio, thinking it could be a new direction.
AD: SOME OF YOUR SURFACES HAVE MANY CRACKS AND ARE QUITE DISTRESSED, WHERE OTHERS HAVE FINE CREASES AND ALMOST INDISCERNIBLE CRACKS. HOW DO YOU DECIDE WHEN A WORK IS COMPLETE?
TB: It was 2015 or 2016 when I had this moment of discovery with the folded cardboard. For a while, it was all about experimentation as I was always working on something else in between. I made some pieces with many cracks and sometimes with only a few. I would often leave them for a few days and come back and do more. A piece is never truly complete. They can come back from an exhibition and have more cracks than when I started. I might unframe them and they can still go on.
Tashi Brauen, Cracks 16, 2021, acrylic paint on cardboard in wooden shadow gap frame, 160 x 120 cm, 63 x 47 1/4 in. Signed and dated.
AD: CAN YOU NOW PREDICT HOW THE CARDBOARD IS GOING TO BEHAVE?
TB: I use a cutter to make a little starting point for the cracks, but I can't control them exactly. There are still a lot of possibilities, such as where to start a crack. I'm used to the process and the lines it makes now, and I can play with the form more. I'm also interested in the small reactions inside the paper, where the cracks don't quite break through - it's somewhere between a line and no line.
With the Du works, the chance factor was new again. Then the more works I made, the more control there was, applying the paint in certain ways. I'm interested in showing how the paint and the color react to the photograph in the background. But there's always an element of chance involved.
AD: IS THERE SUCH A THING AS A FAILED EXPERIMENT?
TB: My new ideas always come out of experimentation. I'll be working on one thing and something new will start from the process. For this SAC and Ronewa collaboration in Bangkok, the concept from the beginning was to create nineteen works without a selection process. So really, there is no such thing as a mistake; every crack I made is on show. I really enjoyed working this way. It almost creates more freedom.
AD: THE COMBINATION OF COINCIDENCE AND DELIBERATE INTERVENTION IS A LINE THAT RUNS THROUGH YOUR PRACTICE. WHAT OTHER CORRELATIONS DO YOU SEE BETWEEN THE CRACK SERIES AND THE DU SERIES?
TB: I also initially wondered how they would match. The way I create lines and forms in these two series is almost opposite to another series I started during the lockdown where I took works meant for an exhibition that got cancelled and made collages from them. The collages got rid of the rectangle format, which I liked. With the crack and the Du works, though, you have a rectangle and something organic is happening within it. What happens inside the frame becomes free and amorphous somehow, like nature - and I see plants in the cracks sometimes. I will go back to the collages, but there, the decisions are more constructed.
AD: BOTH OF THESE SERIES EMPLOY BRIGHT COLORS. TELL ME ABOUT YOUR RELATIONSHIP WITH COLOR?
TB: I love color and I enjoy working in monochrome - having one color that shines really bright. I know painters for whom mixing paints to create new hues is intrinsic to their practice - it comes from the inside. This, I don't have. I could even use paint from a hardware store. For most of the Du series, I used colors I found in my studio.
In earlier series, I always worked with the same colors - red, Naples orange, blue - and I know which ones fit together. For the new crack works, I wanted to paint with colors I wouldn't normally use, and I found it really joyful. Curating them together gets more complicated. I saw so many possibilities for hanging them in the SAC exhibition space. I've never shown so many colors in one room. Maybe it will be an overdose of color!
AD: YOUR CRACK WORKS, AND EVEN THE DU SERIES IN A WAY, CAN BE DESCRIBED AS DRAWING WITH DESTRUCTION. IT MAKES ME THINK OF THE CONCEPT OF VALUE AND THE PRECIOUSNESS OF ART OBJECTS. HOW DO THESE QUESTIONS COME UP IN YOUR PRACTICE?
TB: When I was doing photography with high pigmented prints, I really had to take care that there was no dust. Now, the way I work has totally changed. I have more space, the cardboard is on the floor, sometimes I step on it. It's messier and I like that. It's great for experimentation and seeing something new. When a piece is finished, sure, it gets given a value. But that comes from the quality of the work and the concept, not from the treatment.
When making the Du works, I would sometimes worry that maybe it's not even possible to show these appropriated magazine images of iconic artworks, like Robert Frank. Initially, I used a lot of paint to try and cover them. The prestige associated with these artworks and artists plays into concepts of value too.
Then there's the value of the materials themselves - as familiar, everyday materials - which you're showing in a new way. From afar, the crack works could be minimalist monochrome paintings. Then up close, you see it's actually cardboard. These minimalist artists would leave the edges of their canvases unpainted. Being able to see the materials was important to them. This influenced me too.
AD: I WAS THINKING ABOUT THE NOTION OF "SUBLIME" ABSTRACTION IN MINIMALIST COLOR FIELD PAINTING AND HOW YOUR CRACK SERIES COULD BE A DISRUPTION OF THAT.
TB: Once, a collector asked if these works have been industrially painted and then I break the surface as an artistic statement. For me, though, the painting is an important part of my process. The strokes of my roller are visible and they work together with the cracks to create the image. Sometimes I see shapes and forms and in the painted surface, which I like.
AD: HOW DO YOU FIND YOUR WORK IS RECEIVED IN DIFFERENT PARTS OF THE WORLD - PERHAPS IN RELATION TO LOCAL ART HISTORICAL CONTEXTS OR TRENDS IN COLLECTING?

TB: I'm interested in seeing how viewers react to the Du works. Here in Switzerland, people grew up with these magazines and are familiar with the artworks inside. They contain connotations of time and place. The Rorschach inkblot test that the Du works resemble also came from here and it's something you get to know growing up. Other audiences might not have this context. The perception of value also comes into it. Sometimes when I go to a framer, they say, "Oh, it's broken!"
At my first art fair with Ronewa Art Projects, I enjoyed talking to visitors and hearing what they interpreted. Cultural perceptions certainly play into this. These conversations give a lot of energy to my practice. I'm excited to see the response in Bangkok. SAC gallery is very open to different perspectives.
AD: THERE IS A PHYSICAL EXHIBITION IN BANGKOK AND ALSO AN ONLINE VIEWING ROOM PRESENTATION. IS THIS THE FUTURE OF EXHIBITIONS POST-COVID?
TB: Yes, the online collaboration will continue for sure, and it will develop with new technology. Galleries and institutions have to work with a digital back up and need to have an online presence anyway. Now, or looking ahead, if someone can't go to a show, they will likely have the possibility to see a virtual tour. It's definitely happening from a marketing perspective. It's going to become more important for institutions to have an online program around an exhibition.
---
Tashi Brauen: Hold On To That Paper Again is brought to viewers by Ronewa Art Projects and SAC Gallery, with special thanks to the Embassy of Switzerland in Thailand.

---
Author
April Dell
Editorial & Communications Manager at Ronewa Art Projects
Berlin, Germany
Ronewa Art Projects
Email: contact@ronewa.com Website: www.ronewa.com