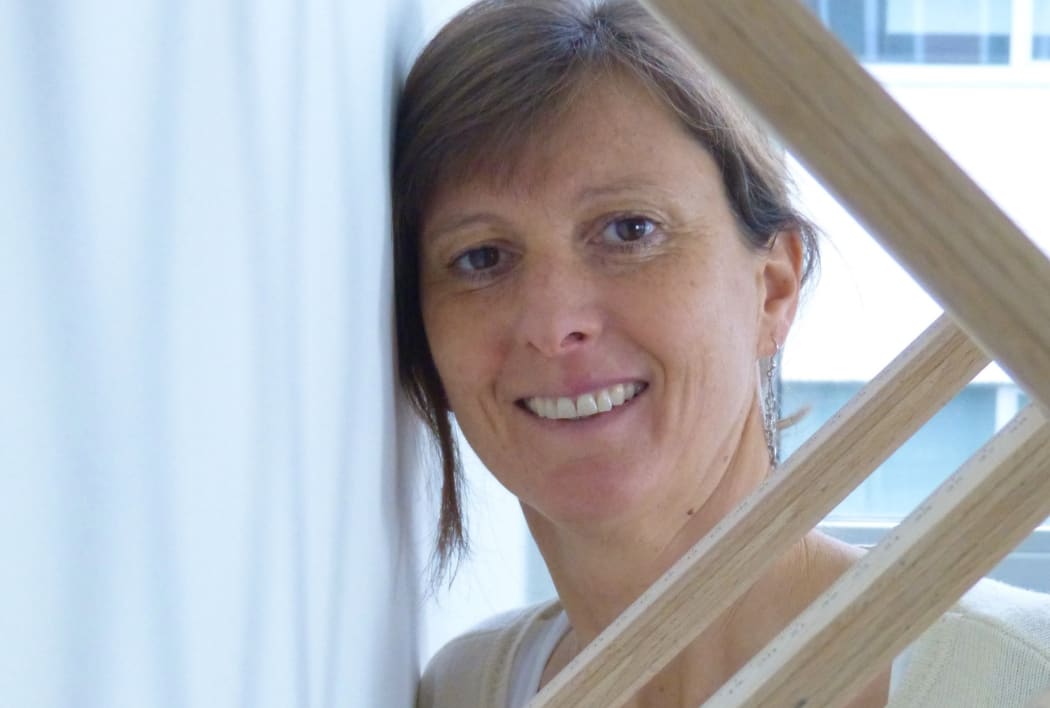 Marinda Vandenheede repurposes found objects marked by use and time to create quietly enchanting sculptural objects and paper works that spark curiosity and wonder. Visit her exhibition 'Re:Generations' in the Ronewa online viewing room.
Vandenheede juxtaposes unique signs of a past life and the natural degradation of materials with geometric forms and surprising compositions. Her playful works nod to the inherent dualities found within humanity and nature, and invite viewers to see the beauty in decay.
We talked to Vandenheede about her relationship to her chosen materials and objects, the conceptual balance she strikes in her compositions, and the moment of stillness she offers her viewers.
Photographs by David Samyn.
---
April Dell: YOUR PRACTICE EMPLOYS FOUND ITEMS THAT ARE USED AND WORN. WHAT DRAWS YOU TO A SPECIFIC OBJECT?
Marinda Vandenheede: I feel that the object selects me, not the other way around. It's hard to pinpoint precisely why an object will resonate with me, but there are some common characteristics. They are always things that contain visible layers of time. They have had a past life and you can see it. I very rarely use plastic items, because of their chemical nature, but also because plastic doesn't decay in a beautiful way. With wood or metal, the corrosion adds something.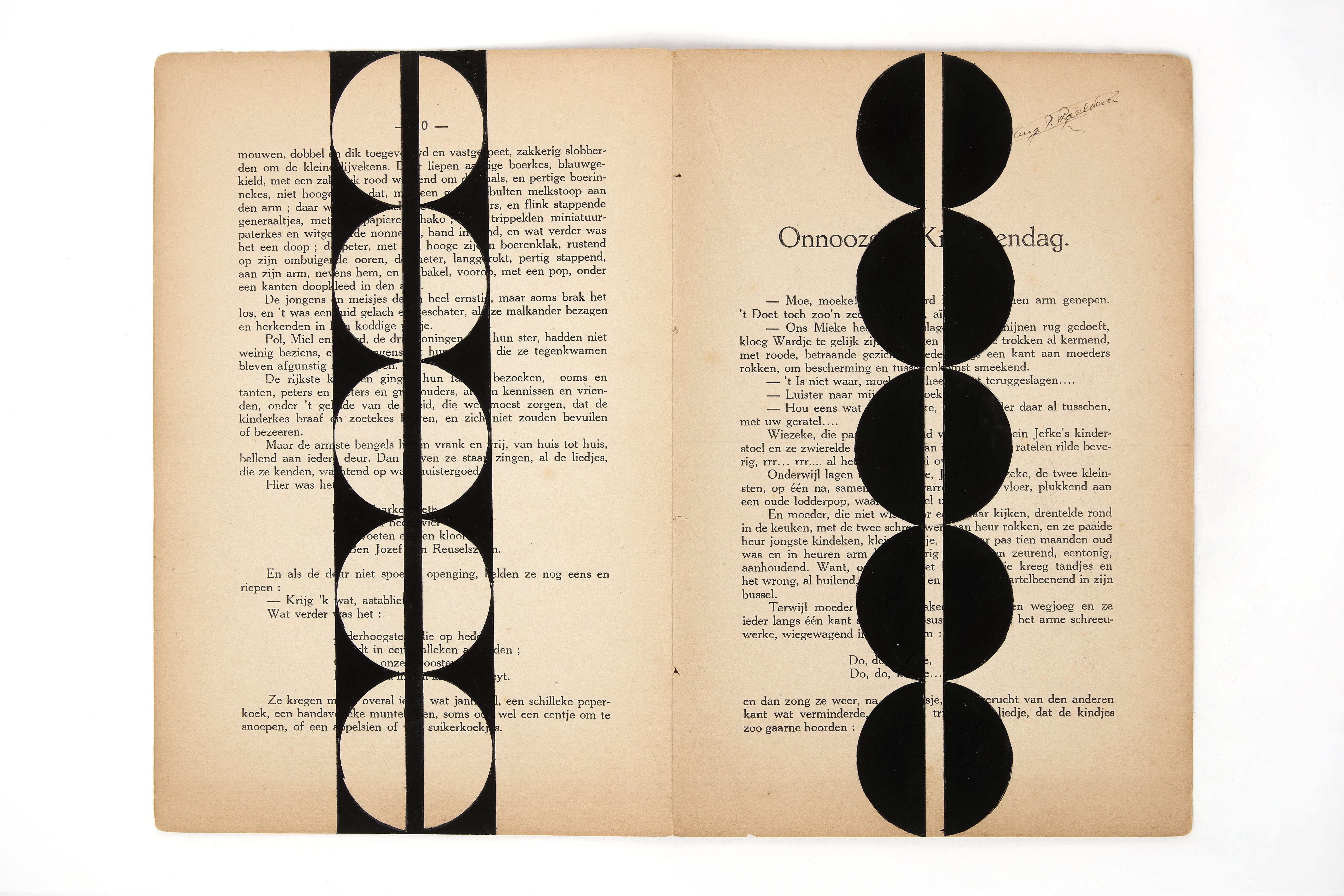 Pars Pro Toto - Inhale III, 2021, ink on book pages from 1929, 26.7 x 36 cm.
Sometimes there is something hidden, for instance, an old framed picture. I'm curious to see what is behind the image. In many cases, the cardboard behind the picture is more interesting than the picture itself. This discovery is what attracts me. I start to wonder who the previous owner was, what their passions were, and why they threw or gave this item away. It's not always clear what the object is, for example, an old kitchen utensil. We don't know anymore because we have different ways of doing things now. It triggers the imagination.
The fact that these objects are no longer perfect, and in many cases that they no longer meet the exacting standards of western society, draws me to them. I want to give them a new purpose, a new life as a work of art.
AD: HOW DO YOU COME ACROSS YOUR FOUND OBJECTS? ARE YOU ALWAYS COLLECTING THINGS?
MV: One of my earliest memories is my father giving me some toys he had as a child. They are typical 1950s wind-up toys made of tin. He took great care of these toys, and he taught me to respect them and not break them. For me, they became objects of beauty rather than playthings. Maybe this is where it started. As a teenager, I had an enormous collection of paper items - every birthday card I ever received, interesting pieces of paper I kept - and I made collages with them. When my husband and I first married, we upcycled furniture that we found in the attic or bought from flea markets. This all plays a part in how and why I collect things now.
Every week, I visit recycling stores selling unwanted goods, but I don't go searching for a specific object. I look at books, framed pictures, wooden objects of all kinds, and select what grabs my attention.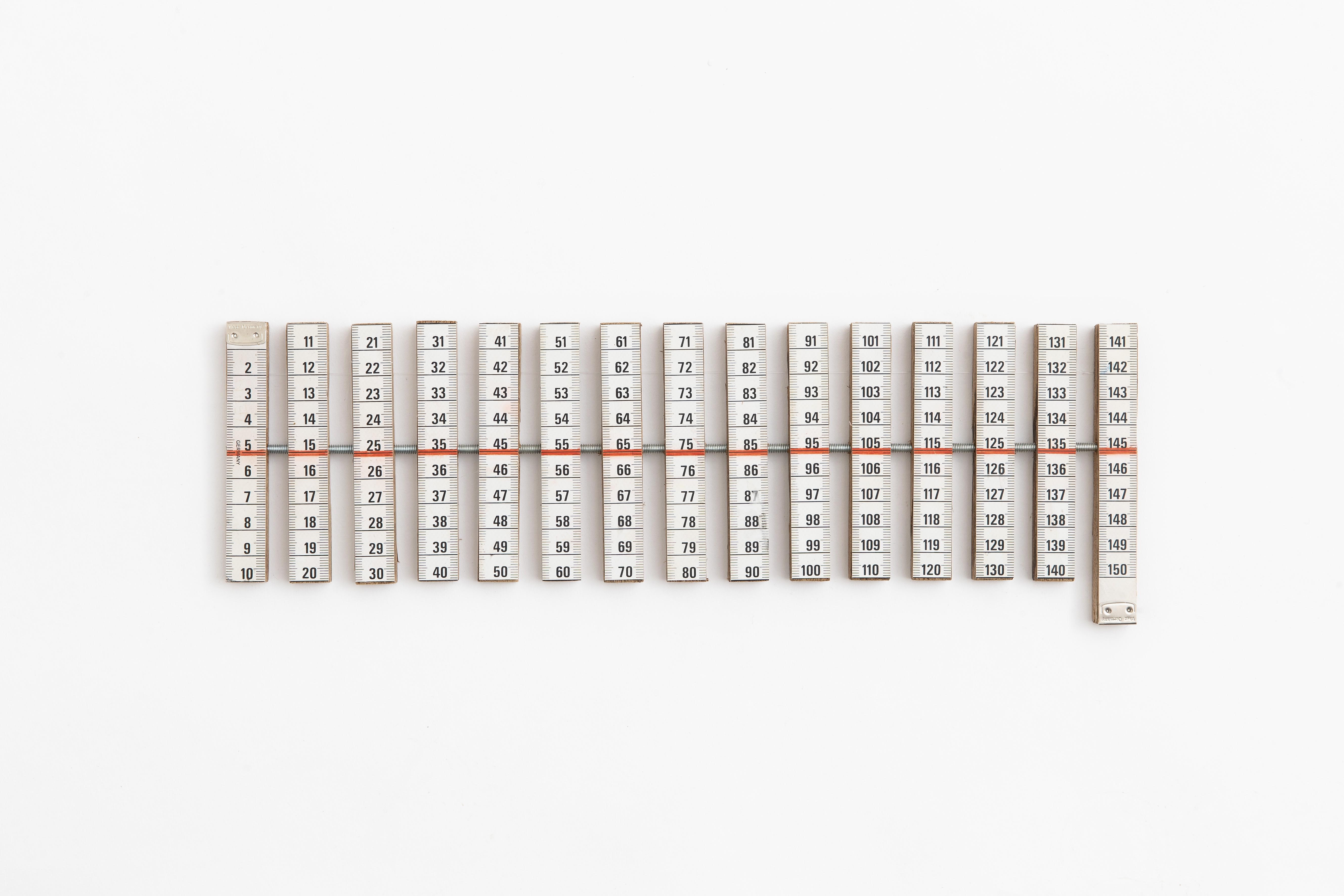 Transformation, 2020, tape measure on 15 wooden blocks, supported on a steel rod, 12.5 x 36 x 1 cm.
AD: THERE IS A CLEAR CONTRAST BETWEEN YOUR FOUND OBJECTS AND THE GEOMETRIC FORMS AND ARRANGEMENTS YOU INTRODUCE TO THEM. WHAT DO YOU LIKE ABOUT THIS CONTRAST?
MV: This contrast reflects my personality and experiences in life. I am a playful person, but I studied graphic design where I was taught about conventions and compositions, which was a lot more strict. I was also born left-handed and in Belgian schools at the time we were forced to write with the right hand. So I write right-handed, but I still paint with my left. You could call it a balance between nature and nurture, and I try to find a balance between them. In the objects I create, I often combine wood and metal, natural and manmade.
You could also refer to yin and yang: yin being the more lyrical and soft aspect, whereas yang is the strong and linear part. The two elements strengthen each other. In my work, I do not choose between the two. I contrast the playful aspect of objects that have been used and weathered by nature with the structure of rigid forms and monochrome black shapes and lines. The playfulness is made stronger by the contrast.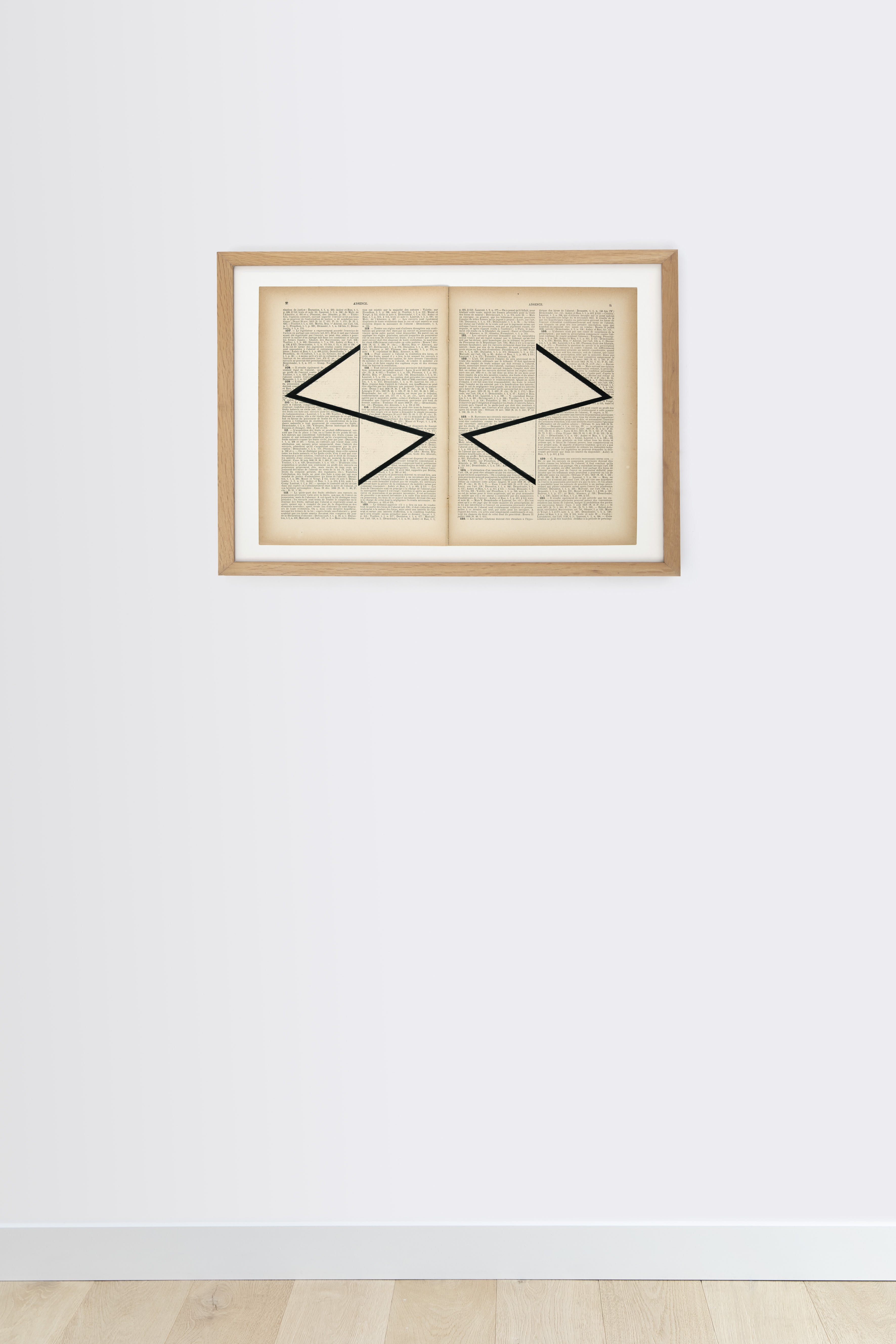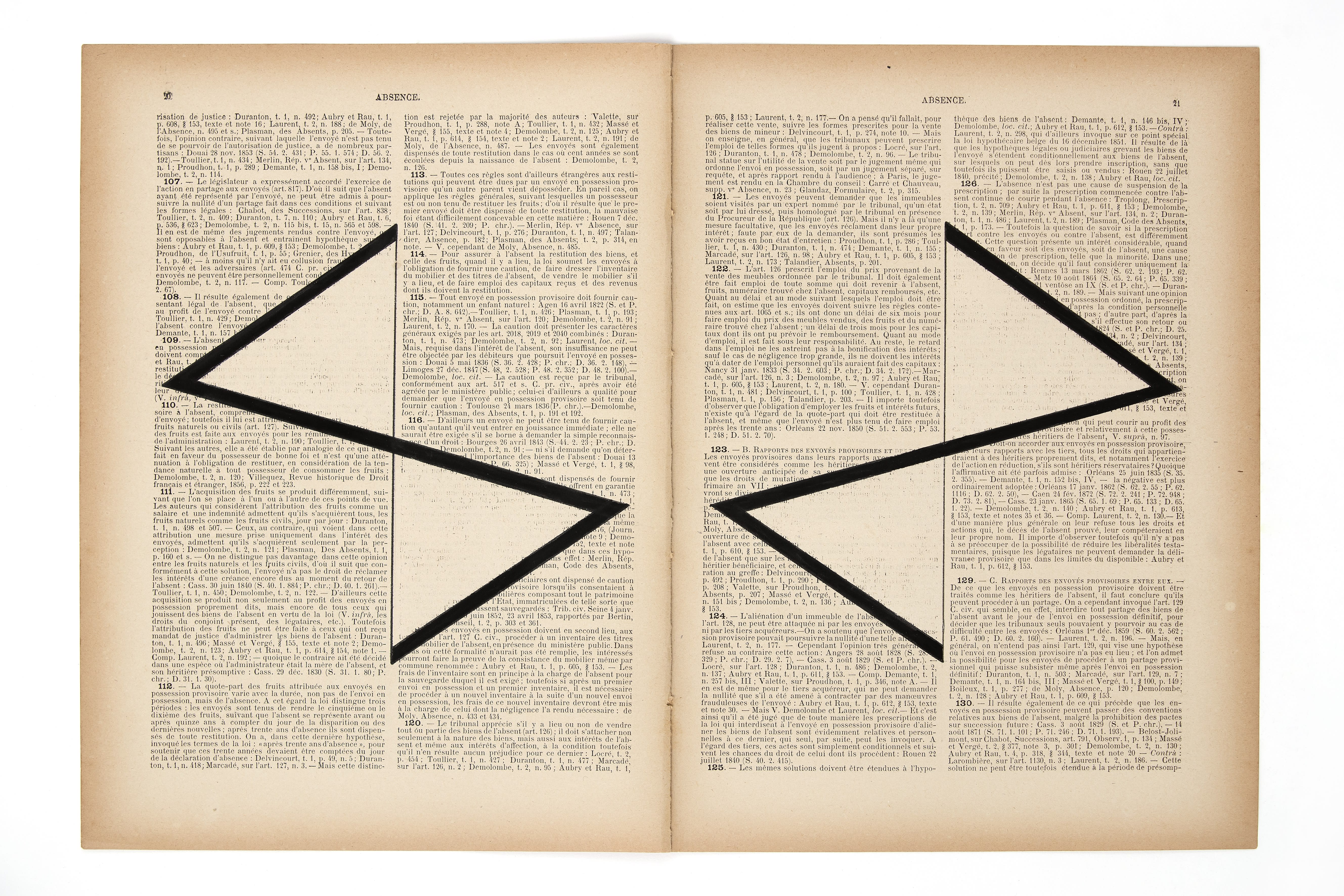 Pars Pro Toto - Absence III, 2021, ink on book pages from 1889, 29.7 x 43 cm.
AD: WHAT IS YOUR PROCESS FOR PUTTING TOGETHER THE DIFFERENT ELEMENTS OF A WORK?
MV: When I bring objects home, I lay them out in my studio to be inspired. Some will stay out for months or years until the arrival of something else triggers an idea. Often, I disassemble an item and discover something new, such as staples in the back of a frame or a beautiful stain on the back of a passepartout. Through this careful process I form a bond with the object and start to reflect on it.
Another essential step in my process is walking in nature. I walk every day to cope with a health condition and this gives me time to be alone, to think and be inspired. Only after the walk am I ready to start working. When I form an idea, I begin assembling pieces and finding balanced compositions. I also subtract things by drilling holes or scratching text away from a book page. It's intuitive, but not without deliberation. I work until it becomes harmonious and synergetic.
AD: YOU OFTEN USE PAGES OF OLD BOOKS FOR YOUR PAPER WORKS. WHAT IS THE SIGNIFICANCE OF THE PAGES YOU SELECT?
MV: Before I select the page, I select the book itself, which is maybe more important. I look at it as an object more than a book with contents. The cover needs to be interesting, which doesn't mean beautiful but weathered and scratched or written upon. Because I'm a graphic designer by training, I look at the font, the layout, the white spaces on the pages. I look at the color of the paper; often the pages are darker at the edges from exposure to oxygen over time. Most importantly, it will be a book that has clearly been used. These signs of use can be precious. There might be a dedication written in the front, or the owner's name and address, or underlined words and scribblings in the margins.
Most of the paper works in the upcoming exhibition with Ronewa come from a book with a deeply personal and unfortunate past. It was owned by my sister, who died suddenly in 2013. She had kept it on her side table as an old and beautiful object. Only last year did I find the courage to look inside, take it apart and use the paper. Coincidentally the book is about justice; I always felt my sister's death to be unfair. It's the first volume of an encyclopedic series of legal terms. 'Absence' is one of the terms and is the title of some of the works. Losing my sister was one of the triggers for me to start making art. I realized we have to live in the now. Tomorrow is not promised and we cannot change the past.
AD: WOOD IS ANOTHER COMMON MATERIAL YOU USE, AS FOUND OBJECTS AND RECLAIMED WOOD SURFACES FOR PAINTING. WHAT DO YOU LIKE ABOUT THIS MATERIAL?
MV: There is a clear connection between trees, wood, and paper, especially in old books. Burning is the worst way to use wood, so when I find some, I salvage it and give it a new life. Compared to steel or iron, it's easy to work with manually, to saw or drill into. I also like that it's a warm material; it doesn't feel cold to the touch.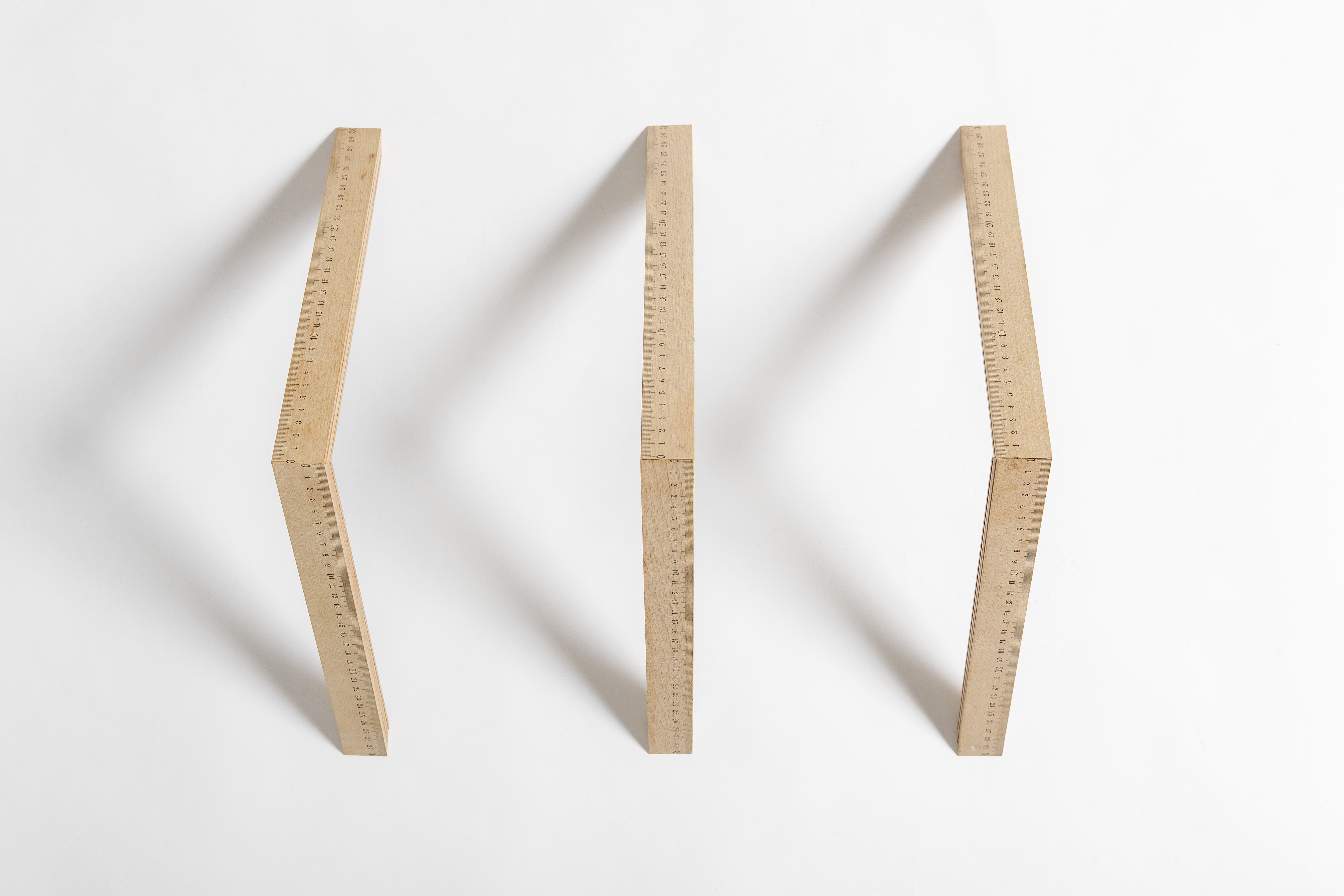 Stuck, 2021, 30 reclaimed rulers arranged in three triangles, 42.5 x 41 x 21.5 cm.
AD: ENCOURAGING STILLNESS AND CONTEMPLATION IS ONE OF YOUR AIMS. IN WHAT WAYS DOES YOUR PRACTICE DO THIS?
MV: My work is not large-scale, provocative, or explicit. It is not intended for everybody and I am not trying to convince at all costs. You might see it in a gallery and think that's nice and move on. My work is there for whoever is ready for discovery. If you take the time to look, new layers emerge from the small details and nuances. People tell me they are rewarded by this little universe that opens up and encourages them to stand still. The best compliment I ever received was from an art dealer who said when I look at your works, I feel as if I'm a tourist in a hot, crowded city full of beautiful buildings and I have just entered a temple where it's cool and dark and silent.
In Belgium, there is a saying that when you stand still, you're going backward. My view is that it is only when you stop and stand still do you realize you might have already been running backward. From here, you can move forward. I titled one of the series in the exhibition after a breathing exercise I do daily: inhale, hold, exhale, block. I want to offer people the opportunity to stand still and breathe, if only for a few seconds.
Pars Pro Toto - Inhale III, 2021, ink on book pages from 1929, 26.7 x 36 cm.
AD: WHAT KIND OF COMMENTARY ON WASTE AND CONSUMERISM IS IN YOUR WORK?
MV: I am very hesitant to preach. I don't want to tell people what to think, I only want them to think. I believe when people stand still and look again, they can see a new direction. Salvaging and recycling discarded things to create something new contains a message about over-consumption and wasting natural resources, but it is not explicit. The broader message is that there is no separation between humanity and nature. If we cause nature suffering, we will suffer too.
Reusing objects and showing that decay can be beautiful is my small contribution. In my work, there is a clear link to the Japanese aesthetic philosophy of wabi-sabi, which holds the view that the old and imperfect can be more beautiful than the new. From this perspective, I want people to think autonomously.
AD: I FIND AN ELEMENT OF HUMOR IN THE SURREALISTIC JUXTAPOSITIONS IN SOME OF YOUR SCULPTURAL OBJECTS. WHAT REACTIONS ARE YOU HOPING FOR FROM YOUR AUDIENCE?
MV: The element of surprise is a way to make people stand still and think, and surprise is a classic technique in humor. Often there is a pun in the title of my works. I often can't resist putting a pun or double entendre in the title. But humor is not the goal, I aim for a smile, not a laugh. As a side product, humor is great because it's an emotion, and when you are emotional you are more open to standing still. My works are always light and playful, rather than negative and despondent. I believe that despite the critical state of the planet, we still need to look forward and not despair.
AD: AS AN ARTIST WHO HAS ELEMENTS OF SPONTANEITY AND COINCIDENCE IN THEIR PRACTICE, HOW DID THE RESTRICTIONS OF THE LAST YEAR AFFECT THE WAY YOU WORK?
MV: The lockdown in Belgium - which we are still in - has not significantly affected my process, and this is because of my health. About seven years ago, I was diagnosed with a condition that means I am physically restricted. So I was already living with the constraints of a kind of personal lockdown. Making art was a way to create a new respected identity. In a way, this is what I do with the discarded items I find.
The Space Between Us (1–12), 2020, 12 acrylic paintings on paper, with four reclaimed wooden rulers ea., 100 x 140 x 0.3 cm ea.
The pandemic did influence the theme of some works. Many of the objects in the Ronewa exhibition integrate measurement, such as a ruler or tape measure. This is a specific response to social distancing. Before, we weren't aware of the precise distance between us. Everybody, of course, has a perception of personal space. But now there is a designated distance between everyone: in Belgium it's 1.5 meters, in the US it's four feet, somewhere else it's two meters. We have become hyper aware of the space between us, and these works are a reaction to this shift.
---
Ronewa Art Projects
Email: contact@ronewa.com Website: www.ronewa.com