The upcoming online exhibition 'Ritardando - In Color' by Berlin-based artist Elisabeth Sonneck features works that continue her exploration into the physical relations of form and color in space.
Ritardando is a musical term meaning a gradual decrease in speed. This sense of slowing down describes Sonneck's rhythmic repetition of broad and steady brushstrokes that allow nuances of color variations and interactions to play out on paper and canvas surfaces. These surfaces are gently manipulated into dynamic shapes that form a dialogue between the intrinsic properties of her everyday materials and situational elements of space, light, environment, and audience. Read the press release here.
We talked to Sonneck about her process, her love of paper, and the spatial relationships that make each installation of her works unique.
---
April Dell: YOUR WORKS HAVE A DISTINCT PHYSICAL PRESENCE THAT IS UNIQUE TO EACH PIECE. THEY CAN BE FREE STANDING, LEANING AGAINST A WALL, HANGING FROM THE CEILING, OR ELSE TWISTED AND LAID ACROSS A ROOM. DO YOU HAVE THE FINAL SHAPE IN MIND WHEN CREATING A PIECE?
Elisabeth Sonneck: This question relates to my scrollpaintings. These paper-installations are not solid, "crystallized" sculptures; they are flexible and in a fragile physical balance. They emerge simultaneously from the material tension of the paper and the process of shaping them by hand on-site. In the preparatory phase, I make drawings to think about how to relate the painted sheets of paper to the unique characteristics of the exhibition space. I don't use photos of the space, I only work with sketches and memories after conducting extensive on-site research. This pre-concept defines the type of installation, such as floor work, or hanging figurations, etc., but I find the precise details during the installation process. Each shape differs due to the site specificity.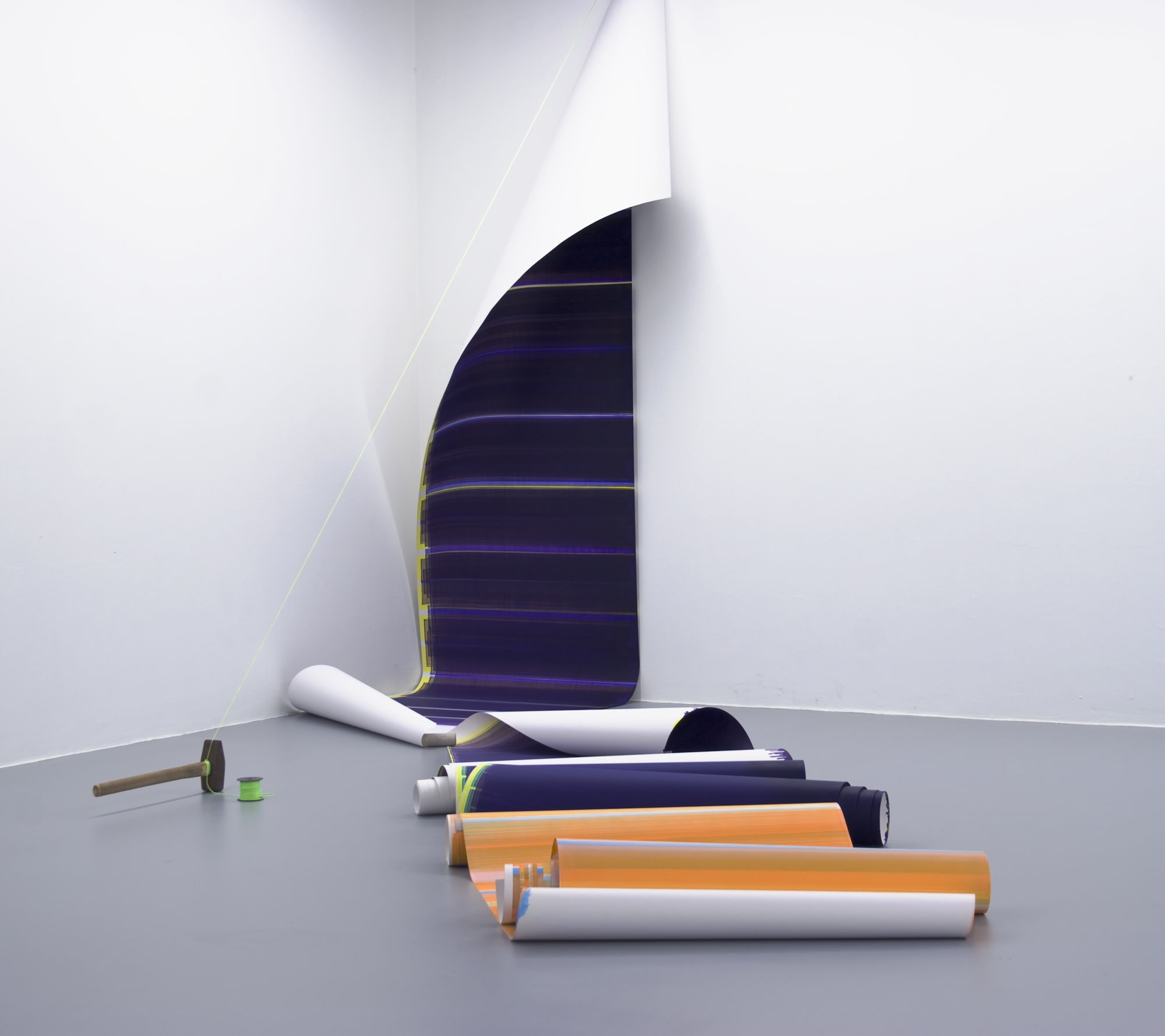 scrollpainting65 small sisters, 2019, oil on paper, 110 x 500-1000cm, nylon string, sledge hammer, core fragments.
AD: HOW DO THESE WORKS CHANGE WHEN PLACED IN A NEW ENVIRONMENT?
ES: In every new situation, their shape changes. In the next exhibition, a hanging spiral can be shown as a vertical column or in rhythmic waves on the wall or rolled onto the floor – it always depends on the spatial context. As initially flat paintings on paper, and with a spatial potential due to the paper's inherent material tension, my scrollpaintings can take any shape that is physically possible. These works include concepts of metamorphosis, flexibility, and recycling – all in all, they are forms in constant change.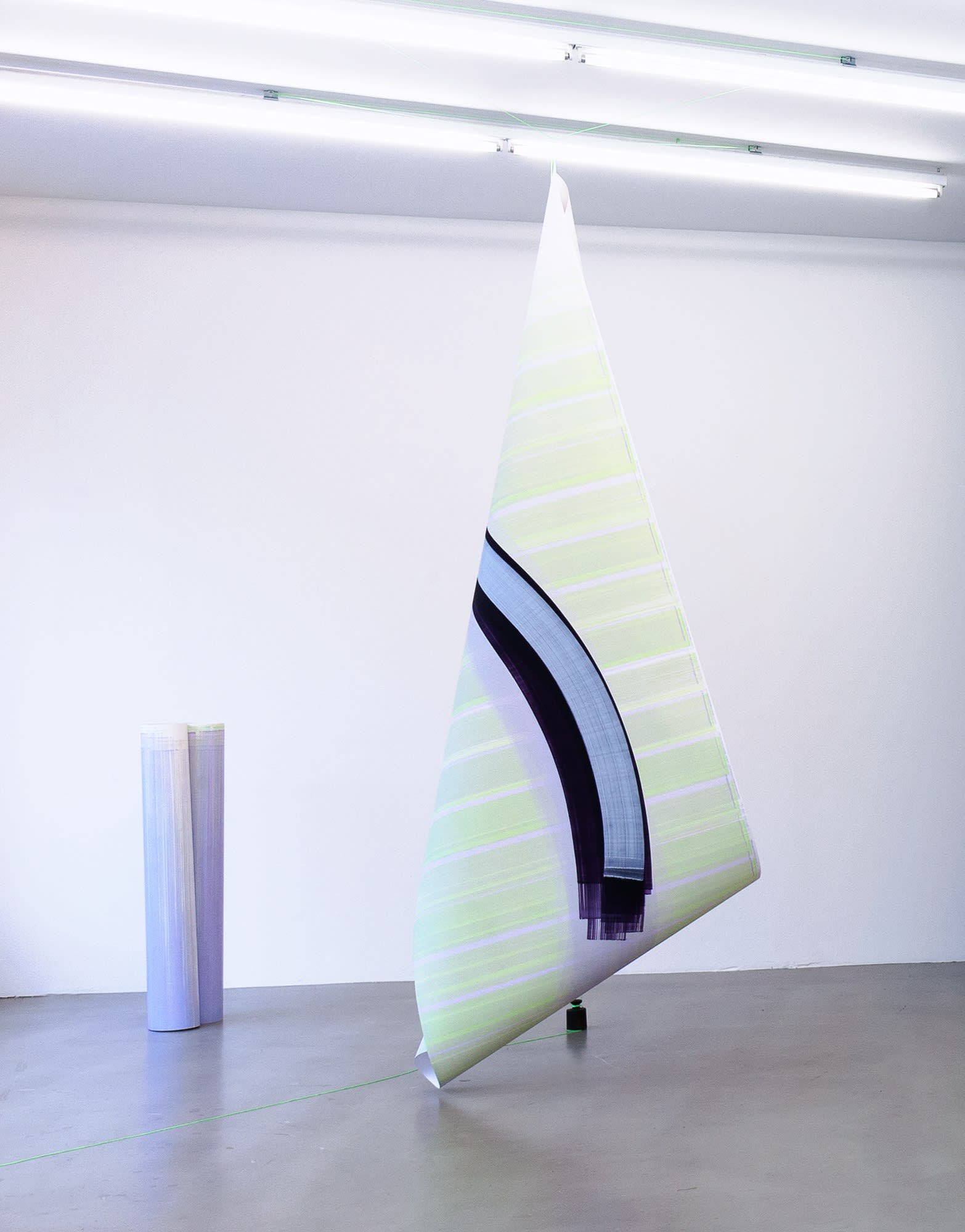 scrollpainting77-78, 2019, installation view, oil on paper, each 110 x 460-330 cm. Photo: Astrid Busch
Sometimes I'm asked, how does it work without me? Of course I love installing the papers myself, but others can do it as well – as proven by the circumstances of this year. For exhibitions abroad or when a work finds a new home, I provide a drawing showing the principles of possible shapes, some photos from previous installations, and a text with installation instructions. It's harder to describe in words than to do it.
---
AD: EVEN YOUR CANVAS WORKS INTERACT WITH SPACE BEYOND THE WALL. HAVE YOU ALWAYS BEEN INTERESTED IN SPATIAL RELATIONS AND BLURRING TRADITIONAL CATEGORIES OF VISUAL ART?
ES: Since I studied sculpture, I've been interested in material-spatial concepts, especially Post-Minimalism and Land Art. As the blurring of media boundaries has been practiced in a revival since the 1960s, the traditional categories are again just options among others. What particularly fascinates me is the merging of the two-dimensional perception of an image and the corporeal presence of a three-dimensional "thing". The fusion of these two dynamics leads to an increased intensity of involvement for the viewer. Perception and reflection of the work depend directly on your bodily presence in the space: your individual position, movements, and directional viewpoint.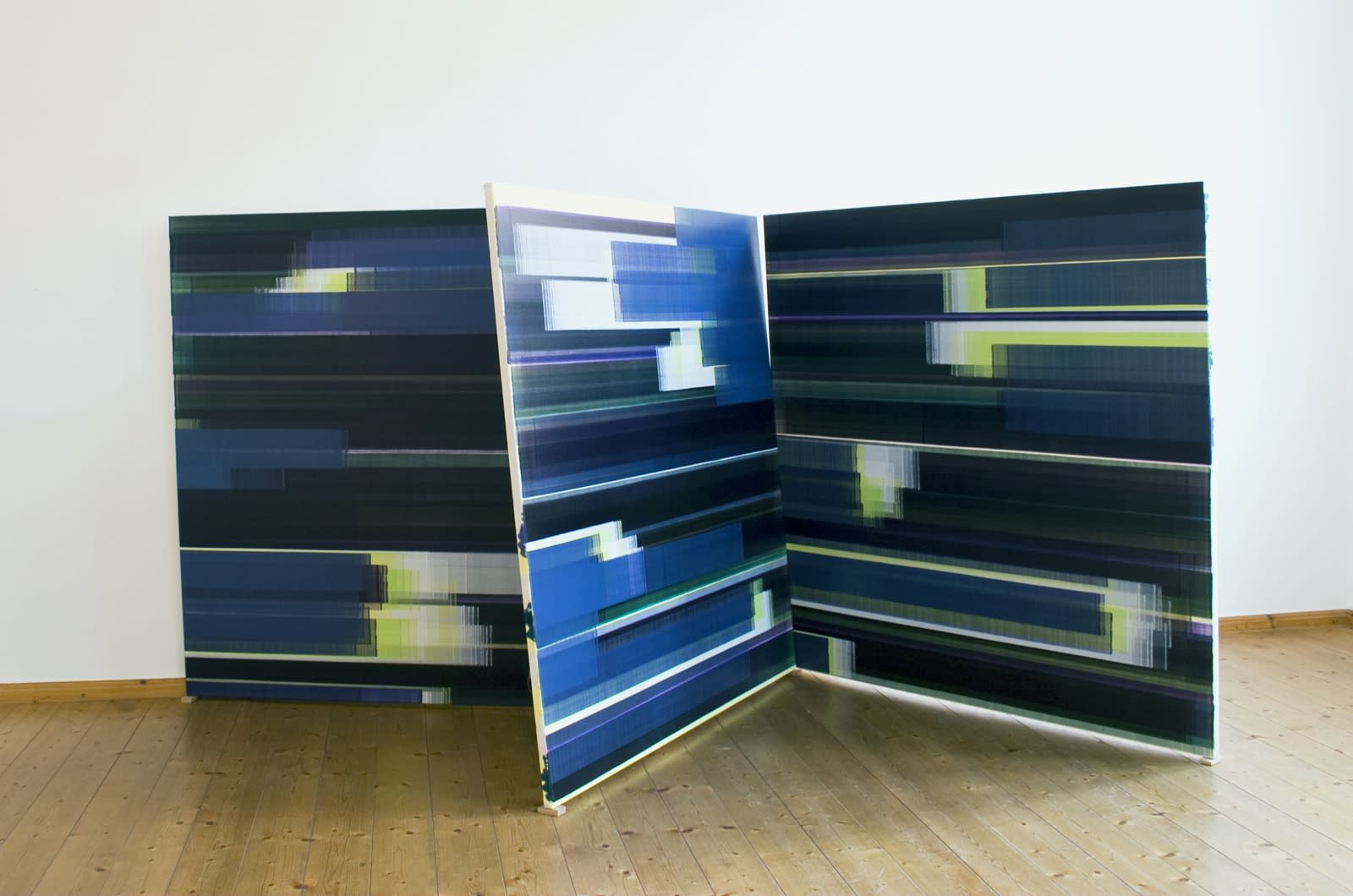 stellar #3, 2017, installation view, oil on canvas, 145 x 145cm each
AD: PAPER IS THE DOMINANT SURFACE YOU WORK WITH. WHAT DO YOU LIKE ABOUT THIS MATERIAL?
ES: It is a simple, everyday material. Everyone thinks they know it... but it can still show new properties. Neither expensive nor exclusive, it does not impress with material preciousness. I adore the purity and poverty, the fragility and flexibility of paper. The unpainted back surface is always present and I don't dominate the material by cutting, ripping, kinking.
The same attitude informs how I install my works. Fixings are always visible and become an equal part of the work, like the spatial lines of the acid-green nylon thread. I never use glue or tape and mostly avoid hammering nails into the wall. I look for peripheral details on-site for my fixing constructions, such as small protrusions, cracks, ceiling beams, neon light sockets, and much more. This emphasizes the specific spatial situation as well as the original fragility and temporality of the paper as a material.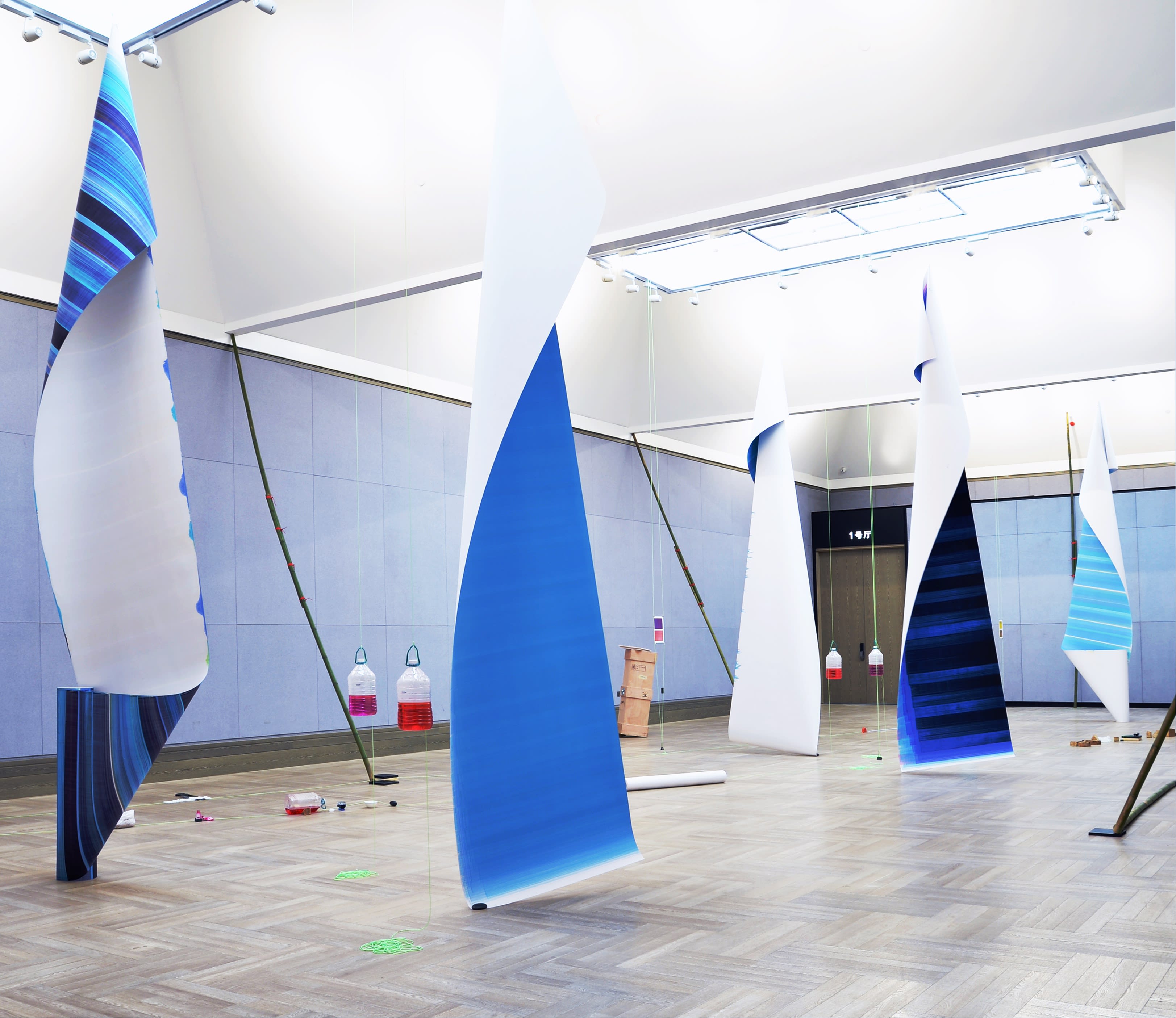 scrollpainting49, 2018, installation view, oil on paper, 110 x 500-1000cm, bamboo, nylon thread, water bottles, found pieces
The equilibrium of the shapes is always created through the tension of the material itself and through accompanying manual processes. Both depend on each other: the shaping process is triggered directly by the paper's material properties. By the way, storage and shipping are very economical in terms of weight and volume – a nice pragmatic advantage.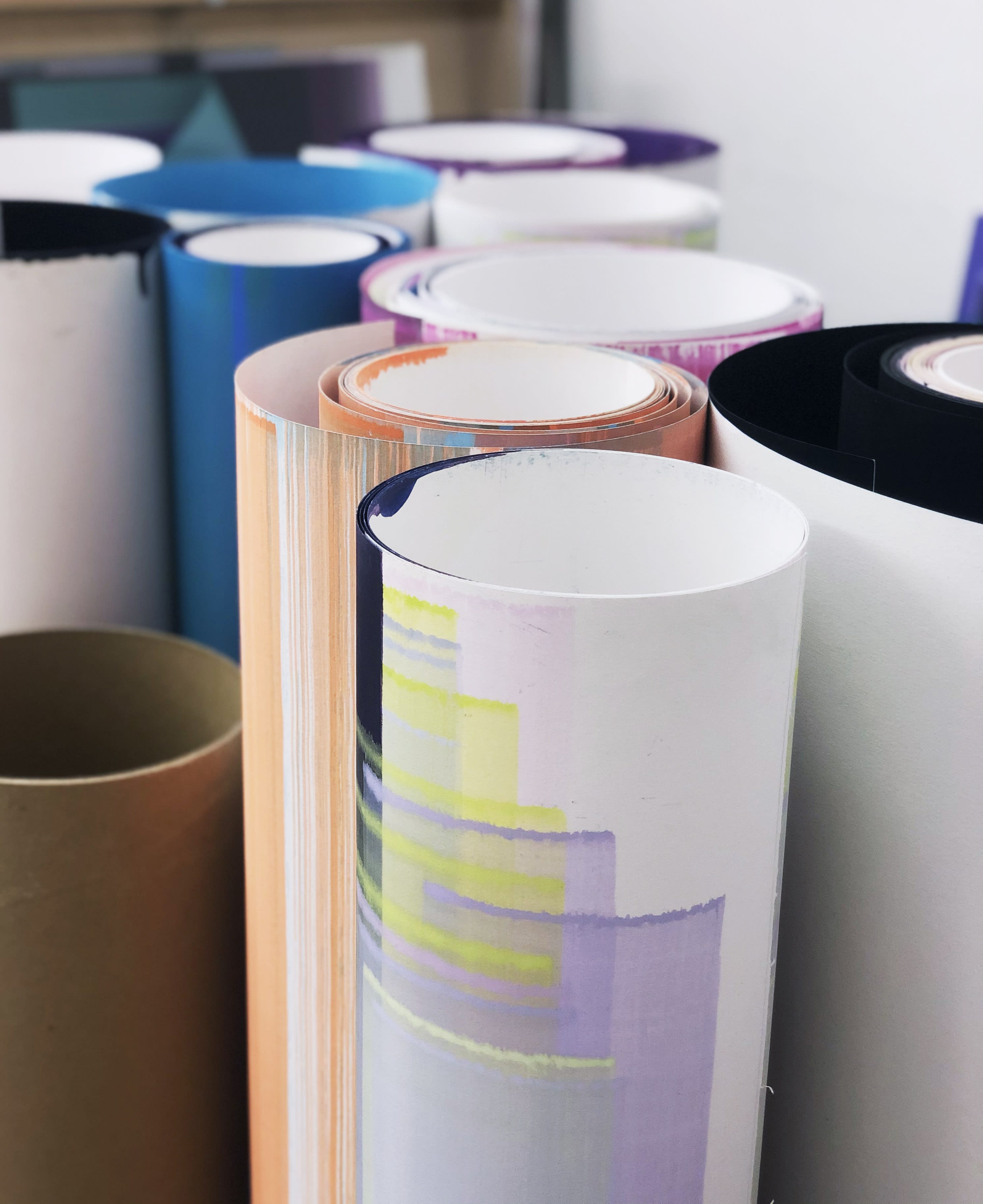 scrollpaintings in Sonneck's studio - Berlin, Germany
AD: YOUR BRUSH STROKES ARE VERY DELIBERATE, ALMOST MECHANICAL. DO CHANCE ELEMENTS EMERGE IN THIS TECHNIQUE AS YOU PAINT?
ES: Since the long freehand brushstrokes require full concentration in every moment, I wouldn't call the painterly gesture mechanical. For each brushstroke, a multitude of decisions flows into the painting process, such as the opacity, fluidity, and saturation of paint, but above all, the color nuances that I mix and often modify. Just the gesture is strictly repetitive, like steps while walking. Performed bodily, my oil painting technique is precise, but not perfect.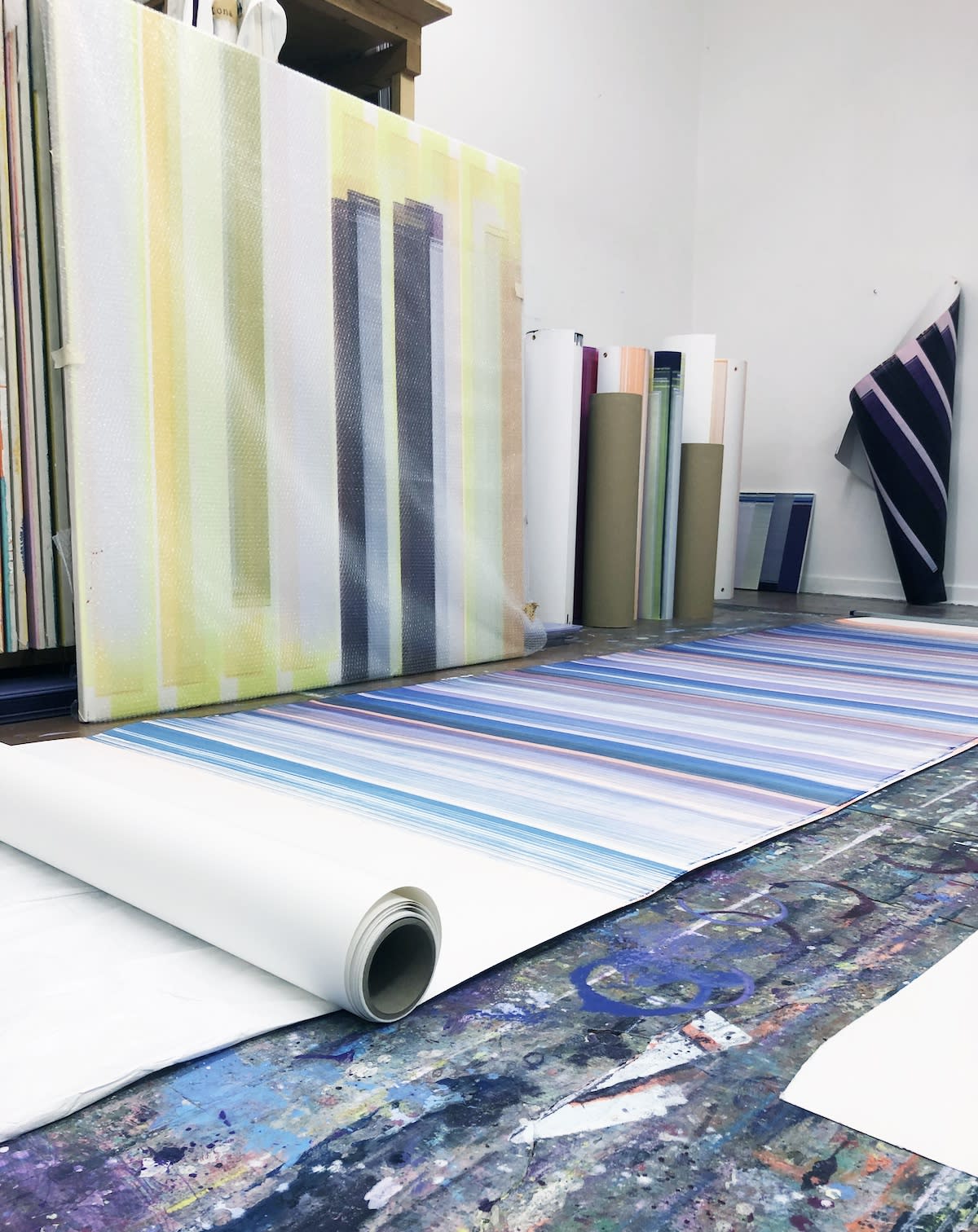 Work in progress in Sonneck's studio - Berlin Germany
I use repetition as a counterbalance to the fundamental fact of color: color can never be exactly defined, named or remembered. Unplanned appearances occur much more on the color side than on the painting technique side. Since I apply very different, often contrasting colors in semi-transparent layers on top of each other, the resulting color value can only be roughly intended – but it is also not random. It is generated by the multilayered process.
---
AD: THE "CLIPAGE (VARIABLE)" SERIES USES DIFFERENT PROCESSES AND MATERIALS. HOW DID THIS SERIES DEVELOP?
ES: From a studio experiment in 2013 for a Berlin exhibition project with poster art. Since I'm not interested in the practice of printing techniques, I experimented with painted glassine papers in a regular copy shop. Next, I put together small paper works from my "duo tones" series with color copies of the same works. In a photo of this pairing, it is quite impossible to distinguish between the painting from its reproduction. That was the starting point. Influenced by my site-specific scrollpaintings, the "clipage" papers are bent and held by clips at the point of gravity. They deal with issues of visibility and absence, of original, reproduction, and identity.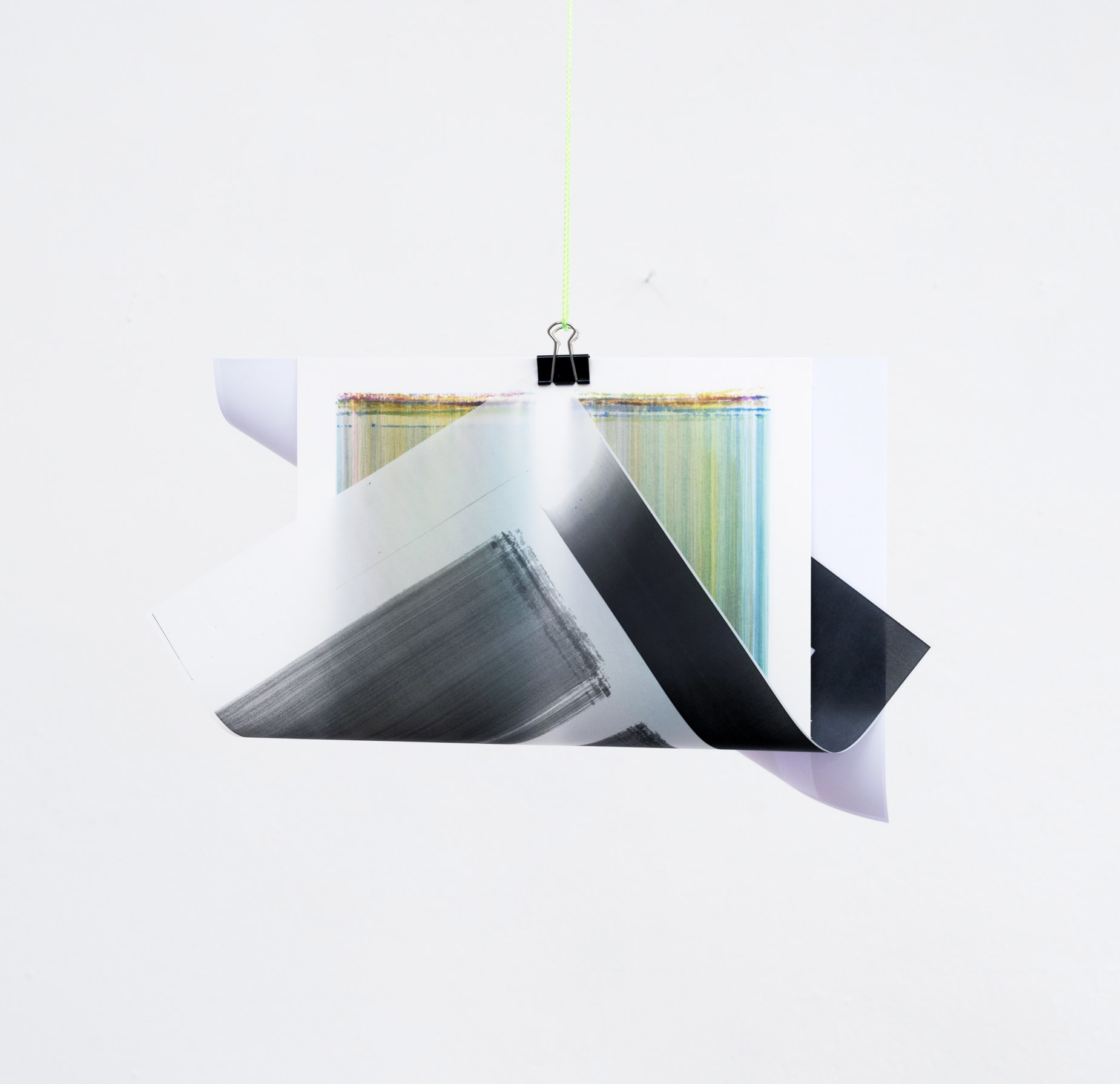 clipage 20-3.8 (variable), 2020, gouache on paper, colorcopy on paper, bw-copy on glassine, foldback clip, 29 x 42 x c.12 cm
AD: YOUR PRACTICE IS AS MUCH AN EXPERIMENTATION WITH COLOR AS IT IS AN INVESTIGATION OF FORM. WHAT IS YOUR APPROACH TO COLOR?
ES: Colors always react with one another and emerge from their specific context. Working with color means working in dialogue – also in a metaphorical sense. It implies that color cannot be controlled or dominated. For me, color is one of the richest and most complex phenomena of our being. In my work, I try to show this richness in its infinite nuances as well as in its inherent contrasts and tensions. It is always an approximation. That's why I don't just want to use a painterly method; I want to make the process visible - for example, in the staggered stops of the brushstrokes that have been a characteristic of my work for many years, as well as in the often complementary layers of color, or the precise connection with my physical reach.
Works in progress in Sonneck's studio - Berlin, Germany
AD: IN YOUR SCROLLPAINTING AND CLIPAGE SERIES THAT CURL AND LAYER PICTURE SURFACES, THERE IS ALWAYS A PART OF THE IMAGE THAT IS HIDDEN. TO ME, THIS PLAYS WITH THE ASSUMPTIONS OF THE VIEWER. IS THIS PART OF YOUR INTENTION?
ES: First, it is a physical fact of dimensional shapes: a painting in bent, rolled or multilayered forms manifests an inner and an outer side, a reduction of surface, a volume, hidden and visible parts, parts that slide in light or shadow. Hidden things always arouse curiosity and questions – that doesn't need to be my specific intention. But here, the contradiction remains: it is visible that something is hidden. There is no area in life where everything is on the surface... The hidden parts can also be seen as an indication of the non-economic autonomy in the realization of artworks. Personally, I consider it a silent, introverted homage to the long history of painting and the incredible discoveries that old master paintings can offer.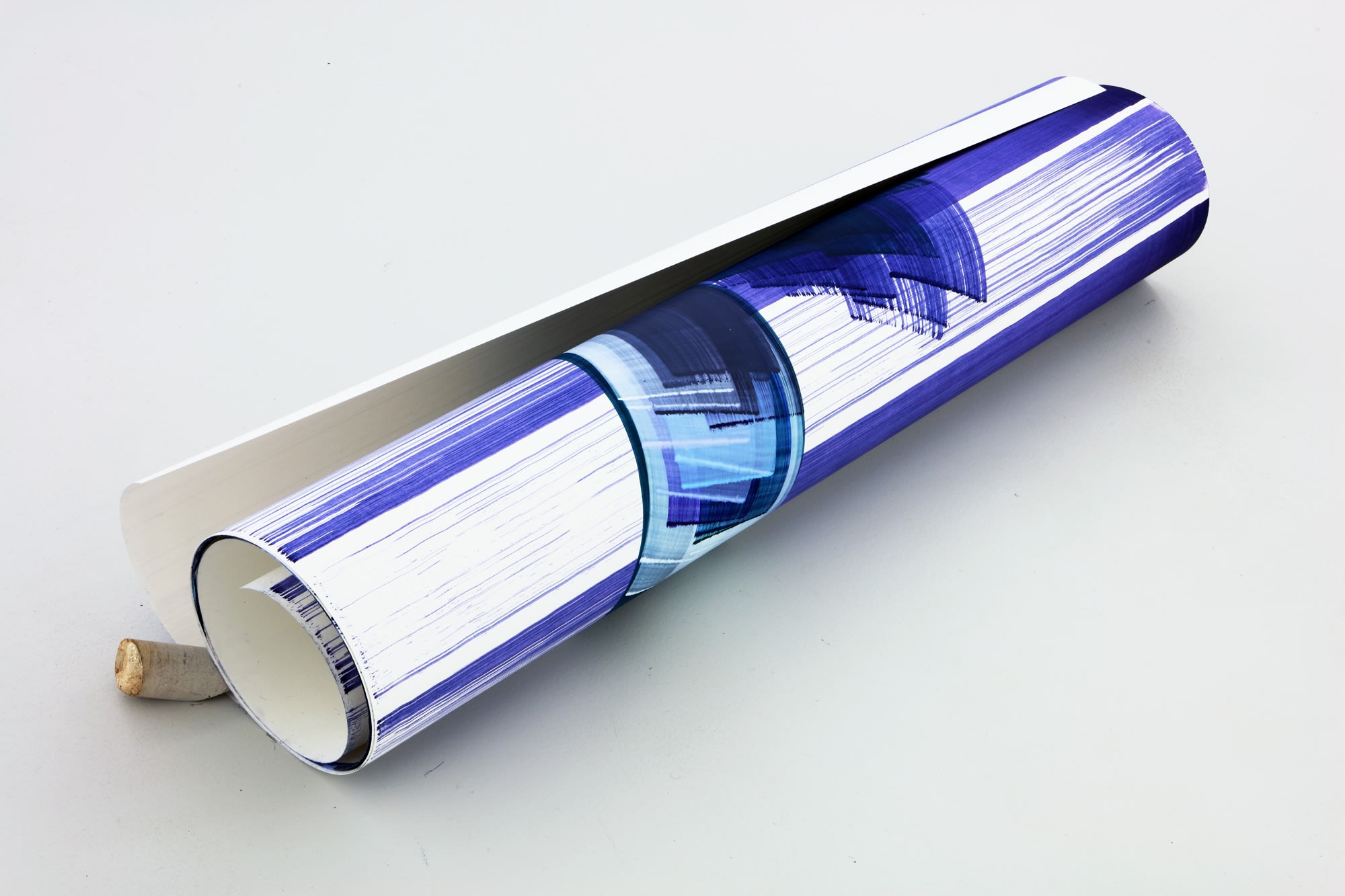 scrollpainting open radius#3, 2019, oil on paper, 125 x 300 cm, core fragment. Photo: Alistair Overbruck
AD: YOU'VE MENTIONED YOUR SCROLLPAINTINGS HAVE AN ASIAN ART INFLUENCE. TELL ME ABOUT THIS CONNECTION.
Asian scroll paintings radically expand the Western understanding of "image" by adding performative, social, temporary, and flexible aspects to painting, as well as an element of something hidden. I first became aware of these particularities when I expanded my studio practice to include theoretical research on this topic.
My own scrollpaintings developed in 2006 when I was working on installation forms of painting beyond frame and flatness. The main questions concerned dialogical relationships between the presence of the space, the movement of the viewer on site, material, color, environment, and elements of the ephemeral. This practice led me to something similar to the Asian scroll form, so I started to study the great culture of scroll images. I also find inspiration in listening to contemporary compositions, by the French Spectralists, by Isang Yun and others – in particular, Isang Yun's creation and understanding of sound appears much more flexible and fluid than in the Western tradition.
In 2018, I was invited for my first solo show in Asia by a private museum in China, where I was introduced to the culture and meaning of scrolls more deeply. After these experiences, I'm all the more interested in learning about related philosophy and renewing my work.
---
AD: THE ONLINE EXHIBITION WITH RONEWA IS HAPPENING AT A UNIQUE TIME IN GLOBAL HISTORY. HOW DO YOU THINK THE ART WORLD WILL CHANGE ONCE WE HAVE EMERGED FROM THE COVID CRISIS?
ES: The COVID-crisis is embedded in a much broader one, and – as in any crisis – social problems are deepening, so I don't dare speculate about the future of the art scene. Since art is a fundamental medium of human development, I hope for new, intimate formats for personal communication with and about artworks and for facilitated international exchange between artists and everyone who loves art.
---
Ronewa Art Projects
Email: contact@ronewa.com Website: www.ronewa.com