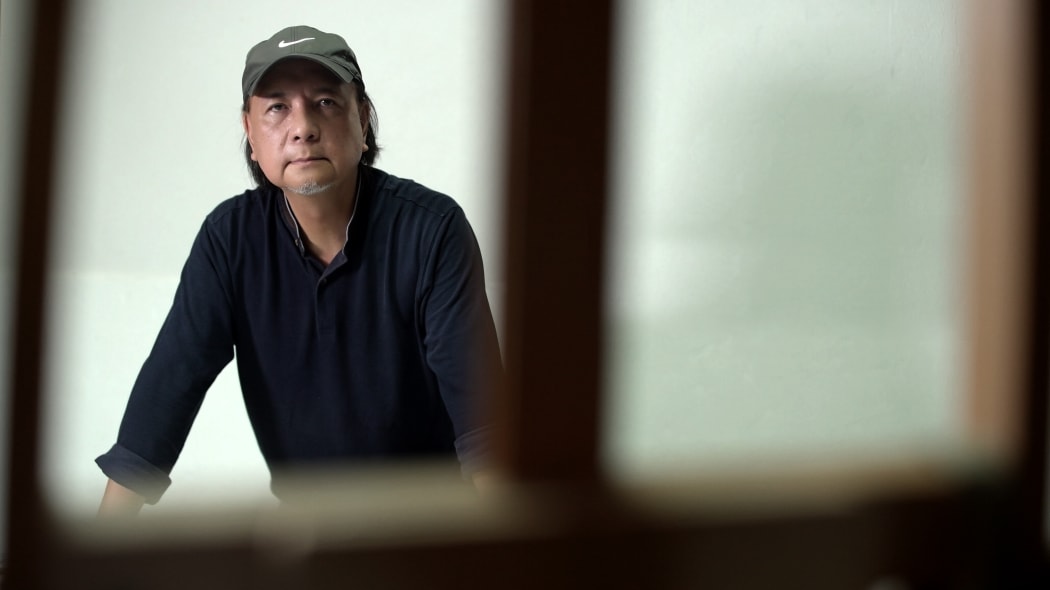 Rico Lascano's upcoming exhibition in the Ronewa Online Viewing Room opens on September 3rd. We talked to him about his meditative art practice, nature and spirituality, and making art during lockdown.
Lascano's abstract practice draws from the breathtaking nature in the Philippines, the spiritual traditions of his home country, and his own quest for serenity and peace in a busy world. Within his floating compositions and delicately textured expanses, Lascano creates boundless spaces of stillness and timelessness. He invites viewers to occupy the transcendantal space of his inner journey.
Read the exhibition press release here.
---
April Dell: THE TITLE OF YOUR UPCOMING ONLINE EXHIBITION IS 'CONSTRUCTING STILLNESS IN URBAN CHAOS.' IS ART-MAKING AN ESCAPE FROM BUSY URBAN LIFE OR A KIND OF MEDITATION PRACTICE FOR YOU?
Rico Lascano: I think both. On my busiest days and on my free days, I find myself going to my art studio before daybreak. It's like a ritual for me. It elevates my spirit. It makes me more aware of my being. When I look at a blank canvas my mind wanders into a different zone, like a spiritual sanctuary.
---
Quietude XXIV, 2020, Acrylic and handmade paper on 140lb cold press Strathmore paper, 22"x30"
---
AD: YOUR PAINTINGS ARE CALMING AND GENTLE TO OBSERVE. WHAT DO YOU HOPE VIEWERS EXPERIENCE WHEN LOOKING AT YOUR WORKS?
RL: Devoid of pictorial references from the real world, my paintings seek to encourage contemplation and silence, and hopefully nudge viewers to enter a state of calmness and peace.
---
AD: NATURE AND SPIRITUALITY ARE LONGSTANDING INSPIRATIONS FOR YOUR WORK. DO YOU CONSIDER THESE TWO THEMES INSEPARABLE?
RL: Definitely! I believe that for you to appreciate the real essence of nature you have to reach a certain state of spirituality. This is very evident in ancient religions where they worship the sun, the mountains or anything in nature that will help them reach a state of spirituality.
Quietude XXVIII, 2012, Acrylic and handmade paper on 140lb cold press Strathmore paper, 22"x30"
---
AD: WHY IS ABSTRACTION THE MEDIUM YOU HAVE CHOSEN TO REPRESENT THESE TWO IDEAS - NATURE AND SPIRITUALITY?
RL: For me, in the field of visual arts, abstraction is the highest form of expression. It represents feelings and emotions that words can't describe. Whereas a realistic painting is akin to words that represent fixed meanings. A realist painting of a flying dove is a flying dove but an abstract painting of a flying dove could convey so many feelings and emotions depending on the interpretation of the beholder.
---
AD: YOU LAYER DIFFERENT MARK-MAKING TECHNIQUES TO CREATE A HARMONIOUS SPACE. HOW HAVE YOUR TECHNIQUES AND PROCESSES DEVELOPED OVER TIME?
RL: My technique has not actually changed. I have always gone for spare compositions, muted hues and light brush strokes. I use the "wet on wet" technique [where wet paint is applied to wet paper] to create misty, airy, light-filled images that evoke a state of spiritual transcendence. Over time, I noticed that my works are getting more minimalist and atmospheric, more spiritual and contemplative than before.
---
AD: IN WHAT WAYS DOES FILIPINO HISTORY AND CULTURE PLAY A PART IN YOUR WORK?
RL: As a Filipino artist I have always been drawn to Oriental themes. An exhibition of mine specifically paid homage to the national Filipino formal wear - the Barong Tagalog. Using shards of the Barong fabric for my minimalist compositions, coupled with short poems written by my wife in our native tongue, we aimed to elevate the importance of the Barong as an important communal symbol, one that threads the flow of Filipino life.
My spiritual-themed exhibitions, like "Heofon" (the sky heaven) and "Spatium Divinae" (Divine Space), echoed visions of light shining through the stained-glass windows of a cathedral. I think my works always contain a subliminal influence from my exposure to the Philippines' strong religious tradition.
---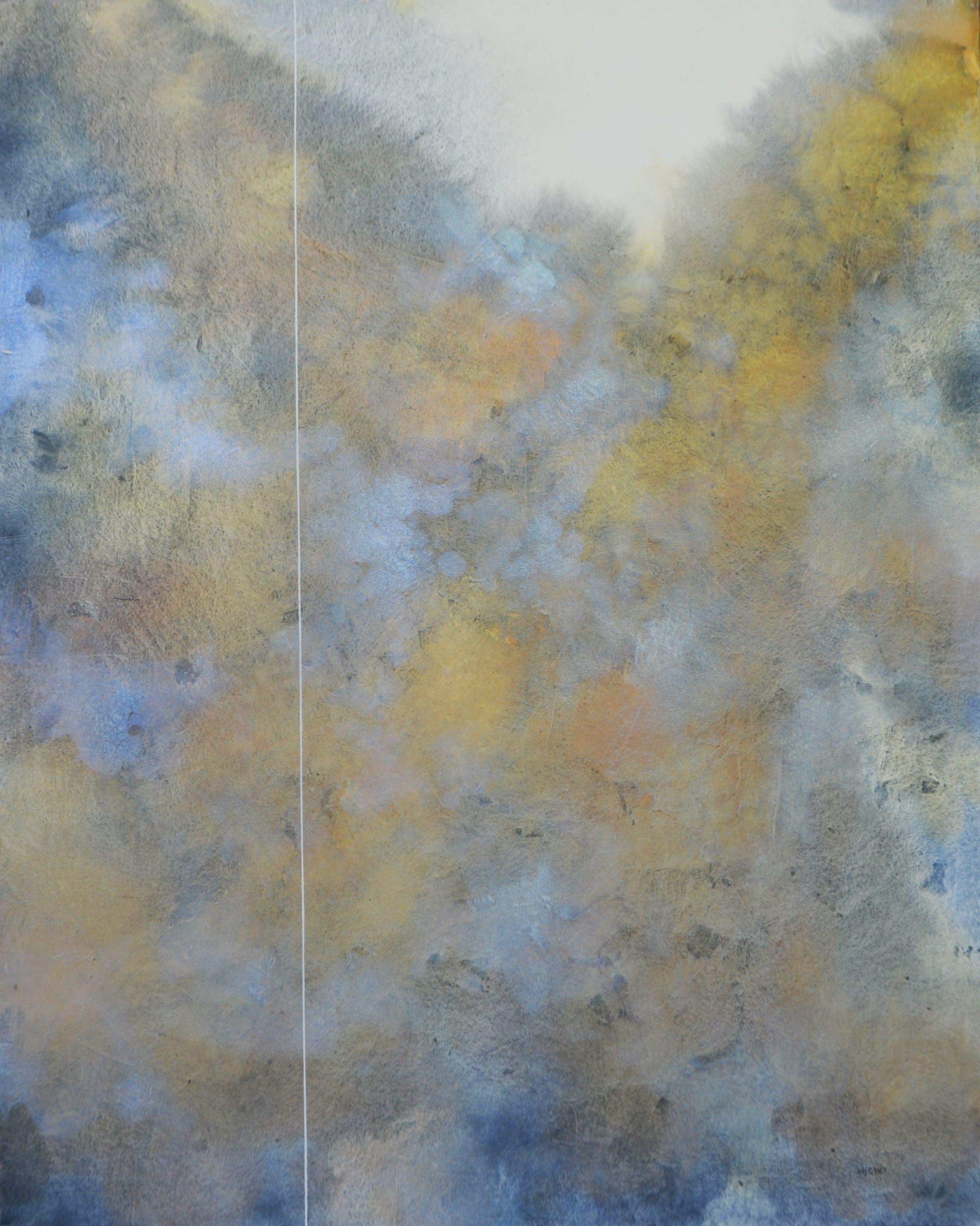 Spatium Divinae I, 2019, Acrylic on canvas, 48" x 60"
---
AD: YOU HAVE A BACKGROUND IN ADVERTISING. HAS THAT INFLUENCED YOUR ART PRACTICE?
RL: I spent many years in advertising as an Art Director. Working in advertising trains you to develop strong visual concepts. It teaches you how to balance compositions and maximize the use of negative and positive space. I think this aided my natural transition to becoming an abstract painter.
---
AD: YOUR WIFE, CHACHU LASCANO, IS ALSO AN ARTIST AND POET. DO YOU DRAW FROM EACH OTHER'S WORK OR COLLABORATE ON PROJECTS?
RL: My wife worked for many years in advertising as well. My journey to a Zen-style art practice was highly influenced by her haikupoems. Then and now, she has helped me with themes and titles of my exhibitions. My interactive projects for parks and museums helped usher her into the world of public art and design. After we collaborated, she was commissioned to do own projects.
---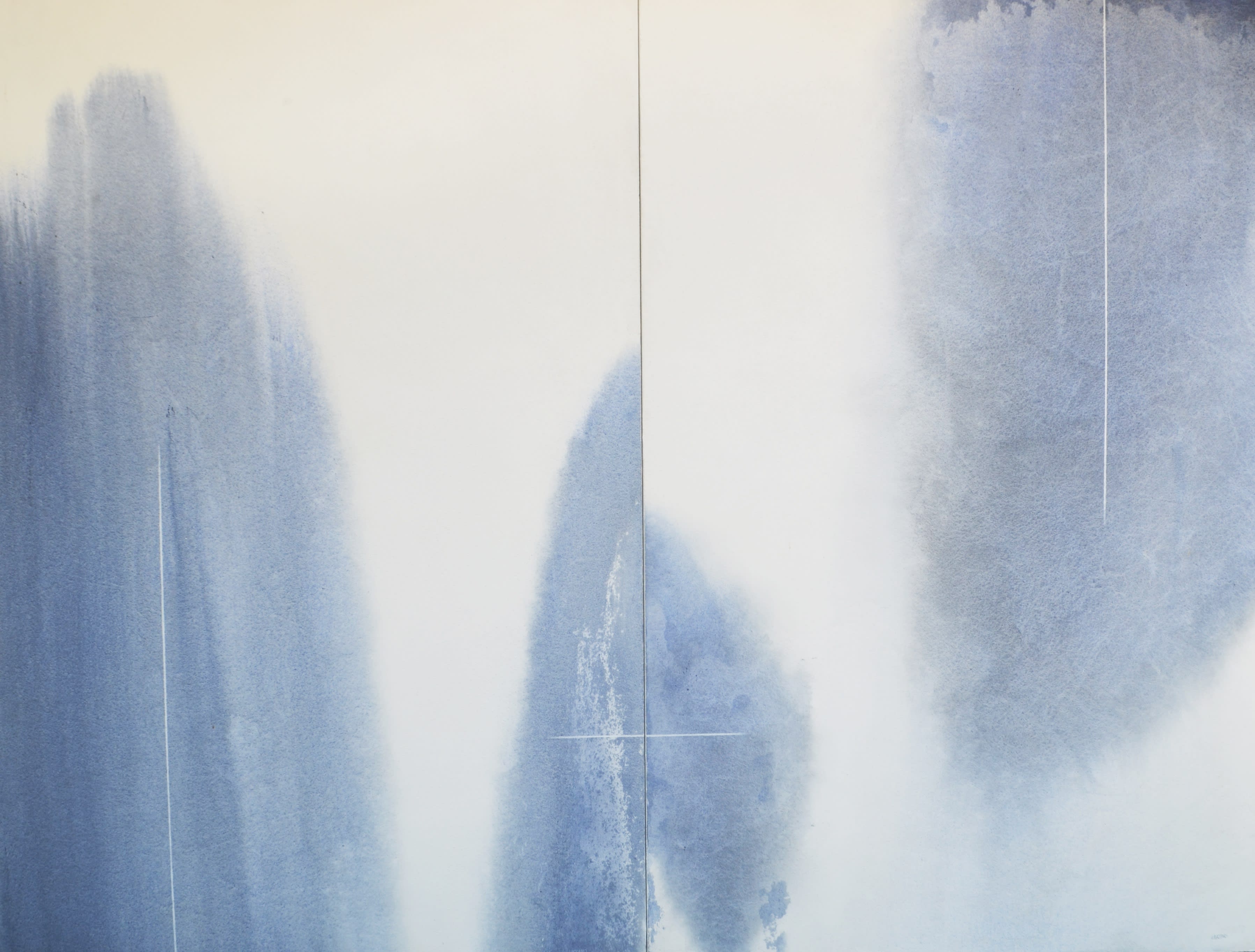 Spatium Divinae III, 2019, Acrylic on canvas, diptych, 72" x 96"
---
AD: IS THIS YOUR FIRST ONLINE EXHIBITION? AS AN ARTIST, HOW DO YOU FEEL ABOUT THE FORMAT AND THE SHIFT TOWARD AN ONLINE ART WORLD?
RL: This is my second online exhibition. My last one-man show at the Altar Mondo Gallery was scheduled last for March, which was the start of the lockdown here in Metro Manila. I think online platforms have greatly helped my art to reach a bigger audience. You no longer have to be in a certain gallery or place to experience my paintings - you can view them from the comfort of your home.
---
AD: MANILA HAS RECENTLY GONE BACK INTO A SECOND LOCKDOWN TO MANAGE RISING COVID-19 CASES. HOW HAS THE EXPERIENCE BEEN FOR YOU AND YOUR WORK? DO YOU HAVE A STRATEGY FOR SELF-CARE AND STAYING CREATIVE DURING THIS TIME?
RL: I am blessed that I have still received commissions despite the two lockdowns.
I actually have more time now due to the lockdown. I live in a quiet village surrounded by nature where you hear the tweeting of birds every morning. Being close to nature and having more time to paint has only helped me pursue my art even more.
---
---
Ronewa Art Projects
Email: contact@ronewa.com Website: www.ronewa.com