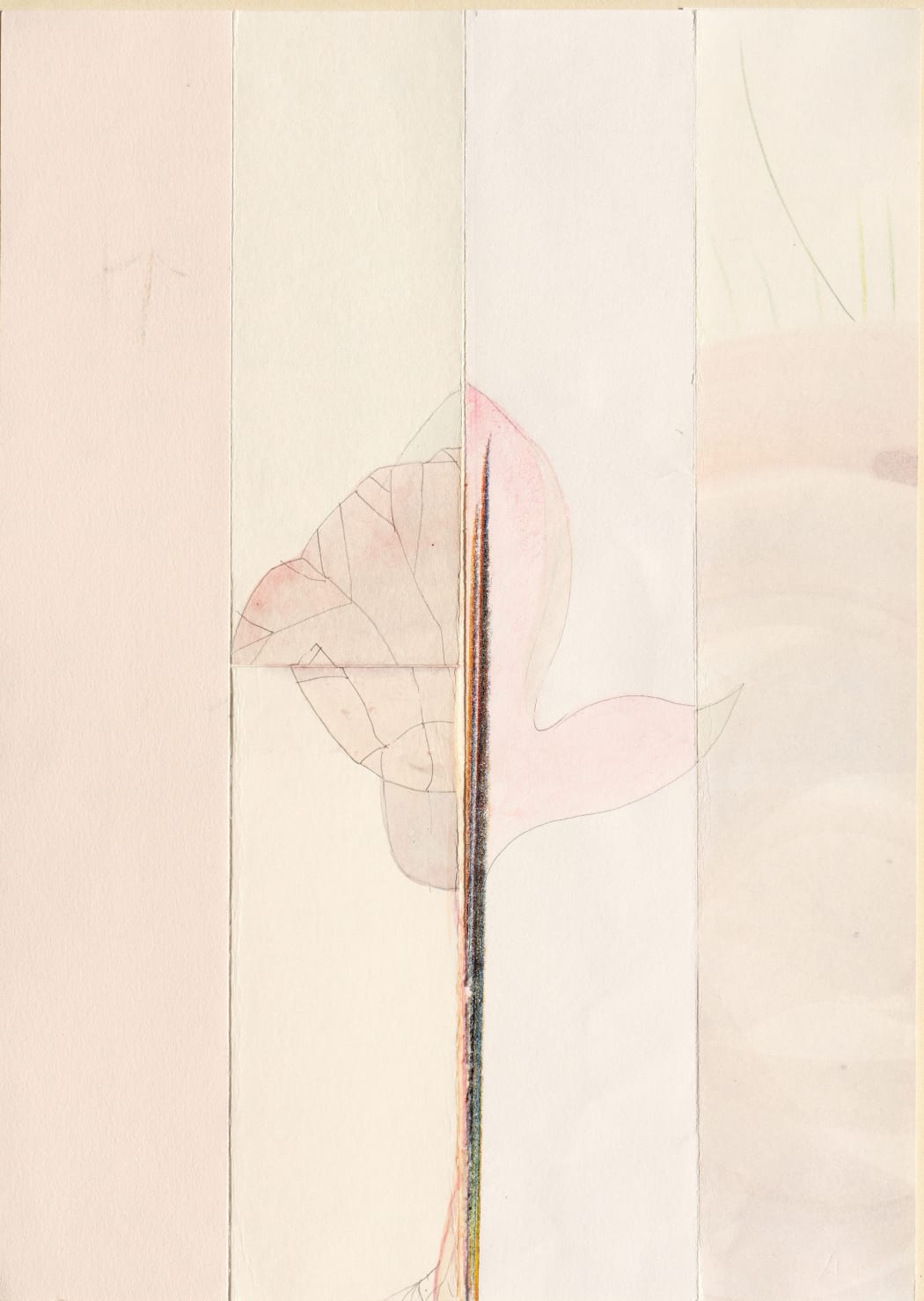 With one week to go before Mireille Gros' online exhibition opens, I had the pleasure of chatting to the Swiss artist about her ongoing botanical drawing project. Gros shared insights on her relationship with nature, her artistic process, and her new series created for the Ronewa Online Viewing Room.
---
"To invent new plants as real ones become extinct."
This statement describes the long-standing and numerous body of work Gros has created under the title of The Fictional Plant Biodiversity Project. Since 1993, she has been drawing plant species of her own creation in response to the world's shrinking biodiversity.
The project was instigated by a trip to Taï National Park in Côte d'Ivoire - one of the last primary rainforests in West Africa. "It's a special thing to walk in a virgin forest. It's like an initiation." Gros was captivated by the richness of the flora she witnessed and saddened by the threat to its continued existence.
---
"Nature is political."
Gros' describes her relationship to nature, not as an appreciation or passion, but as a fundamental fact of life. "I've always felt as nature myself... Nature is not just a vacation or something in the garden. We are all part of it." What she calls our "inborn nature" is inseparable from the outside world. "It's a dialogue, an exchange between inside and outside."
She shared a line from a Francis Thompson poem: Thou canst not stir a flower, Without troubling of a star. Everything is connected, says Gros, therefore caring for nature is caring for ourselves. Destroying nature is destroying ourselves.
"This is why there is a political aspect to my work. It was not an intention. I'm not an activist, but I'm aware of the connections between everything. If you are aware of it, you react differently."
Seasons: Fictional Plant 8, 2020, pencil and watercolour on assorted paper, 29.5cm x 21cm. Signed and dated (Unframed).
"I create without ego, strategy, or intention. I let it happen."
I wondered why Gros invented plant species instead of drawing existing ones. It's not about documentation, she told me. "I don't work after nature, I like to work with nature," Gros often states to describe her work. The key to understanding this is understanding her process.
The way Gros describes her process prompts me to try and visualize non-linear time: everything happening at once. "I don't work from A to B, from idée to forme. It's a process, and the process is rarely linear. There are so many different levels. It's more like a space where emotions, thoughts, intellect come together." She calls this open-minded and spontaneous state "the inside job" of being an artist. It taps into her inborn nature - her intuition.
Imagining Gros' creative process is like imagining a multidimensional space with multiple potentials. Perhaps being ambidextrous and making art with both hands, and also experiencing Synesthesia, where "with words and sounds I see colors," gives Gros a unique perceptual basis for approaching her creative process this way.
---
"It's a love affair with paper."
Though Gros works across several mediums, there's no mistaking her intimate relationship to paper. "I can say it in one simple term: a love affair." She uses only natural papers. "A blank piece of paper doesn't exist." Bleached paper to Gros is cold and uninviting. Paper is the ground on which her plants grow.
She collects paper of different textures and colors from many sources - "sometimes from expensive paper stores, sometimes for free." This diversity of surfaces is essential to her spontaneous process. "I react to different papers in different ways. Like seeds that fall to the earth and react, it's different every time. I play nature."
---
"Collages have creativity and destruction."
Collage as a technique is new to Gros. The nature of collage as being both deconstruction and creation aligns with her approach to process.
Each work in the 'Seasons' series is collaged from four different types of paper. "I wanted to do something a bit different. I had the word season in my mind, and you have four seasons." Time and the changing of seasons are presented simultaneously within each work. They communicate the cyclical order of nature.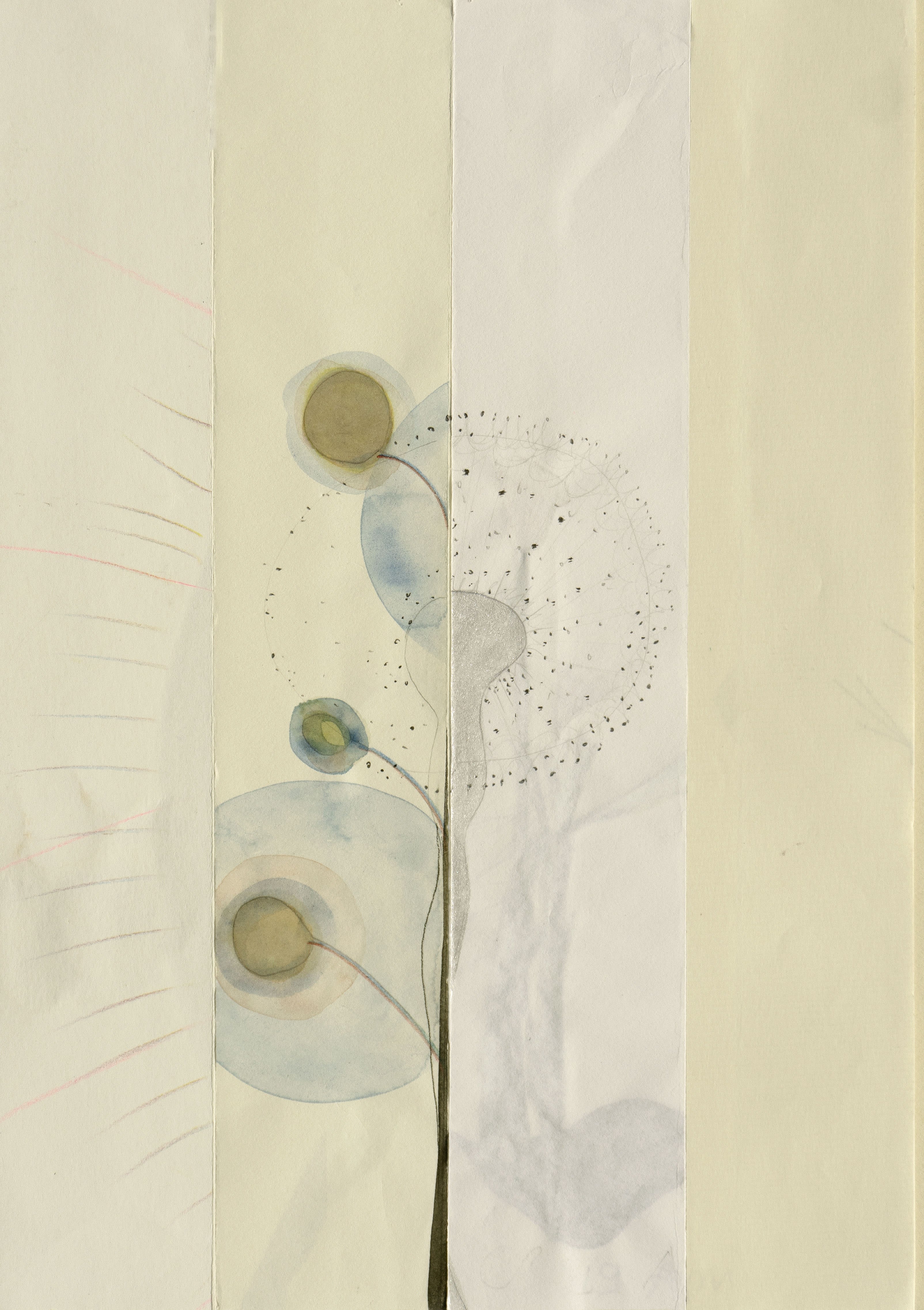 Seasons: Fictional Plant 14, 2020, pencil and watercolour on assorted paper, 29.5cm x 21cm, Signed and dated (Unframed).
"My studio is 200 meters from the French border. I could see it, but not go there."
Living so close to the border, Gros splits her time between studios in Basel and Paris. During the corona border closures, she converted a room in her apartment into a drawing studio.
"I was extremely creative during the lockdown with fewer distractions." 'Seasons' came out of this productive time. "I felt very comfortable at home… You realize the important things in life: health, friendship, and for me, work. You realize you don't need that much."
---
"We need to work digital. But I love to look at originals. I see both ways."
Working digital is a challenge for Gros, who revels in the expansiveness of colors and the subtlety of paper textures. "There is a huge spectrum of colors. I use so many pigments… My drawings are extremely sensual and tactile."
She photographed 'Seasons' outside for daylight, then worked in photoshop for hours to get the colors as exact as possible. "But, of course, I don't know how it looks on your screens." Everything has two sides, reasons Gros, "the virus is a serious problem and we have to adapt."
---
"If someone is open-minded, my drawings give a lot. It's an interaction."
Gros emphasizes that she doesn't ask her viewers to decipher the layers and read her works a certain way. Just as she rejects a formalist approach to making art, she accepts the possibilities for interpretation. "Everybody can see something different. And I'm pleased with that. If one person sees figuration and another sees abstract lines, both are true."
"My drawings are tricky. If you're not attentive, they keep silent. If you're open-minded, you will get something from them. But I'm not asking you to be."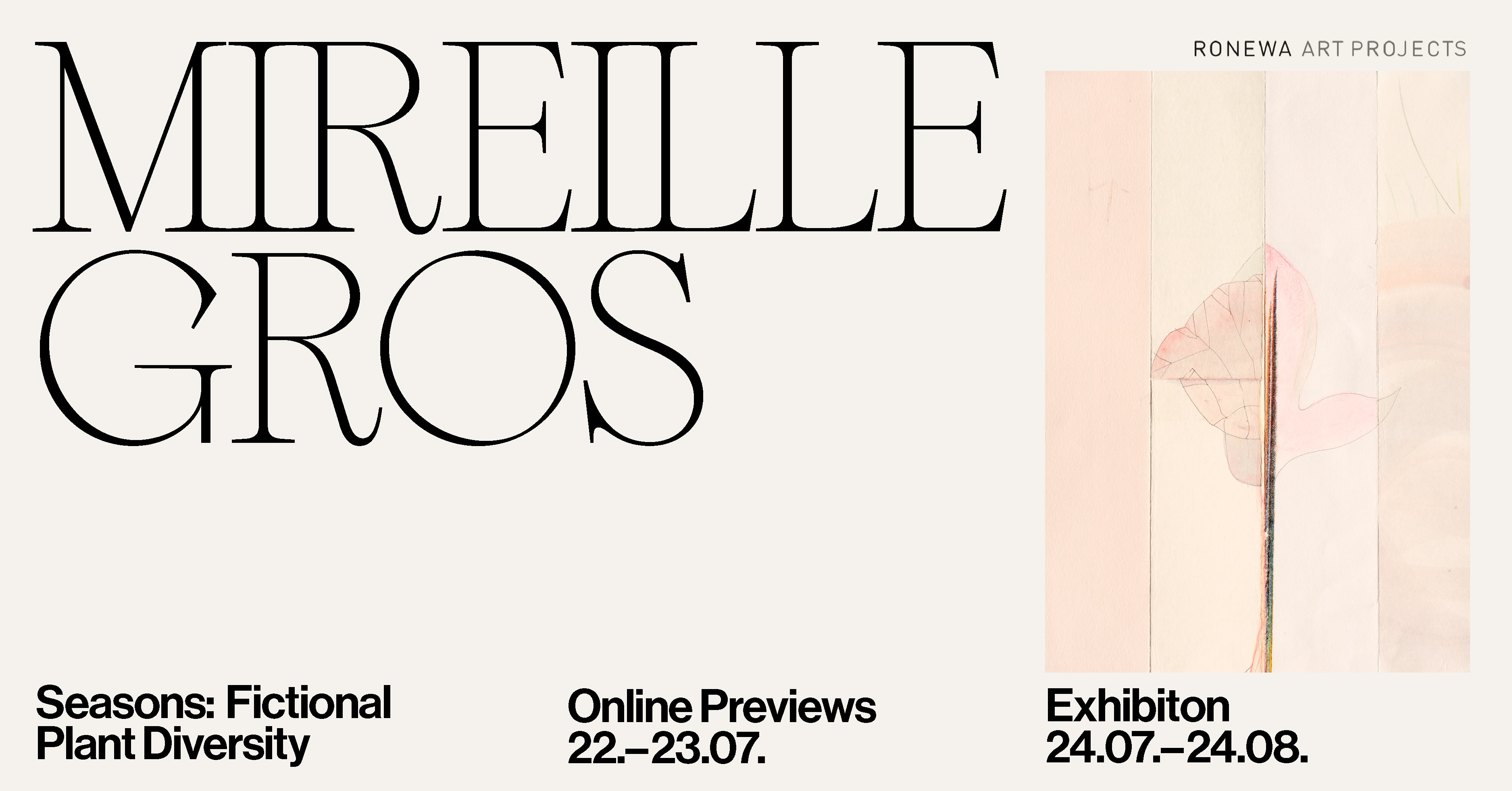 ---
Ronewa Art Projects:
Friedrichstraße 171
10117 Berlin
Germany
Office hours:
Monday - Friday
11 am - 6 pm
By appointment only. Tel.+49 30 366 0878
Email: contact@ronewa.com Website: www.ronewa.com
: