Marinda Vandenheede's new series Oxygen continues her use of curious found objects combined with her own geometric formal language. For this series, she repurposes cardboard punched card patterns used in industrial loom weaving, overlaying them with hand-painted geometric designs guided by a minimalist logic of repetition and symmetry.

Vandenheede's Oxygen series will be featured in the Ronewa online viewing room and on ARTSY from June 1 to July 1, 2022. We chatted to Vandenheede about balancing abstract compositions with found objects, and the histories and complexities inherent within the materials themselves.
Read the exhibition press release here.
---
April Dell: Your work employs found, used, and worn objects. Tell me about these punched cards. What about them drew your attention?

Marinda Vandenheede: Like most of the materials I use in my works, these punch cards are a reclaimed, out-of-use material. They're sourced from the textile industry and show the wear and tear from years of use and being stored in less than ideal conditions for decades. The resulting blemishes, little nicks, stains, and the yellowing of the cardboard are all elements that tell their story. The imperfection adds to the object's beauty – that's what draws me to them.
The punched holes themselves lend a semi-transparent, permeable quality to the material, which also triggered my interest.
AD: Where does the title of the series, Oxygen, come from?
MV: The first thing we need to do, before we can do anything else, is breathe. We do it about 25,000 times a day. Oxygen is imperative for life. What we breathe and how we breathe has a tremendous impact on our well-being. The punched holes in the cards allow oxygen to permeate the works and convey a sense of openness. The surface is not impenetrable or monolithic; it becomes a membrane that enables a kind of osmosis between the inside and the outside world, much like how we extract oxygen from the air we breathe.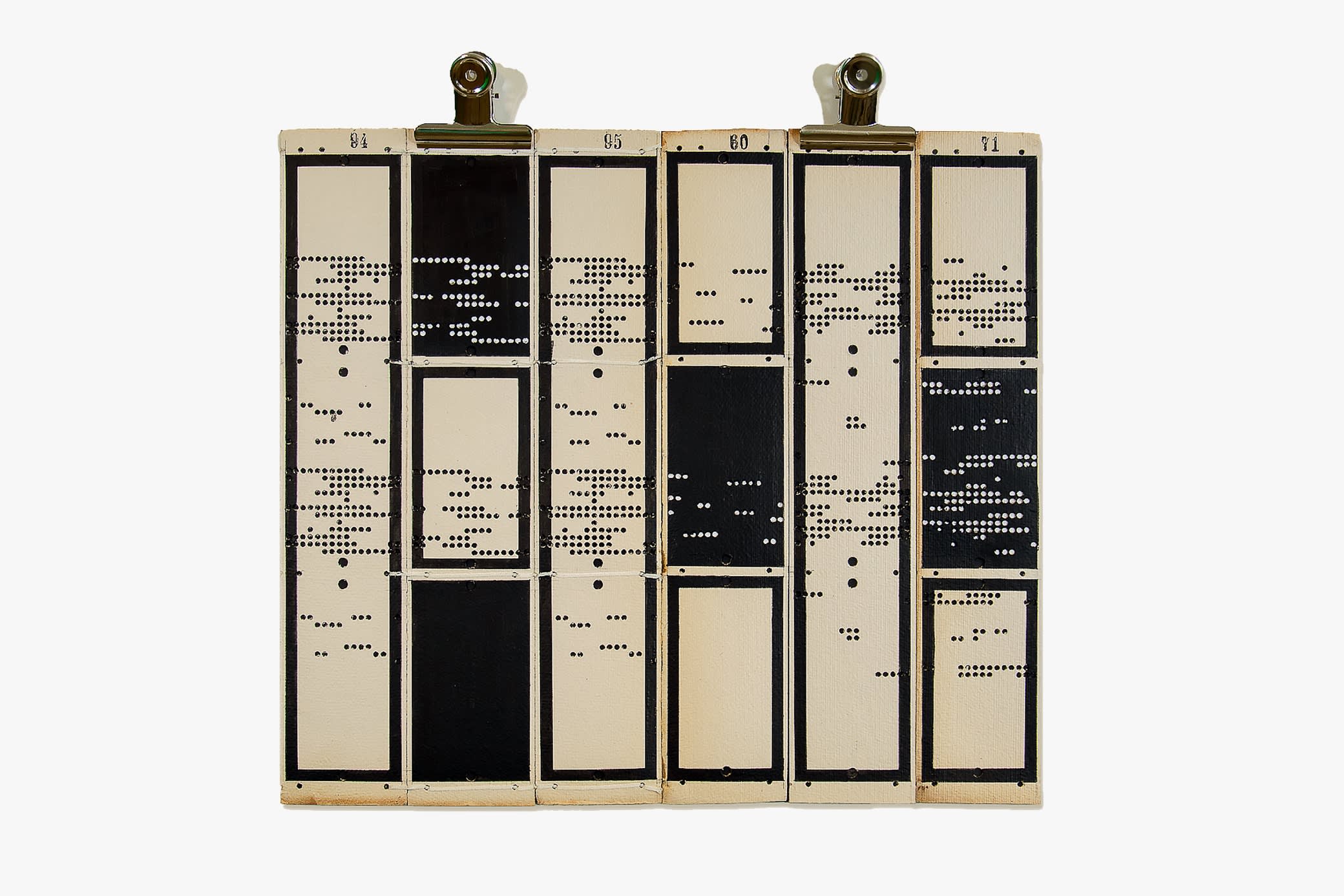 'Oxygen - Reclaimed Pattern 1', 2022, ink, thread on reclaimed cardboard punch cards with bulldog clips, 37 x 42 cm. 14 5/8 x 16 1/2 in. (Unframed) Bulldog clips included.
AD: Your interventions with the found materials are typically geometric designs and patterns. What inspires these designs and arrangements?
MV: I want to strike a balance between the sensitivity of the worn and layered surfaces I use and the more abstract, geometric quality of what I paint on them. This represents a balance between nature and culture, between what is innate and what we are taught by society or in our upbringing – a recurring theme in my work.
In this case, I imagine the punch cards as a permeable, translucent membrane between the inside and the outside, as if I am in a dark room looking out. The black forms overlaying the cards become a frame that focuses the spectator's attention on a more organic, fluid, and natural view.
AD: Several Oxygen works incorporate metal rods – is this another found element? Why do some have rods and others not?
MV: These rods were actually already present in the found objects and are an integral part of the work. For each composition, I selected sequences of punch cards from the long bands they came in when I sourced them. For some, I intentionally chose segments with a rod and placed them within the compositions.
I like how the rods break the borders of the work; they go outside of the predefined rectangular space one expects the work to occupy. This compositional element refers to my desire to go beyond the limitations that society imposes on us – limitations we often aren't even aware of.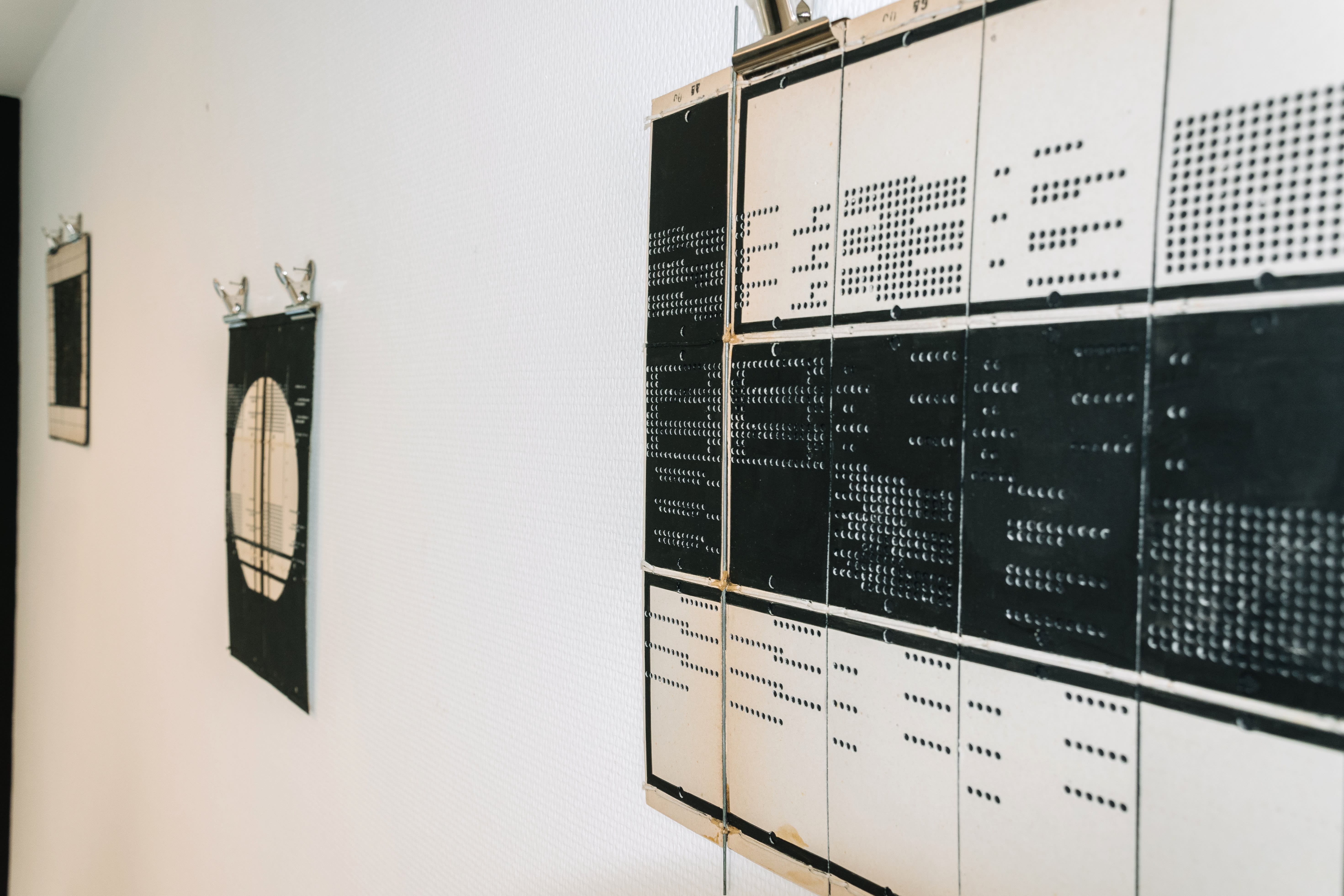 'Oxygen' series, artist's studio, Waregem, Belgium.
AD: Your works often contain dualities, both visual and conceptual. The punched cards themselves relate to both technology and artisanal crafts. What other dualities are present in these works?
MV: These cards effectively jump-started the industrial revolution in the textile industry. Before, a weaver needed the skill to create a design and be able to weave it into a fabric. These cards separated the process of design from the physical craft of hand-weaving. Ultimately, the role of weaver was reduced to machine operator.
By disregarding the patterns on the cards and overlaying them with my own, I aim to reclaim a form of artistry. This choice also refers to the unconscious patterns 'programmed' into us by our upbringing. I want to challenge that programming and create my own patterns based on what I learn throughout my life. That's why I titled the works 'Reclaimed Pattern'. This also relates back to the duality of nature and culture.
Interestingly, these cards were one of the earliest examples of binary code (bits and bytes) for 'programming' machines. This technology eventually led to the computer and the mass digitalization of our society, with all its pros and cons. I certainly feel a sense of conflict about this element of the work as well.
Images courtesy of the artist.
Online exhibition:
Marinda Vandenheede
June 1 – July 1, 2022
---
Ronewa Art Projects
Email: contact@ronewa.com Website: www.ronewa.com