Chinese-Finnish artist Canal Cheong Jagerroos creates richly layered mixed-media canvases and immersive installations that combine traditional Chinese art techniques and materials with a distinctive visual language of symbols, textures, color, and abstraction. Her multidimensional, enigmatic compositions communicate both the artist's inner world and an open invitation to find meaning.
We talked to Cheong Jagerroos about her creative process of deconstruction, how the places she lives influences her practice, and the inspirations behind her new series of works on show in the upcoming online exhibition, opening in the Ronewa viewing room on June 16, 2021.
---
April Dell: You grew up with Chinese traditional art and it has had a significant influence on your practice. What are the traditional styles and techniques you incorporate into your works?
Canal Cheong Jagerroos: One of the main elements in my work is rice paper. In China, we call it Xuan paper and it is actually made from the Mulberry plant – it was named "rice paper" in the 19th century by the Scottish missionary Robert Morison. Growing up in an artistic family, rice paper has been present throughout my life and I incorporate it into all of my works. I layer multiple rice paper paintings over each other with acrylic, oil, and mixed media to achieve a sense of depth on the canvas.
An important technique that I continue to develop in my practice is the "explosive free calligraphy stroke." It's a traditional technique that takes a lot of training because there are certain fundamental skills, such as how you hold and control the brush. The balance of image and empty space is another essential element. Some Chinese masterpieces might contain only a single stroke. Maintaining balance is something I try to keep in mind as I work.
AD: Deconstruction is a big part of your process. Tell me about this element of your work.
CCJ: This is one of the essential parts of my creative process. It helps me to plunge deeper into my subconscious thoughts and create different depths on the canvas. Some of the rice paper paintings are enormous to begin with, and then I tear them apart. Deconstruction might sound negative, but you need to disassemble and reassemble something if you want it to progress.
When I get inspired, it is like a film rolling nonstop in my mind with hundreds of scenes going by, and I try to sketch them down on rice paper. However, it's easy to become the prisoner of a particular concept – this is natural, I guess. When I tear a rice paper painting into pieces, it feels liberating; it's like letting go of a concept so that I can reconstruct multiple new ones from it.


Artwork in progress detail. Photo courtesy to the artist.
AD: Would you say your practice is very physical? Do you paint on the floor?
CCJ: I paint every way you can imagine – on the wall, the table, the floor, and with large sheets of rice paper hanging from the ceiling. Some of the textiles I work on are huge, ten meters long. Sometimes I don't have a brush big enough, so I use a mop! I like to work on the floor because I can walk around the work in different directions. I love the flow of working this way.
AD: It sounds like you can be very free and flexible in your process.
CCJ: Along my creative path, I always want to be able to explore and experiment. The philosophy of my work is that all elements should be free to float by all means. This idea is close to that of Laozi, the ancient Chinese philosopher who wrote the book Tao Te Ching, which translates to "the way." He has a saying that I always apply to my paintings: a good traveler has no fixed plans and has no intention of arriving. We should all feel free to float. This is what I want my viewers to feel when they look at my work.
AD: The intersection of East of West often comes up in commentary on your work. How has your experience of living in different countries and between different cultures impacted your art?
CCJ: I have lived in many places over the last 30 years, from Asia to Europe to Africa, and every place has enriched my work in some way. For example, when I lived in Africa, my colors became more vibrant. When I lived in Scandinavia, my tones were more subtle with silvers and greys. Most often, it is subconscious.
Diversity is important to me and I'm very grateful for having these unique life experiences. I love being in new environments, meeting different people, and learning about cultures – it all becomes part of my work.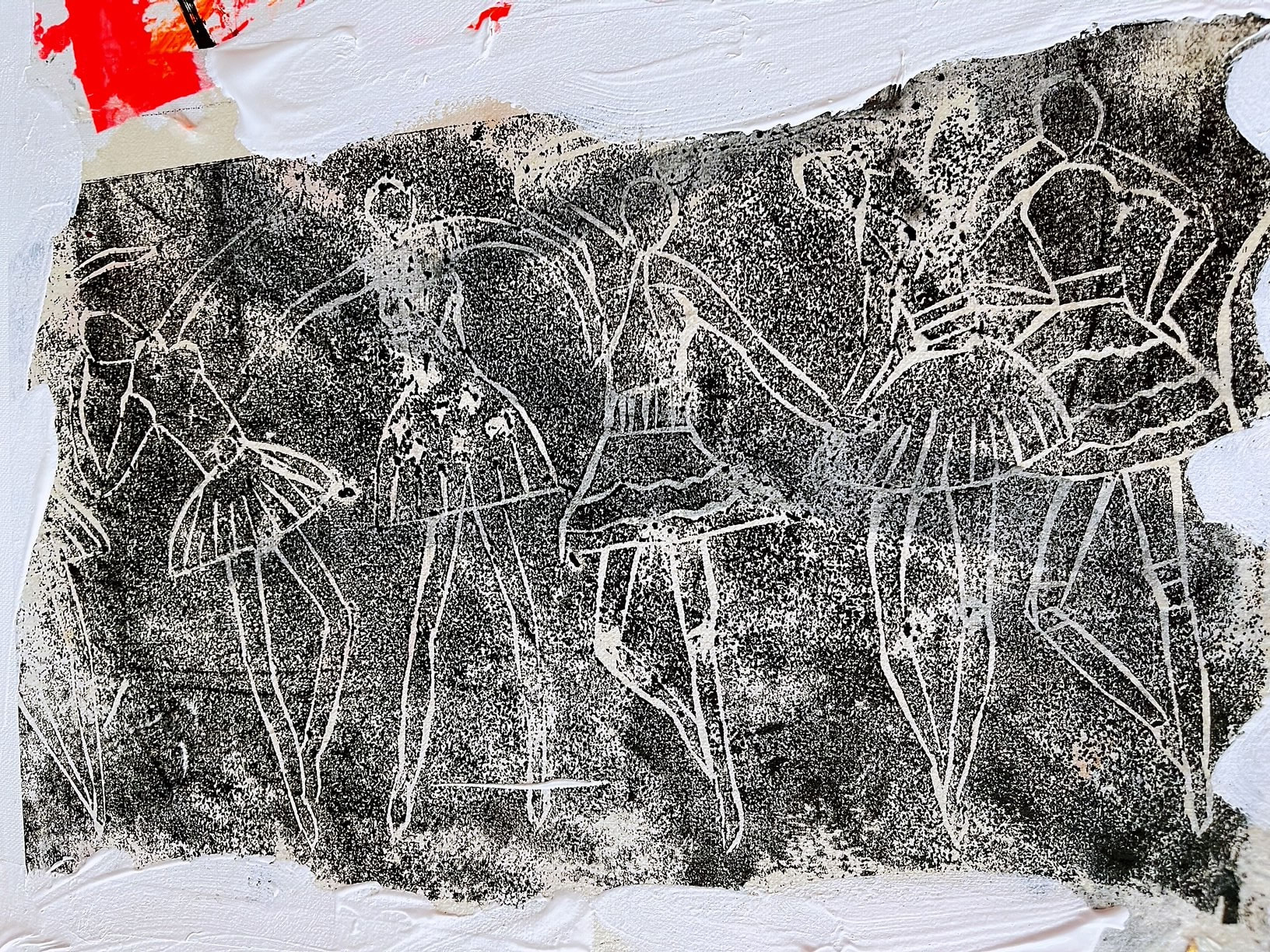 Artwork in progress detail. Photo courtesy to the artist.
AD: The 'Blue and Red Art Project,' that you co-founded with Finnish artist Nanna Susi, is about intercultural collaboration and fostering cross-cultural exchanges. What have you learned from this project?
CCJ: When Nanna and I co-founded the 'Blue and Red' art project, our goal was to make connections, foster international creative exchanges, and learn from each other. It was a journey of two artists and a journey of learning about the differences and similarities of East and West cultures and perspectives in art. In the first two years, we traveled together for almost 25,000 kilometers throughout China and Finland, and we held exhibitions in numerous art museums across both countries. We also filmed a documentary about the journey. The project lasted for five years, from 2015 to 2020.
The project was a great success, both artistically and as a personal learning journey. As an artist, I learned to be more patient and tolerant, and, most of all, I discovered a lot about my inner self.
AD: 'Floating Island' is an ongoing exhibition project. You've mentioned that the title is a metaphor for how you think about your life as an artist. Could you elaborate on that?
CCJ: The 'Floating Island' project started in 2017 when Mr Li Zhenhua, the Film Curator Director from Hong Kong Art Basel, invited me to do an installation exhibition at the Helsinki International Artist Program (HIAP). I was excited by the challenge of doing an installation because I had been making paintings my whole life. I transported my entire studio contents to the exhibition space – tools, materials, pieces of rice paper paintings, everything – and I put it all in a white box in the middle of the exhibition hall. It was a stunning moment. I looked at the box full of things that have traveled with me from place to place, and I saw my life as a floating entity. I wrote "Floating Island" on the white box and the concept for this was born. It's a metaphor for my journey as an artist. I live between multiple places and travel a lot, but I always have my creative tools with me wherever I go.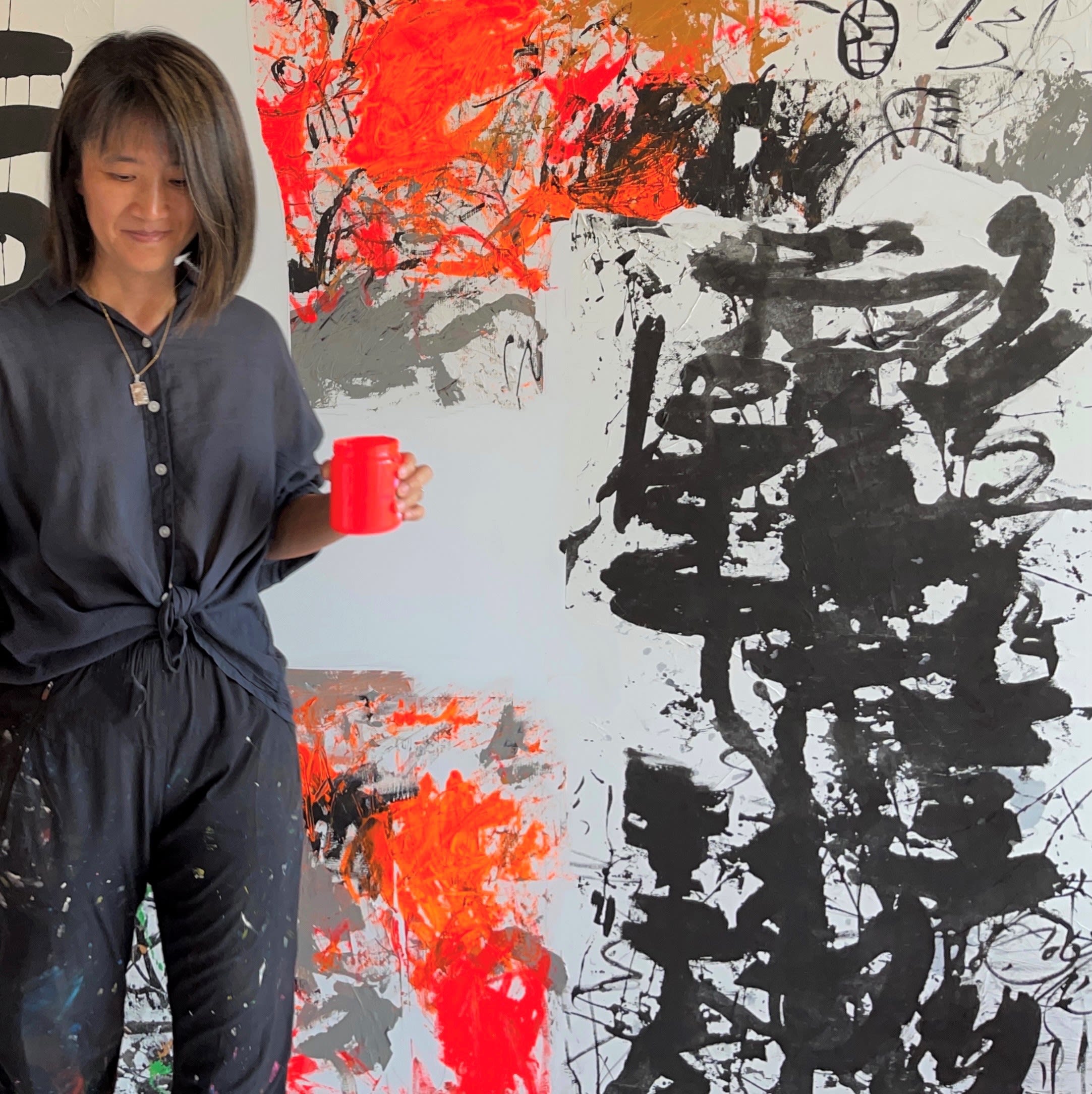 Artist Canal Cheong Jagerroos at her studio. Photo courtesy to the artist.
AD: Is each new 'Floating Island' exhibition a continuation in which you are reworking and adding new components?
CCJ: For every 'Floating Island' installation exhibition, the focus changes and I reconstruct the installation and add new elements and works to flow around a new theme. My recent exhibition, called 'Floating Island - Drifting' at the Saimaan Art Centre in Finland, was installed in their newly renovated underground cave space. I introduced a video projection of running water with music and fog to respond to the unique location. For me, 'Floating Island' is also a project about discovering and interacting with new spaces and making connections with different audiences.
I had five years of 'Floating Island' exhibitions scheduled, some of which, of course, have now been put on hold because of the pandemic. In the future, I hope to show 'Floating Island' in outdoor and public spaces: in a forest, on a beach, at a train station, on the street, etc. This is how I imagine the project moving forward, floating from one dimension to the next without limits.
AD: What do you hope viewers are experiencing when they visit your installations or see one of your paintings?
CCJ: For me, my works must spread positive energy. This is one of the purposes of my creativity. Life isn't easy, and it was never meant to be; we all have our share of difficulties and ups and downs. So, I want to share beauty and create opportunities for people to find connections.
I think of my work as a path on which my audience can start a journey of excitement and discovery. We all have individual backgrounds and experiences and different feelings on any given day, and so everyone will connect with the work in their own way. There is a saying that you can never complete an artwork, you can only abandon it. The viewers continue the work and they define how it ends; I just open the door.
AD: Your upcoming online exhibition with Ronewa Art Projects features three new series of works. Could you tell me about these new works and how they fit into your practice?
CCJ: The reality of accepting a "new normal" is something that goes hand-in-hand with the creative process of my latest works for the Ronewa Art Projects exhibition. I started these new series right after opening my solo exhibition at Korundi Rovaniemi Art Museum in February 2020, when the COVID-19 lockdown started. I was stuck in Finland; exhibitions were canceled, museums were closed, and everything was put on hold. It was a shocking experience. I felt unsettled that I couldn't travel to my Shanghai studio for a long while. Of course, I am very fortunate: even in 2020, I held the solo exhibition 'Extract' and the 'Floating Island - Beyond Arctic' installation at Korundi Rovaniemi Art Museum, and the solo exhibition 'Linear Hope' at Saimaan Art Centre and 'Floating Island - Drifting' in the Saimaan Art Cave. Yet, the bad news seemed to rush in from around the world and got worse every day. There was so much fear, confusion, and uncertainty in the air.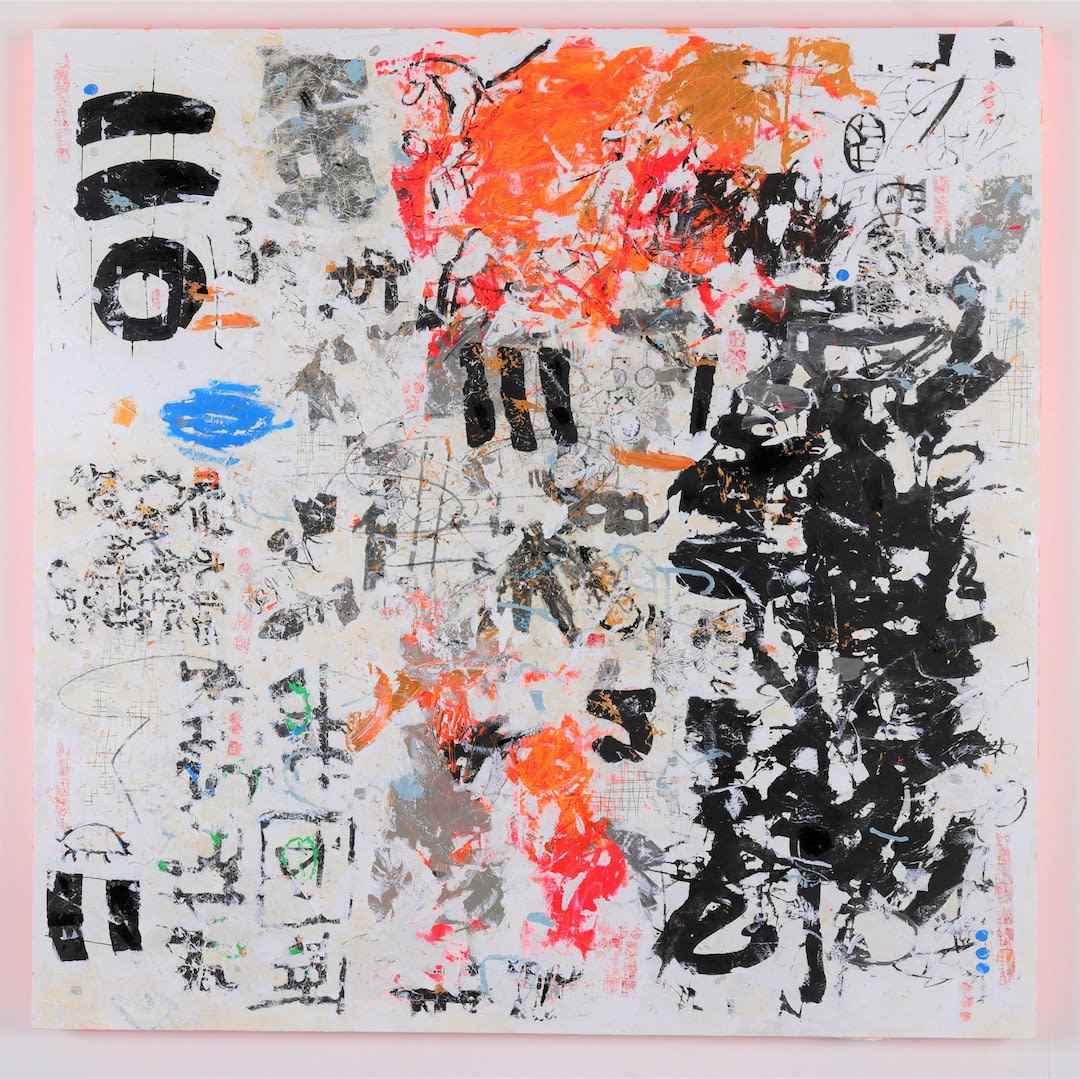 Canal Cheong Jagerroos, 'Orange New Hope II,' 2021, rice paper, pigment, acrylic, and mixed media on canvas, 180 x 180cm. Photo by Hai Fu & courtesy of the artist.
It was in this context that the 'Reflection' series arose. It is a deep analysis of myself, our new situation, and the fragility of humanity. At times, I felt the brush was so heavy I could not pick it up. Everything became slow motion; I felt like I was sinking with the ship. This was the moment I knew I had to find a brighter bright path, despite the difficult circumstances. Keeping myself in full creative motion became more crucial than ever. Therefore, I started both the 'Orange New Hope' and 'Diary' series. With these two series, it almost felt like grasping for salvation before drowning. Orange has always been one of my favorite colors, but I have very seldom applied it in my work. To me, orange has the intense positive energy of the sun and new life. Creating 'Diary' – which was inspired by a painting that came to me in a dream – was a process of self-healing, grounding myself, and finding a new direction. We all carry different emotions with us at once, from the very bright to the very dark. With my work, I want to inspire others to move forward.
Online exhibition:
Canal Cheong Jagerroos – A Diary of Reflection and Hope
June 16 – July 16
Ronewa online viewing room
---
Author
April Dell
Editorial & Communications Manager at Ronewa Art Projects
Berlin, Germany
Ronewa Art Projects
Email: contact@ronewa.com Website: www.ronewa.com