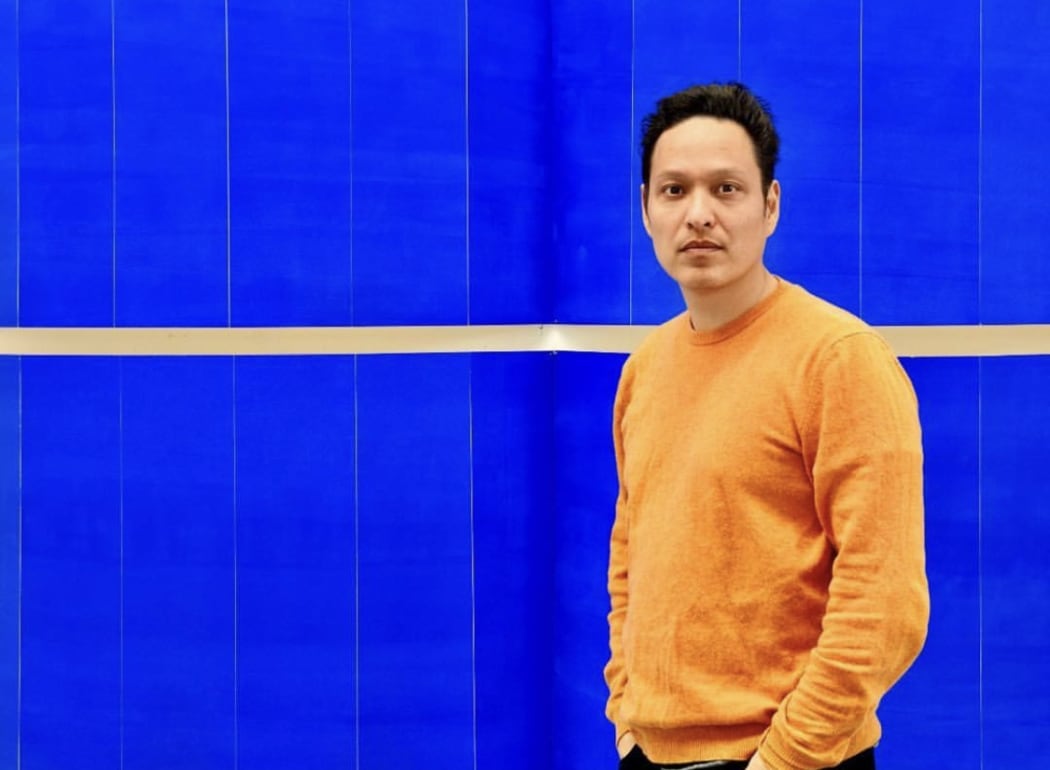 ENGLISH VERSION
The works of Swiss artist Tashi Brauen are created amid genres.
Between image and sculpture, surface and volume, as well as between different media of artistic expression, Brauen creates expansive installations, picturesque-looking photographs and relief-like wall objects that playfully trace the phenomenon of the surface.
Through his material manipulation, Tashi Brauen opens up a new and unusual view of traditional materials and focuses on their physical properties.
Care Venzke: TASHI, YOUR ART IS SITUATED IN THE AREA OF TENSION BETWEEN SPACE AND SURFACE. HOW SIGNIFICANT ARE YOUR SURROUNDINGS FOR THE DEVELOPMENT OF YOUR WORK?
Tashi Brauen: With my background in photography, I often photographed and documented my installations. It was a play between working with a flat surface, with the help of photography, and spatial work in real space. Only at the end did I decide if I wanted to show the work as a photograph or as a real object. The surrounding space was an important part of the picture in the photographic realization. Currently, I am interested in the lines and cracks that bring the image from its surface into space. With cracks and folds, I attempt to extract the image back from its surface, transforming it into a relief sculpture. I now pay less attention to the surrounding space, but rather work on the surface.
CV: THE BASE OF YOUR RELIEF OBJECTS IS A LARGE SHEET OF PAPER COATED WITH PAINT. WHAT IS YOUR "MODUS OPERANDI", AND HOW DO YOU KNOW WHEN YOUR WORK IS FINISHED?
TB: With my relief sculptures, I normally know which room or wall I will work on. It then often becomes space-related work. The scale of the work is contingent on the size of the room.
Initially, I produced the works on site and adapted them in accordance with the circumstances. I still enjoy producing and hanging the works on site.
CV: YOU WORK WITH DIFFERENT MEDIA; HOW DO THEY RELATE TO EACH OTHER?
TB: In my studio, there are an array of objects such as chairs, tables, photo equipment, etc. I often start with one medium and then let it stand around for a while. Then I continue on to my next work. In time, different ideas and sketches emerge. At the outset, I usually do not know, whether a piece turns into a flat or a three-dimensional, spatial work. It only becomes clear to me in the process of creating the work. The approach or the medium controls the process.
The "Rissarbeiten" series resulted from a random observation. Two years ago, I had to move my studio in Zurich, and I folded some photo backgrounds made of cardboard and put them with the waste paper. After a few days, I discovered two of these backgrounds, unfolded, and lying on the floor. The fine cracks in the paper caught my interest. This is how the cardboard backgrounds landed from the waste paper in my new studio.
CV: AT AN ART FAIR LIKE "POSITIONS BERLIN ART FAIR", YOU MEET ALL DIFFERENT KINDS OF ARTISTS FROM AROUND THE GLOBE. HOW DOES THIS EXCHANGE INFLUENCE YOUR WORK?
TB: The artistic exchange I had with Elisabeth Sonneck during Paper Positions Art Fair in April brought her to our team. We talked briefly and realized that we value each other's work very much. Just a few minutes of conversation have now led to our cooperation in Berlin.
I like these encounters and try to give space to such fleeting and random moments in my work. Coincidences or mistakes often determine the progress of my work.
---
---
DEUTSCHE ÜBERSETZUNG
Die Arbeiten des Schweizer Künstlers Tashi Brauen sind im Dazwischen angelegt.
Zwischen Bild und Skulptur, Fläche und Volumen, sowie zwischen verschiedenen Medien künstlerischen Ausdrucks, schafft Brauen raumgreifende Installationen, malerisch anmutende Fotografien und reliefartige Wandobjekte, die spielerisch dem Phänomen der Oberfläche nachspüren.
Durch seine Materialmanipulationen eröffnet Tashi Brauen einen neuen und ungewöhnlichen Blick auf traditionelle Werkstoffe und rückt ihre physischen Eigenschaften in den Fokus.
Cara Venzke: TASHI, DEINE ARBEITEN LIEGEN IM SPANNUNGSFELD ZWISCHEN FLÄCHE UND RAUM. WELCHE BEDEUTUNG SPIELT DER UMRAUM FÜR DIE ENTSTEHUNG DEINER ARBEITEN?
Tashi Brauen: Von der Fotografie kommend, habe ich oft meine Installationen abgelichtet und dokumentiert. Es war ein Wechselspiel zwischen der Arbeit in der Fläche, mit Hilfe der Fotografie und der räumlichen Arbeit im realen Raum. Erst am Schluss entschied ich mich, ob ich die Arbeit als Fotografie oder als reales Objekt zeigen wollte. Der Umraum war in der fotografischen Umsetzung ein wichtiger Bestandteil des Bildes. In den neueren Arbeiten interessieren mich die Linien und Risse, welche das Bild von der Fläche in den Raum bringt. Mit den Rissen und Faltungen versuche ich das Bild aus der Fläche wieder herauszulösen und zu einer Art Relief zu verwandeln. Dem Umraum gebe ich zurzeit weniger Aufmerksamkeit, vielmehr der Oberfläche.
CV: DEN AUSGANGSPUNKT FÜR DEINE RELIEFOBJEKTE BILDET EIN GROSSER, MIT FARBE ÜBERZOGENER BOGEN PAPIER. WIE SIEHT DEIN ARBEITSPROZESS AUS UND WORAN MERKST DU, DASS EINE ARBEIT FERTIG IST?
TB: Bei meinen Reliefs weiss ich meistens welchen Raum oder welche Wand ich bespielen werde. Es sind dann oft raumbezogene Arbeiten. Die Grösse der Arbeit ergibt sich durch den Raum.
Anfangs habe ich die Arbeiten vor Ort produziert und den gegebenen Umständen angepasst. Ich mache dies immer noch sehr gerne, dass ich vor Ort die Arbeit produziere und hänge.
CV: DU ARBEITEST MIT VERSCHIEDENEN MEDIEN, WIE STEHEN DIESE IM VERHÄLTNIS ZUEINANDER?
TB: In meinem Atelier stehen diverse Objekte wie Stühle, Tische, Fotoequipment etc. Oft beginne ich in einem Medium und lasse es für eine Weile rumstehen. Dann gehe ich weiter zu einer nächsten Arbeit. Nach einer Weile fliessen verschiedene Ideen und Skizzen ineinander rein. Meistens kann ich nicht von Anfang an sagen, ob eine Arbeit eine flache oder eine dreidimensionale, räumliche Arbeit wird. Im Prozess wird mir dies erst klar. Die Herangehensweise oder auch das Medium steuert den Prozess.
Die Rissarbeiten entstanden durch eine zufällige Beobachtung. Als ich vor 2 Jahren mit meinem Atelier in Zürich umziehen musste und ich einige Fotohintergründe aus Pappe zusammenfaltete und sie zum Altpapier stellte, entdeckte ich nach einigen Tagen zwei dieser Hintergründe, aufgefaltet am Boden liegend. Die feinen Risse im Papier weckten mein Interesse. So landeten die Papphintergründe vom Altpapier in meinem neuen Atelier.
CV: AUF EINER MESSE WIE DER "POSITIONS BERLIN ART FAIR" TRIFFT MAN MIT DEN UNTERSCHIEDLICHSTEN KÜNSTLERN*INNEN AUS ALLER WELT ZUSAMMEN. WIE BEEINFLUSST DIESER AUSTAUSCH DEINE ARBEIT?
TB: So wie mit Elisabeth Sonneck, die ja nun in Berlin auch in unserem Team ist. Wir haben kurz miteinander gesprochen und gemerkt, dass wir unsere Arbeiten gegenseitig sehr schätzen. So entstand in wenigen Minuten ein Austausch, der nun zur Zusammenarbeit in Berlin geführt hat.
Ich mag solche Situationen! Irgendwie versuche ich auch in meiner Arbeit solchen flüchtigen und zufälligen Momenten Raum zu geben. Zufälle oder Fehler bestimmen oft das Weiterkommen meiner Arbeiten.
---
Interview by:
Cara Venzke
Translations:
Gerold Wunstel
Christine Washington
Roger Washington
---
Ronewa Art Projects:
Friedrichstraße 171, 10117 Berlin, Germany
Hours: are Monday through Friday 14:00 to 18:00, Saturdays 12:00 to 17:00
By appointment only. Tel.+49 30 366 0878
Email: contact@ronewa.com Website: www.ronewa.com