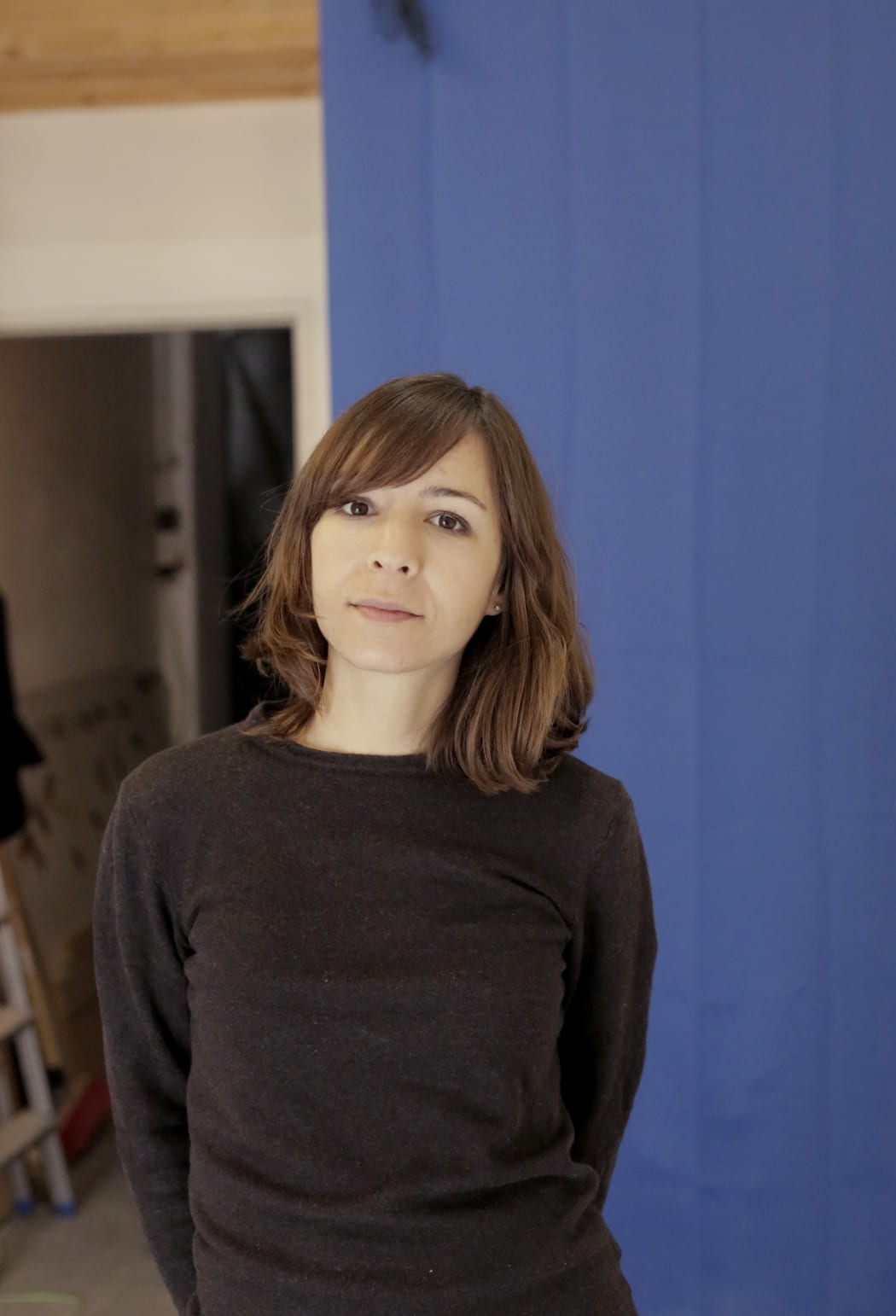 ENSGLISH VERSION
The works of Berlin based Spanish artist Patricia Sandonis possess a strong political character.
The partly participatory installations, objects, and drawings translate social phenomena into artistic processes. For example, Sandonis deals with the creation and consolidation of collective memory. For this, she has dealt with the conservation of European monuments, and has developed her own artistic language of remembrance.
Cara Venzke: YOUR ARTWORK IS QUITE POLITICAL. HOW DO YOU CHOOSE YOUR TOPICS?
Patricia Sandonis: I always choose topics, which affect me on a personal level, and which are linked to my biography. For example: the loss of the social character of the main square of my hometown Valladolid due to a bureaucratic process; the financial crisis in 2008, which hit Spain very hard; the bureaucracy I experienced in Germany as a Spanish migrant; the debate regarding the cultural memory of a new country.
CV: IN YOUR WORK, YOU COMBINE DIFFERENT MATERIALS AND MEDIA. ARE THERE ANY SPECIFIC MATERIALS OR TECHNIQUES YOU PREFER?
PS: The choice of my materials is new for each project. Some of these materials directly support the concept of my recent work. I combined natural materials with typical Anthropocene materials that have become an intricate part of our consumer society, such as plastic, nail polish, or confetti.
As a media, I mostly work in drawing, painting and ready-made.
CV: YOU HAVE BEEN LIVING AND WORKING IN BERLIN FOR SOME TIME NOW. HOW HAS THIS CITY INFLUENCED YOUR ARTISTIC ENDEAVORS?
PS: Berlin has influenced and altered my work and my personal life. Some aspects of "Berlin's identity" very much interest me and have left a mark, such as the immense fluctuation of people from all around the world; the artistic underground scene; the confident handling of questions regarding ecology, feminism and post colonialism; the mixture of various aesthetics of cohabitation in Berlin.
CV: HOW CRUCIAL IS THE INVOLVEMENT OF YOUR AUDIENCE TO YOUR WORK?
PS: I always invite viewers to participate in my work and it is more direct if I work in a participatory way. It is important for me to convey the complexity of the context of each artistic project and to give the viewer the freedom to reflect.
---
---
DEUTSCHE ÜBERSETZUNG
Die Arbeiten der spanischen Künstlerin Patricia Sandonis, die in Berlin lebt und arbeitet, haben einen ausgeprägt politischen Charakter.
Ihre zum Teil partizipativen Installationen, Objekte und Zeichnungen, übersetzen gesellschaftliche Phänomene in künstlerische Prozesse. So beschäftigt sich Sandonis beispielsweise mit der Entstehung und Festschreibung kollektiver Erinnerung. Hierfür hat sie sich mit Europäischer Denkmalkultur auseinandergesetzt und ihre eigene künstlerische Formensprache des Erinnerns entwickelt.
Cara Venzke: DEINE KÜNSTLERISCHE ARBEIT IST SEHR POLITISCH. WIE WÄHLST DU DEINE THEMEN AUS?
Patricia Sandonis: Es sind immer Themen die mich persönlich betreffen und die sehr eng mit meiner Biographie verbunden sind. Zum Beispiel der Verlust des sozialen Charakters des Hauptplatzes meiner Heimatstadt Valladolid, durch einen Bürokratisierungsprozess. Die Finanzkrise 2008 die Spanien so stark betroffen hat, die Bürokratie der man als Migrantin in Deutschland ausgesetzt ist, oder auch die Auseinandersetzung mit der Erinnerungskultur eines neuen Landes.
CV: IN DEINEN ARBEITEN KOMBINIERST DU VERSCHIEDENSTE MATERIALIEN UND MEDIEN. GIBT ES MATERIALIEN UND TECHNIKEN DIE DU BEVORZUGST?
PS: Die Wahl meiner Materialien treffe ich für jedes Projekt neu. Manche Materialien unterstützen direkt das Konzept. Für meine letzten Arbeiten habe ich gerne natürliche Materialien mit typischen Materialien des Anthropozän kombiniert, die für unsere Konsum Gesellschaft stehen, wie Plastik, Nagellack oder Konfetti.
Als Medien arbeite ich meistens mit Zeichnung, Malerei und Ready-Made.
CV: DU LEBST UND ARBEITEST NUN SCHON EINIGE ZEIT IN BERLIN. WIE HAT DIE STADT DEINE KÜNSTLERISCHE ARBEIT BEEINFLUSST?
PS Berlin hat meine Arbeit und mein Leben sehr stark beeinflusst und verändert. Aspekte der Berliner Identität die mich interessieren und geprägt haben sind z.B. die immense Fluktuation von Menschen aus der ganzen Welt, die künstlerische Underground Scene, der selbstbewusste Umgang der Menschen mit Fragen der Ökologie, des Feminismus oder Post Kolonialismus, und die Mischung von unterschiedlichen Ästhetiken des Zusammenlebens.
CV: WIE WICHTIG IST DIR DIE EINBEZIEHUNG DER BETRACHTER*INNEN IN DEINE ARBEITEN?
PS: Ich lade die Betrachter*Innen stets ein, an meinen Arbeiten teilzunehmen. Dies ist direkter wenn ich partizipatorisch arbeite. Mir ist es wichtig, die Komplexität der Zusammenhänge jedes künstlerischen Projekts in irgendeiner Form zu vermitteln und den Betrachter*Innen die Freiheit zu geben zu reflektieren.
---
Interview by:
Cara Venzke
Translations:
Gerold Wunstel
Christine Washington
Roger Washington
---
Ronewa Art Projects:
Friedrichstraße 171, 10117 Berlin, Germany
Hours: are Monday through Friday 14:00 to 18:00, Saturdays 12:00 to 17:00
By appointment only. Tel.+49 30 366 0878
Email: contact@ronewa.com Website: www.ronewa.com