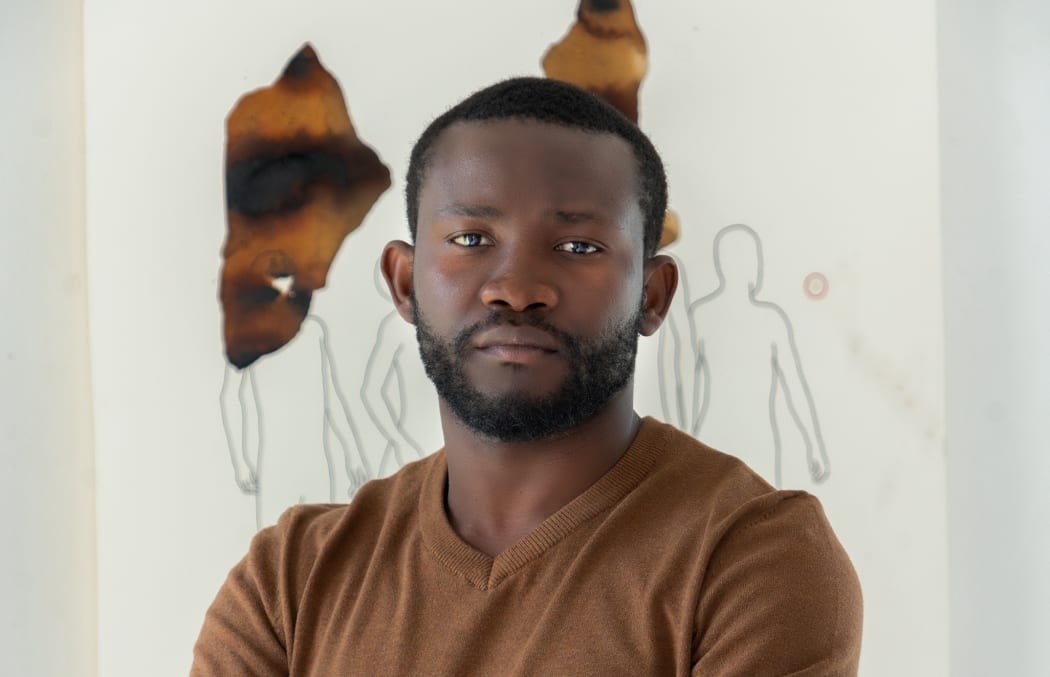 Yvanovitch Mbaya works in the manner of a sociologist, inspired by his travels as a young man through West Africa. His drawings present a humanity full of hope, told through the lens of the traditions of his native Bantu culture. On the occasion of the exhibition Kimvuka (Together) at Ronewa Art Projects in Berlin, we talked to Mbaya about how these cultural elements are translated into the figures, materials, and symbology in his work.
---
April Dell: Your works in the exhibition Kimvuka (Together) at Ronewa Art Projects contain figures, yet the figures you draw are anonymous. Are they based on real people?
Yvanovitch Mbaya: As an artist and a traveler, I am witness to the world that surrounds me and in which I circulate. Through my work, I celebrate the social environment, and in my figures, I restore the memory of forgotten people I have met and observed.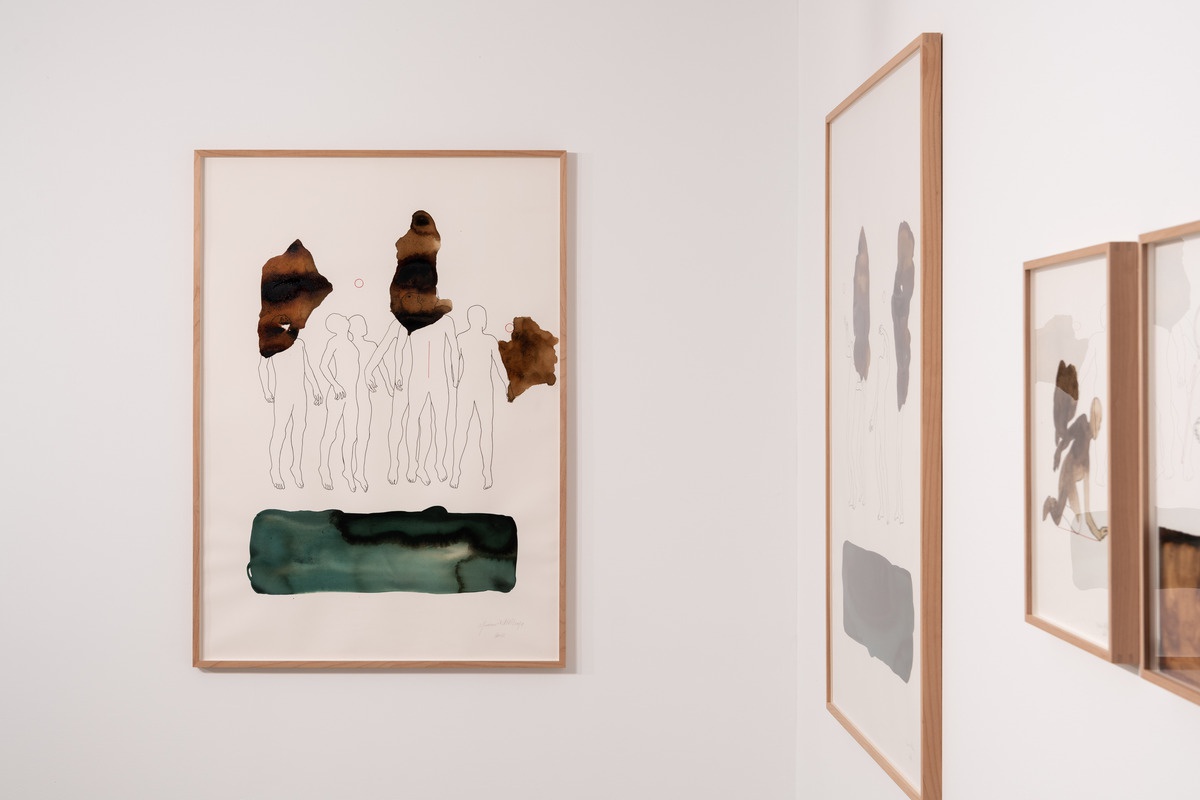 Yvanovitch Mbaya, Installation view, Kimvuka (Together), Ronewa Art Projects, Berlin, 2023. Photo by Jeremy Knowles
AD: The figures appear frozen in action. What is happening in some of these scenes? Is there something that ties them all together?
YM: The figures in these works are animated by the same spiritual will that drives Bantu traditions. These scenes represent the rituals of our ancestors. This is one of the central elements of the spiritual life of the Congo; it is essentially a renewal of our relationship with our deceased ancestors.
All of the actions depicted are moments lived and felt during traditional ceremonies. Their representation in my work reminds me not to forget where I come from and who I am. Their creation is a kind of personal ritual of remembrance.
AD: You use a variety of coffee beans as painting materials in your work. Firstly, why coffee?
YM: In the traditional practices of my village Boko in the Republic of Congo, coffee is one of the main elements used in traditional medicine. This practice of healing with coffee has continued until today in some of the African countries I have visited. For me, this material represents a significant and enduring link between different ancestral practices in the African continent.
AD: How do you prepare the coffee for artmaking? What qualities do the different coffee beans have?
YM: I base the preparation on Bantu techniques for extracting pigments from different plants, which allowed our ancestors to decorate masks and fabrics. This process is also a kind of ritual that requires a lot of time, up to three days. It also requires precision, as I mix the coffee pigment with other natural elements: Indian ink and charcoal powder.
The coffee beans I use come from several African countries I have lived in or travelled through. They each represent ancestral knowledge and a strong cultural identity. The quality of the beans and the know-how of the culture influences the color, which allows me to create nuanced tones. For example, I use beans from Harar, Ethiopia, for their distinctive tones of cocoa. For the dark tones, I use Robusta beans from the Ivory Coast, which are very full-bodied and bitter.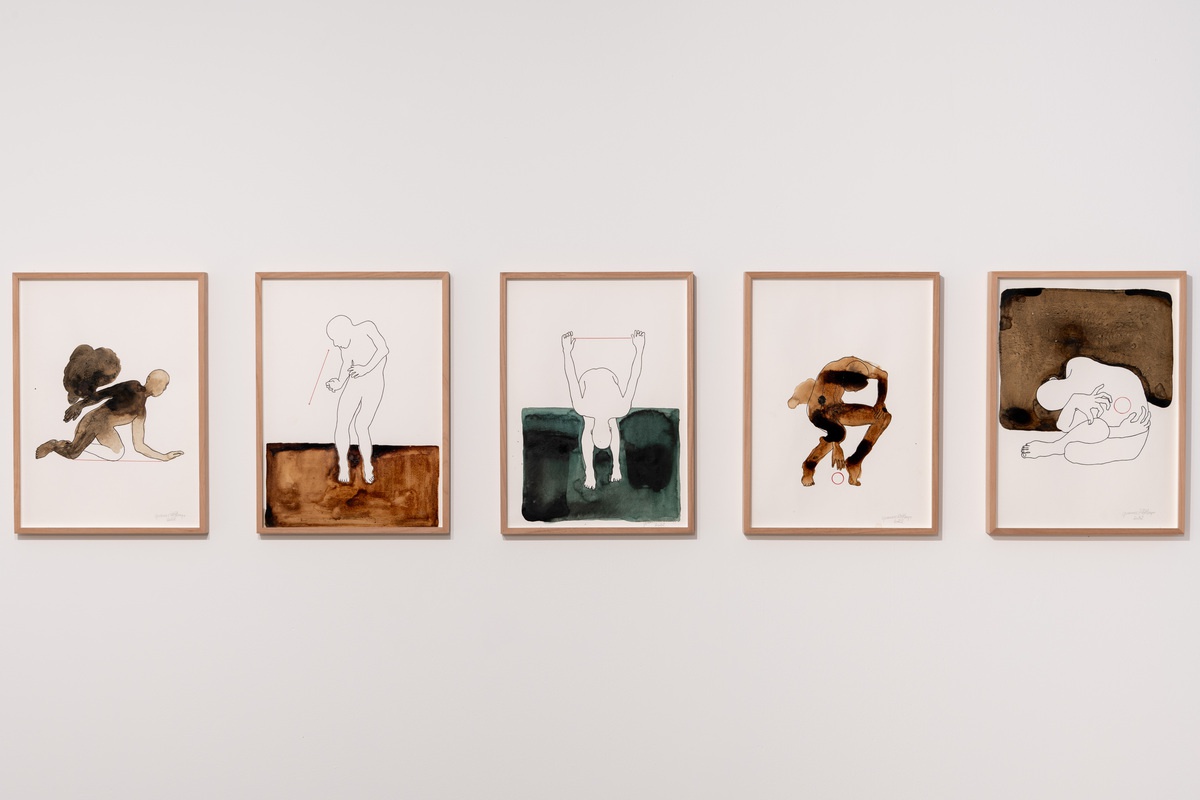 Yvanovitch Mbaya, Installation view, Kimvuka (Together), Ronewa Art Projects, Berlin, 2023. Photo by Jeremy Knowles
AD: With this new series created for the Berlin exhibition, you introduce the pigment indigo into your work. What is the significance of this material?
YM: The indigo tree is a sacred plant used in traditional practices in the Congo. The blue of indigo was reserved for woman practitioners with a high position in the community. In the context of this series, the color draws on the value and power of the Indigo plant within Bantu culture.
AD: Several of your works contain cloud-like forms rendered in coffee or indigo, which obscure or consume the figures. What do these forms represent?
YM: These forms represent potential emotions and memories. The concept for this series of works begins with the idea that anyone is able to connect and identify with them in their own way. Therefore, the emotions that these forms embody are open for the viewer to interpret.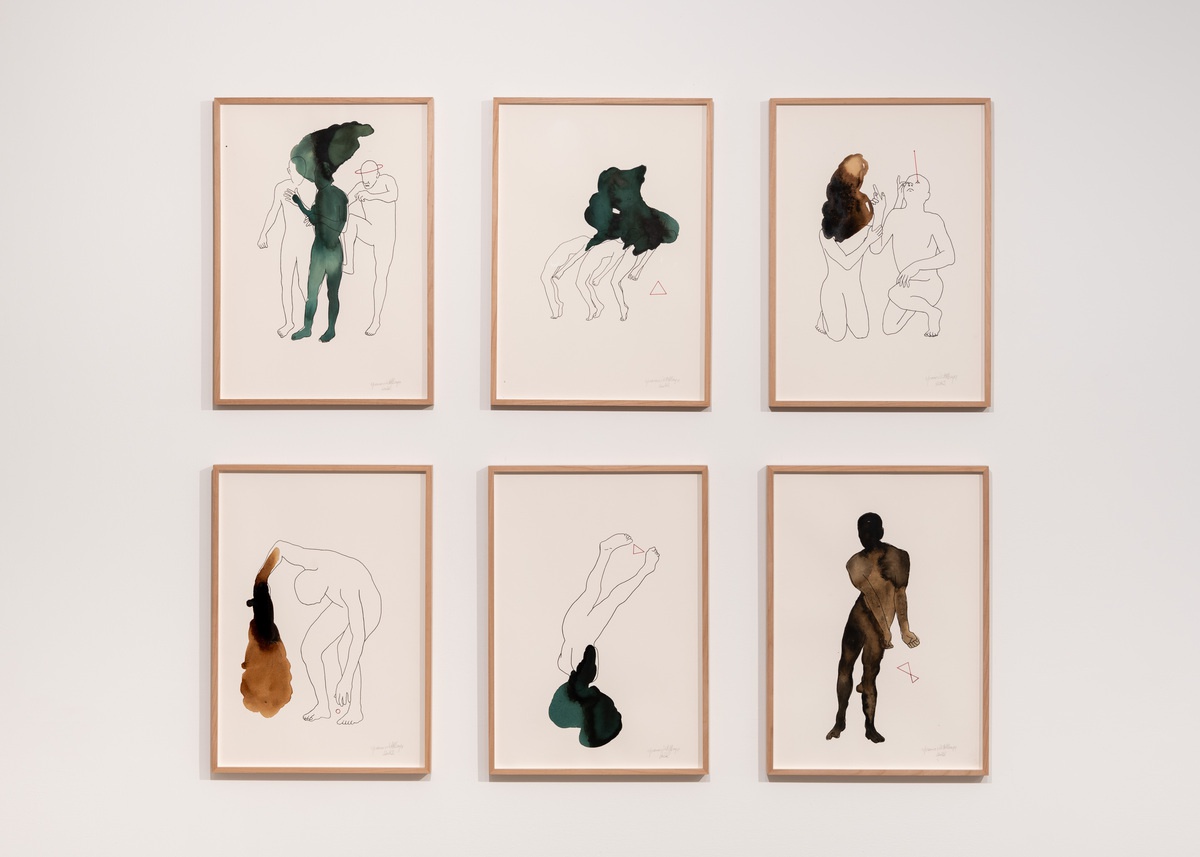 Yvanovitch Mbaya, Installation view, Kimvuka (Together), Ronewa Art Projects, Berlin, 2023. Photo by Jeremy Knowles
AD: Tell me about the red geometric symbols and lines that appear in many of your works.
YM: In Bantu culture, symbols are omnipresent. They represent the knowledge left by our ancestors - each symbol corresponds to a message. Several of these symbols come up very often in my work: the circle, triangle, line, and the hourglass representing time.
The work 'Mvita (Battle)' represents a woman facing downwards with a triangle symbol between her feet. The triangle represents fertility, and, accompanied by the Indigo blue, it speaks to the struggles led by Bantu women for the preservation of knowledge and tradition.
The circle is very present in my works. It's a very sacred symbol representing the domain and language of the spirits; it is the guiding knowledge of our ancestors. This symbol is both the beginning and the end, in a continuum.
Finally, the line represents the link we have with our ancestors. It is the whispering language of Bantu cultural transmission.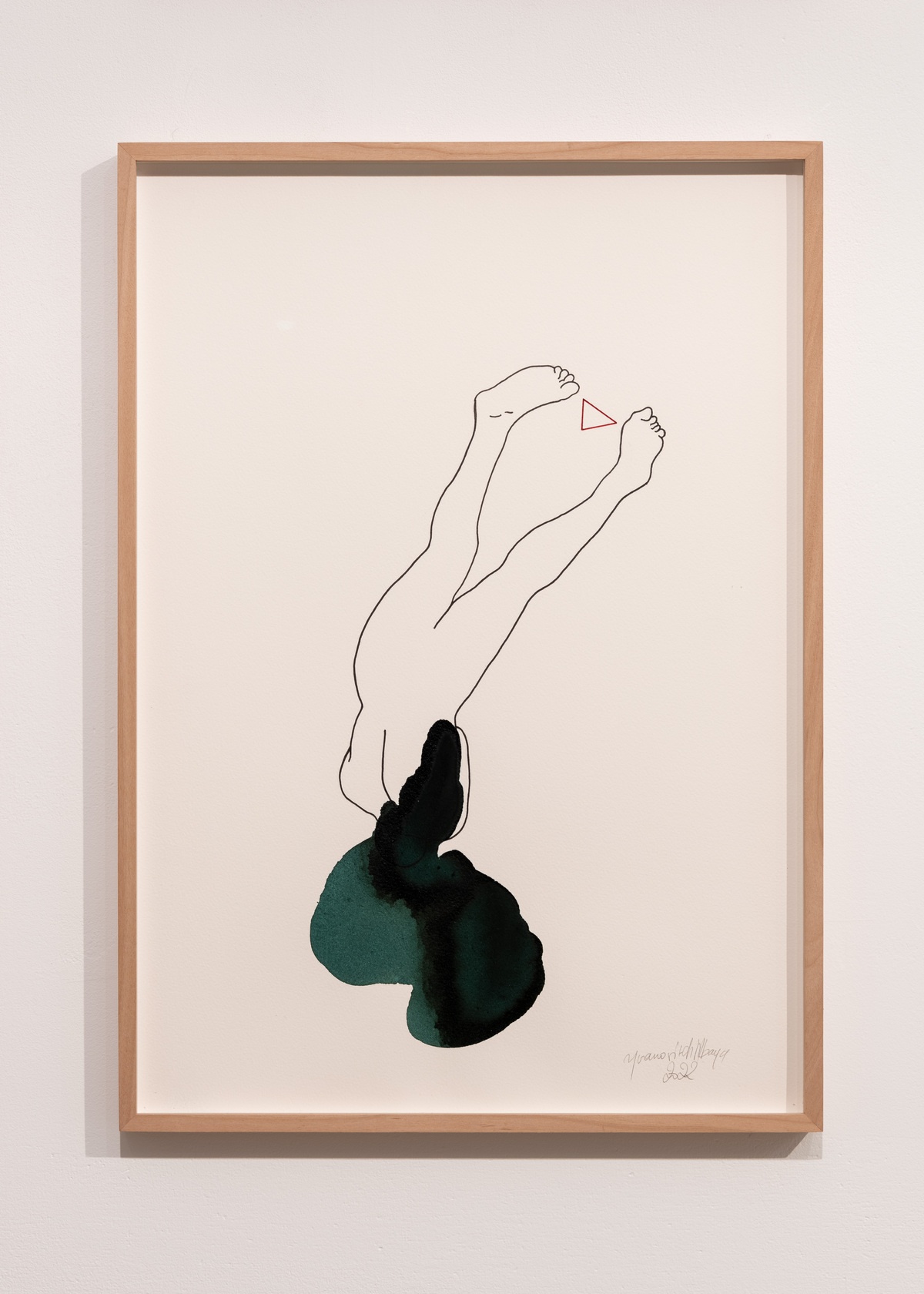 Yvanovitch Mbaya, Installation view, Kimvuka (Together), Ronewa Art Projects, Berlin, 2023. Photo by Jeremy Knowles
AD: The video performance Ngunza (Spiritual Initiation) will premiere in the Berlin exhibition. How does your dance in this video relate to the works on paper? What is unique about expressing yourself through dance?
YM: During my creative process, a question comes to me very often: how to communicate my feelings? I feel the body is the most direct way to transmit emotion. In the Ngunza religion, dance is very important. Through it, we get in touch with the spirits of our ancestors more easily.
This performance represents my works in three dimensions and is simply the extension of my emotions and experiences.
AD: You've written about the impact of travel on your art, leaving your native Republic of Congo as a young man and moving to Casablanca, Morocco, where you currently live. When drawing people, do you position yourself as an observer or an outsider?
YM: I would describe my artistic practice as a kind of sociological research, because my work is predominantly inspired by the social environment and human emotions. Indeed, my initiation into an artistic life was during my travels around Western Africa - living in many places, being in perpetual motion, and finally ending up in Casablanca – and it has greatly influenced my artistic path.
I try to represent life with its pleasures, its sufferings, its anxieties, its violence, and the many universal feelings that touch people, whatever their origin.
AD: Honoring elements of Bantu culture is a prominent aspect of your work. Do you feel there is a sense of duty toward preserving culture and tradition among younger African artists?
YM: Africa is starting to become aware of its cultural wealth. Today, the world needs artists who aren't afraid to say something bold, and African artists have a lot to say about our society. The strength of African contemporary art is its rich traditions, which encompass a great deal of knowledge, whether it is sociological or philosophical, and this is visible in the art being produced.
In the work of prominent African artists like Nú Barreto, I see a call to young artists to become aware of this cultural wealth and to protect it so that it endures.

Kimvuka (Together)
March 10 – April 19, 2023
Ronewa Art Projects
Potsdamer Straße 91, 10785 Berlin
Tel: ‭+49 30 77 37 87 30‬