The upcoming online exhibition 'In Plain Sight' with American-Swiss artist Michèle Colburn presents recent works from her stirring abstract series of gunpowder paintings. Read the press release here.
Colburn employs symbolically loaded materials connected to violence and war. Through her process, she disarms the explosive substance and creates beautiful and poignant works that invite reflection on violent histories and current realities. The works soon on exhibit in the Ronewa viewing room were all created in 2020, many under Covid lockdown conditions in Washington, DC.
We caught up with Ms. Colburn and discussed her use of symbolic materials, her gunpowder painting process, and the personal and political contexts of her work. Our conversation took place just a day before the shocking events on January 6th in Washington, DC, and her works feel more relevant now than ever.
---
April Dell: YOU LIKE TO WORK WITH MATERIALS THAT CONTAIN INHERENT ASSOCIATIONS AND SYMBOLISM, SUCH AS YOUR CURRENT SERIES OF WORKS MADE WITH GUNPOWDER. HOW DID YOU DISCOVER GUNPOWDER AS AN ART-MAKING MATERIAL?
Michèle Colburn: I have been working with themes of war and violence since 2006. Prior to using gunpowder, I was working with spent bullet casings and I was shooting canvases - I actually learned to shoot. I didn't like it! I was shocked by how powerful it feels. I think my abhorrence of war and violence in general necessitated exploring these materials as they are fraught with associations and carry a certain weight. Gunpowder was an extension of this.
I was already familiar with American artist Ed Ruscha who made a series of works with gunpowder in the 1960s. The '60s ushered in an entire era of unconventional materials and experimentation and highly politically charged work. I am also aware of Cai Guo-Qiang's work with exploded gunpowder.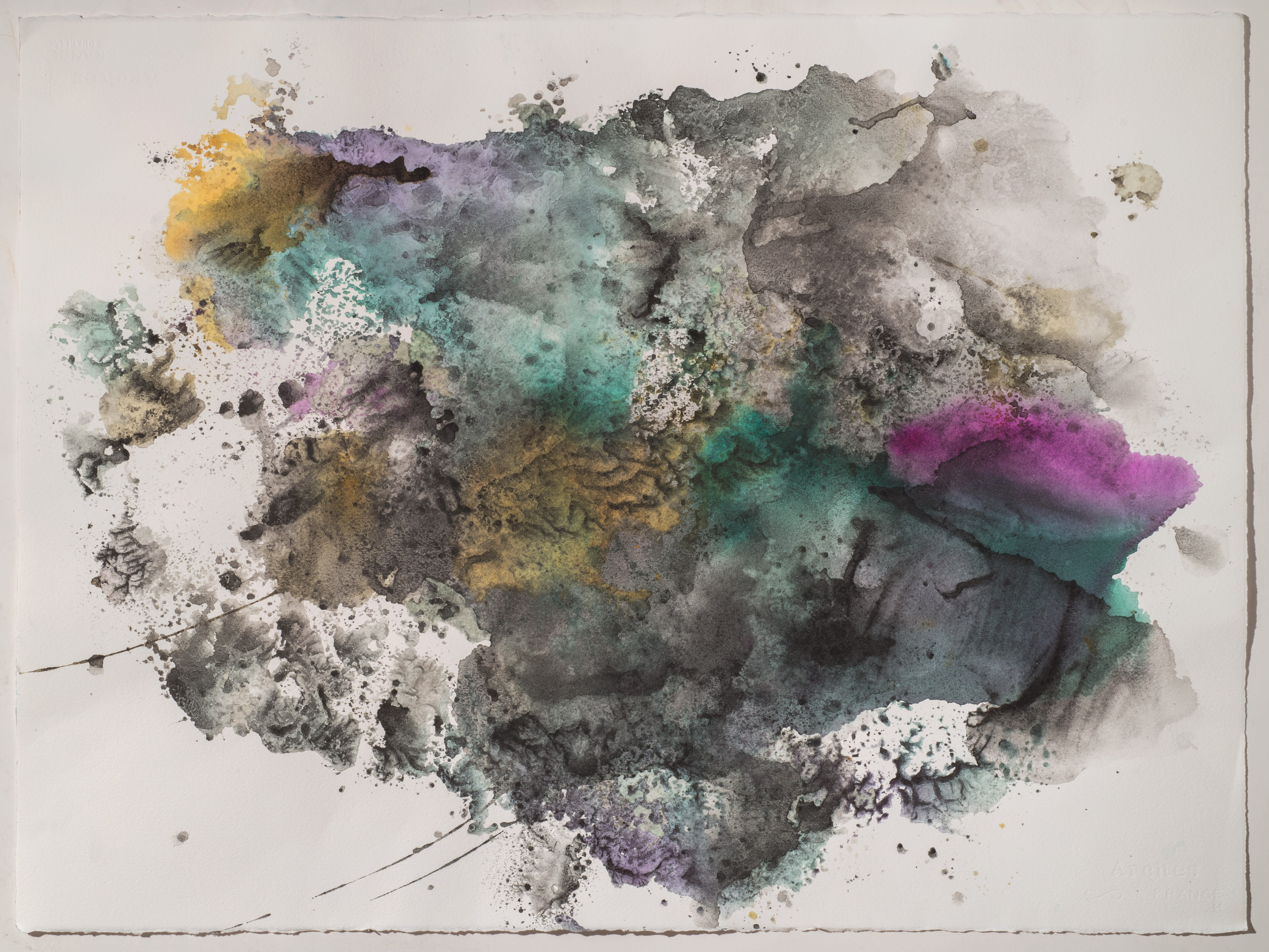 When It All Weighs Heavy (Thoughts Reflecting On The State Of The Union), 2020, gunpowder and watercolours on Arches paper, 22 x 30 in., 56 x 76 cm. Photo: Lee Stalsworth.
AD: HOW DOES GUNPOWDER BEHAVE AS AN ART MATERIAL? HAVE YOU DEVELOPED A SPECIAL TECHNIQUE?
MC: First, I soak it in water, which renders it non-explosive. It's a balancing act to find the ratio of gunpowder to water to get the different tonal intensities. The charcoal in the gunpowder creates a grey, but the powder doesn't completely dissolve, so there's granulation, which I find very interesting. Sometimes I must work fast and make quick decisions, and other times I'll let layers sink in and dry for hours. It's a judgment call how many layers I need, whether to work lights and darks over one another, and whether to work on a wet or drier surface.
AD: I IMAGINE THERE'S AN OBSERVABLE TEXTURE TO THE DRIED GUNPOWDER.
MC: Yes, the material will settle and create texture depending on how thick the liquid is. When it dries, it might pool and leave silvery deposits that pick up the light, almost like a fine glitter.
AD: HOW MUCH CONTROL DO YOU HAVE WHEN YOU'RE CREATING YOUR ABSTRACT WORKS? DO YOU HAVE A VISION OF HOW IT WILL LOOK IN THE END?
MC: When I first started working this way, it was all quite experimental and intuitive. I started pouring, mixing, and evaporating it to see what it did. I let it do its own thing, then was pulling shapes and landscapes out of it. But this felt too constructed. I began making large works, working on the floor, and pouring more. After two years of working this way, I know how to manipulate and push the material to get certain elements and forms to materialize. I can't say too much is left to chance these days, but I relish any happy accidents.
AD: IT IS INTERESTING THAT YOU MENTION LANDSCAPE IMAGERY BECAUSE, TO ME, MANY OF THE GUNPOWDER WORKS APPEAR LIKE AERIAL LANDSCAPE VIEWS. DO YOU SEE IMAGERY IN YOUR PAINTINGS NOW?
MC: In a sense, they are all contemporary landscapes - visually, conceptually, or both. I do see elements of topography, mapping, geology, and climate, but also textures, forms and configurations.
The works are essentially driven by emotional responses to current events. It's a form of action painting, so if I'm agitated or stressed then the work will come out agitated or stressed. Especially during 2020, my works became very agitated. The title of one piece is a direct reference to Trump. One, which is on the landscape side, relates to the extraordinary number of hurricanes last year - this is climate change.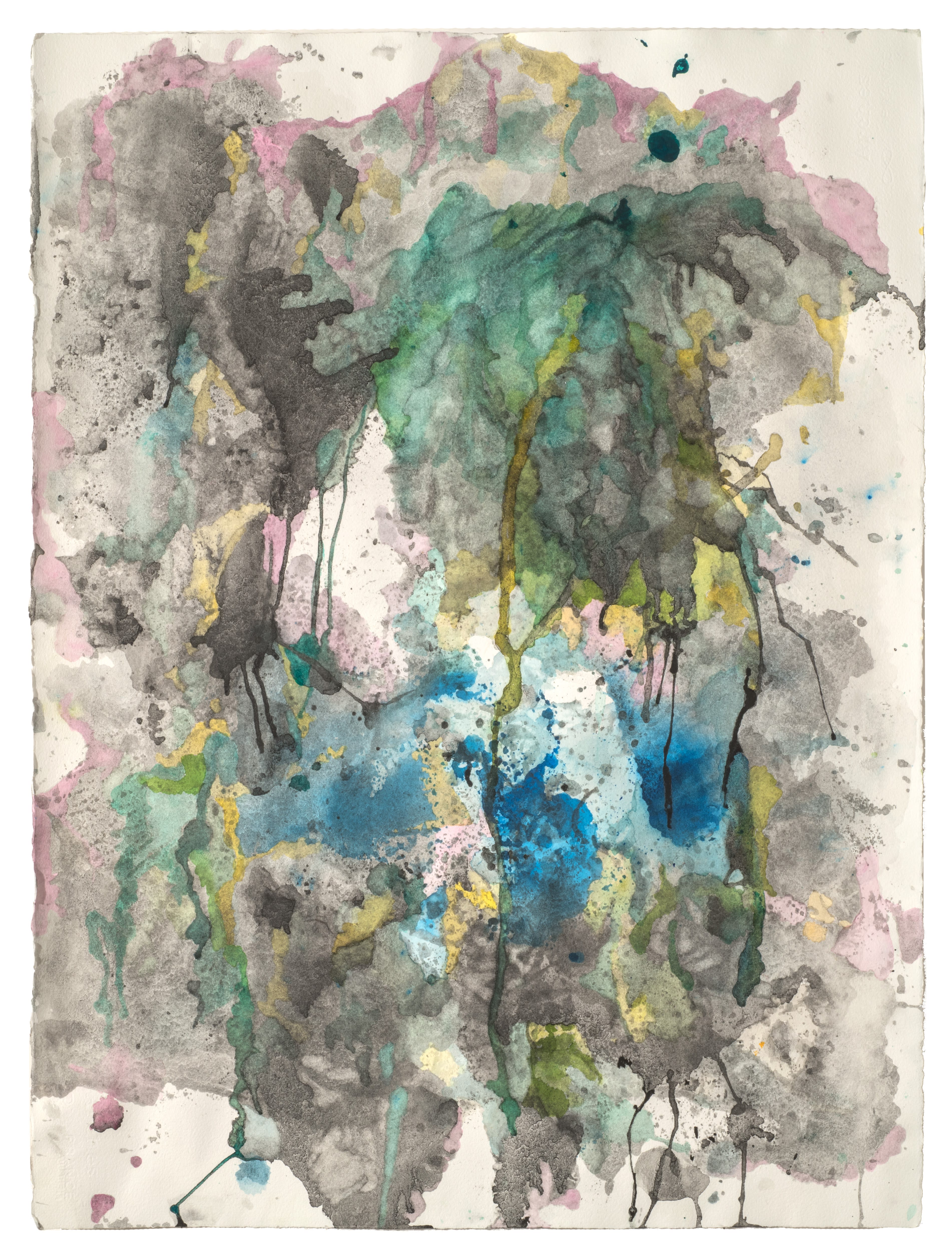 Pendant Lui Un Déluge, 2020, gunpowder and watercolours on Arches paper, 30 x 22 in., 76 x 56 cm. Photo: Lee Stalsworth.
AD: I'M CURIOUS TO KNOW IF WORKING WITH GUNPOWDER GIVES YOU A WINDOW INTO A GUN CULTURE SURROUNDING IT.
MC: In the United States, it's shocking how readily available gunpowder is. Most recently, there has been a shortage of gunpowder and even a shortage of certain types of guns. Individuals were stockpiling these materials because of irrational fears for political reasons and probably due to the pandemic. Gun culture is a complex issue. The industry itself is to blame for the production of certain types of weapons that civilians do not need to own. My work often leads to these types of conversations.
I only use what is known as re-enactor powder. It's what people use when they re-enact Civil War or Revolutionary War battles. It's water soluble, which is important to render the material non-explosive.
AD: ANOTHER PROJECT OF YOURS USES A SIMILAR POTENT MATERIAL: MILITARY TRIPWIRE. TELL ME ABOUT THIS PROJECT.
MC: The Trip Wire Project has been ongoing since 2014. It documents human losses sustained in Iraq and Afghanistan since America entered those countries in combat after 9/11. I wanted to create a visual representation of statistics that can be so easily dismissed. I discovered that the US has loads of surplus Vietnam-era military tripwire. For me, who grew up during the Vietnam war, I saw many parallels in the propaganda of the two administrations involved in these wars. The project is a quiet indictment of the people that essentially lied and fabricated justifications for the invasion of Iraq.
Using the tripwire, I knit a stitch for each life. Five panels represent Iraqi and Afghan dead and wounded non-combatants and US soldiers dead and wounded. I also added another dimension and knitted in public on locations where decisions by leaders or justifications for the invasion were made, and in front of the corporate headquarters of the profiteers from war.
Tripwire Project, 2014-2015, Vietnam-era military tripwire, installation view.
This year, the work will be up to date, 20 years after we entered the wars - America's longest wars. I am at 173,198 stitches with over 80,000 left to go. Today I am working on the last panel regarding wounded Iraqi citizens. The civilian panels are incredibly long and are hung tumbling off the wall and from the ceiling in installation configurations.
AD: DO YOU CONSIDER YOUR PRACTICE AS ACTIVIST ART?
MC: I don't consider myself an activist artist, but rather an artist who is an activist. Political and peace activism is part of who I am, and all work is biographical in a way. My art is communicative. I try to lure or seduce the viewer, wanting them to discover the materials and make their own connections from the exchange. I want people to take a moment and think about the associations with materials and the collective damage they inflict.
AD: AGAINST THE BACKDROP OF THE EVENTS OF 2020 IN AMERICA - FROM COVID TO ANTI-RACISM PROTESTS AND THE PRESIDENTIAL ELECTION - HOW HAVE THE MEANINGS IN YOUR WORKS BEEN CHANGED OR AMPLIFIED?
MC: Meanings in art change with time, and we see this in art history. But I can't address it yet; there's not enough distance. The meanings have probably been amplified, though. I made two works related to the coronavirus with exploding cellular structures. At the time, I was projecting into a future where we would already have this thing under control.
Right now, America is in a very violent period of history. Artists often reflect the times, and 2020 was a globally traumatic year for the entire world, then add climate change, wars, and other natural disasters. All that plus COVID with bad leadership on top made for a total pressure cooker for the world, and I'm an artist in that world. Artists are mirrors, if we chose to be.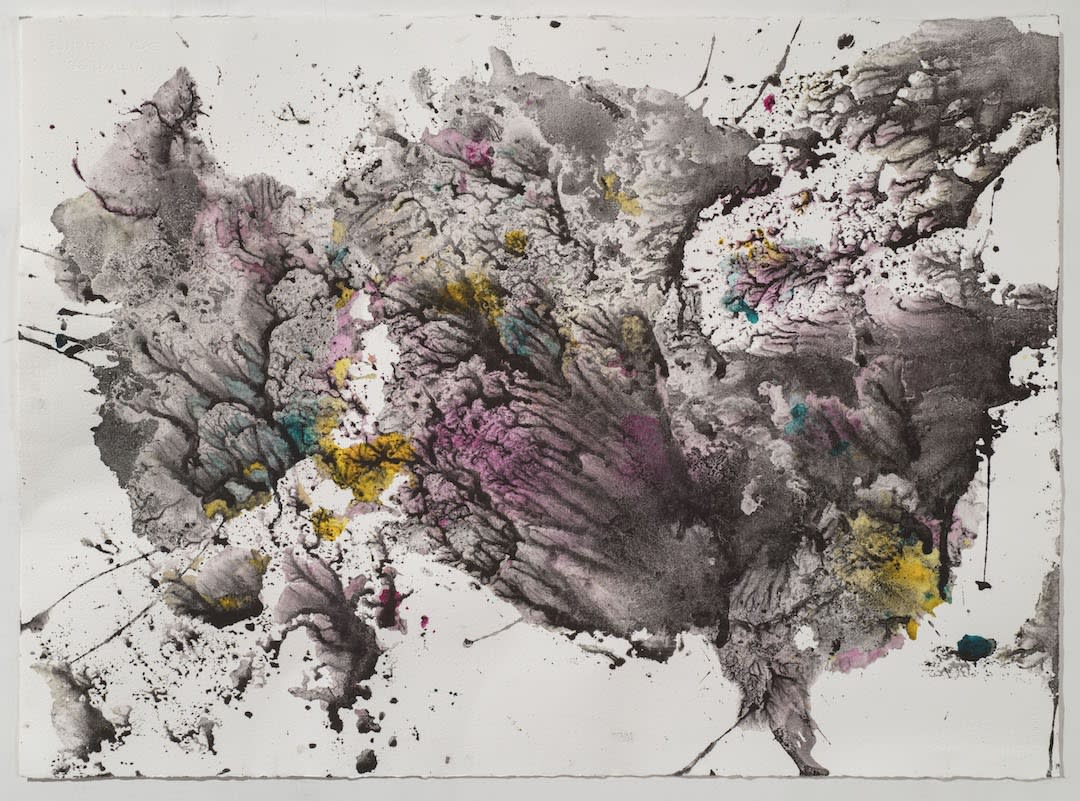 Pyroclastic Surge, 2020, gunpowder and watercolours on Arches paper, 22 x 30 in., 56 x 76 cm. Photo: Lee Stalsworth.
AD: YOU'RE IN A LOCKDOWN IN WASHINGTON DC RIGHT NOW. THINKING ABOUT THE ART WORLD AND WHAT WE'VE SEEN WITH THE SHIFT TO ONLINE SPACES IN RESPONSE TO THE PANDEMIC, HOW IS YOUR EXPERIENCE OF THIS TRANSITION?
MC: Firstly, I miss going to art openings, galleries, and museums, and it's tough not having the social interaction and seeing artworks in person. But in terms of what's happening online and how galleries, like Ronewa, are promoting artists and showing work, I think it's a great way to proceed. It's the only way in many cases.
I think if galleries are showing high-quality images with a clear context for the works, it's great. I've attended online events, such as interviews with artists, and it works well. As people get more adept at it, it will get more seamless too. The move to more online viewing and sales was inevitable, and beyond Covid it's all going to coexist.
AD: THEY CAN GO HAND IN HAND. THERE'S AN AWARENESS AND EXCITEMENT ABOUT ART THAT BUILDS UP ONLINE THAT ENCOURAGES PEOPLE TO SEEK OUT PHYSICAL SPACES.
MC: Yes, you're right. They feed each other, and it can be more than just marketing. A lot is going on visually with artworks on Instagram too. Right now I think, if there's any way forward - do it.
---
Ronewa Art Projects
Email: contact@ronewa.com Website: www.ronewa.com