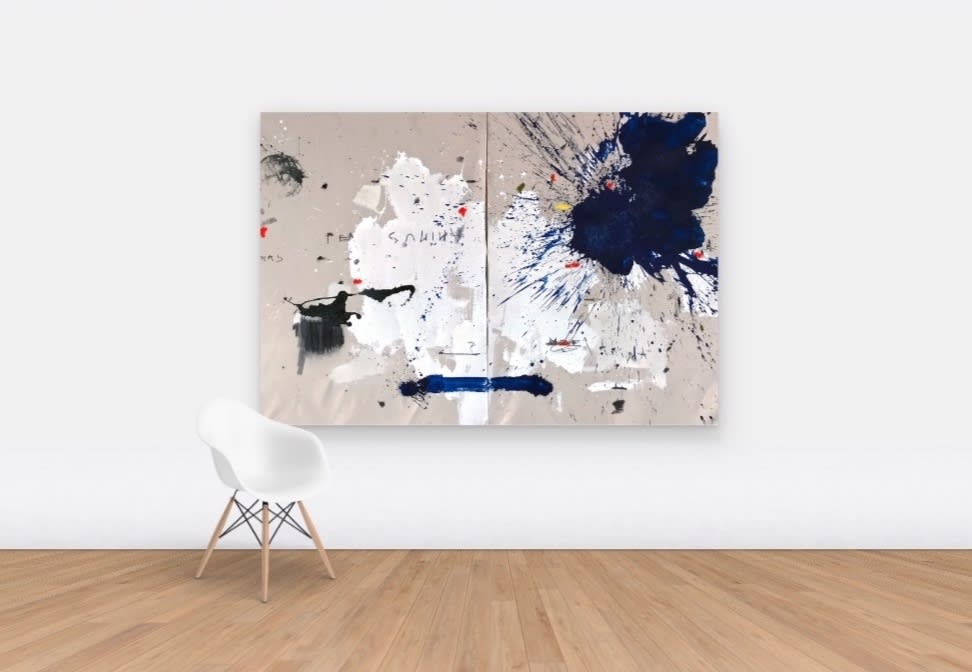 Over the last few months, we have seen how adaptable the art market can be. New online innovations continue to promote artists despite the challenges presented by the COVID-19 shutdowns. At Ronewa, we want to be at the forefront of these changes. Our new mission and new platform respond to the needs of a future online art market that values innovation and accessibility. We take a closer look at the forces at work in the new global online art arena.
---
What does the online art market look like?
Having an online presence is now an industry standard for art galleries in a globalized and highly-connected world. Social media is invaluable for reaching new audiences, with many collectors using Instagram to keep up with art market trends and news.
The latest Art Market report published yearly by Art Basel shared some illuminating facts that tell us attitudes toward purchasing art online are changing with a new generation of buyers. Nearly half of the collectors surveyed used online platforms to buy art either always or often, with 61% having used Instagram to instigate a purchase. Though online sales dropped by 2% last year, the online art market has been growing steadily for some time, making up 9% of total sales by value in 2019.
What can we learn from this? The need for a responsive and immersive online art experience is there—one that facilitates smooth and secure ways to purchase art online.
---
How has the COVID-19 crisis changed the art market?
With the closure of galleries, museums, and art fairs, we saw a rapid shift in the art world's commitment to the online art world. Where many galleries were reluctant to go digital in a significant way before, not catering to an online audience now is unimaginable. The changes that were already underway—for example, art fair online viewing rooms and online exhibitions—have been accelerated by the pandemic. Embracing the new opportunities presented by the current circumstances is the only way forward.
Lengthy COVID travel restrictions will significantly impact future art fairs. Art fairs can't ignore the online market. We will likely witness a lasting switch to sophisticated online presentations with purchasing capacities and upfront price listings adjacent to traditional physical art fairs.
---
What has been the effect on artists?
Many artists' found themselves without access to their studios or art-making supplies, and without the physical channels they usually sell their work through. On top of this, many did not have access to financial support to cover losses. A survey conducted in the United States by the Artist Relief fund reported that 95% of artists and creative workers have lost income from the effects of COVID-19. Artists need an active art market now more than ever.
Artists are at the heart of what we do at Ronewa and we never lose sight of this. Embracing an online art market means greater visibility for artists and greater accessibility for buyers. Facilitating online sales is a big part of this commitment.
---
Why is price transparency so important?
In an online art market, the traditional discretion around prices no longer fits. In a recent study by Artsy of its users, public access to the asking price for a work was the most frequently requested change to how galleries operate on the platform. The argument has always gone, not listing prices encourages a genuine conversation between collector and dealer. But this guarding of information can intimidate and alienate first-time collectors.
The Art Market report states that finding new buyers was the biggest challenge cited by art dealers in 2019. It's time to get over old customs and change the buying experience to open the doors to new potential collectors. The report also shows that new collectors prefer online sales, with 57% of online purchases made by new buyers who had never been to the gallery or met the dealer in person.
Trust and credibility are still important factors in these sales. That's why cutting-edge curated online art presentations alongside secure transaction software are essential for the future of an online art market.
---
Ronewa Art Projects' new mission
For us at Ronewa, we understand the need for quality online art presentations and communication. Without a brick-and-mortar location, engagement with an online art community is vital. In a growing online art market, we need to provide the best possible online art experience for our audience and promote our artists.
Our new mission is two-fold: we continue to support local art contexts with our project-based approach and commit to providing a thoughtful, immersive, and accessible art experience as an online gallery. Beginning on June 19th with the opening of our first online exhibition featuring new works by Tashi Brauen, we will be bringing regular curated exhibitions to our global art community.
We have revamped our platform to include exhibition viewing rooms, wall visualizations, larger images, and responsive design. Coinciding with our first online exhibition, we will be launching our online store with Stripe, a leading secure payment platform. Enabling online sales is now another way we can support our artists and take part in leading the shift toward a more open and accessible art market.
---
Ronewa Art Projects:
Friedrichstraße 171
10117 Berlin
Germany
Office hours:
Monday - Friday
11 am - 6 pm
By appointment only. Tel.+49 30 366 0878
Email: contact@ronewa.com Website: www.ronewa.com