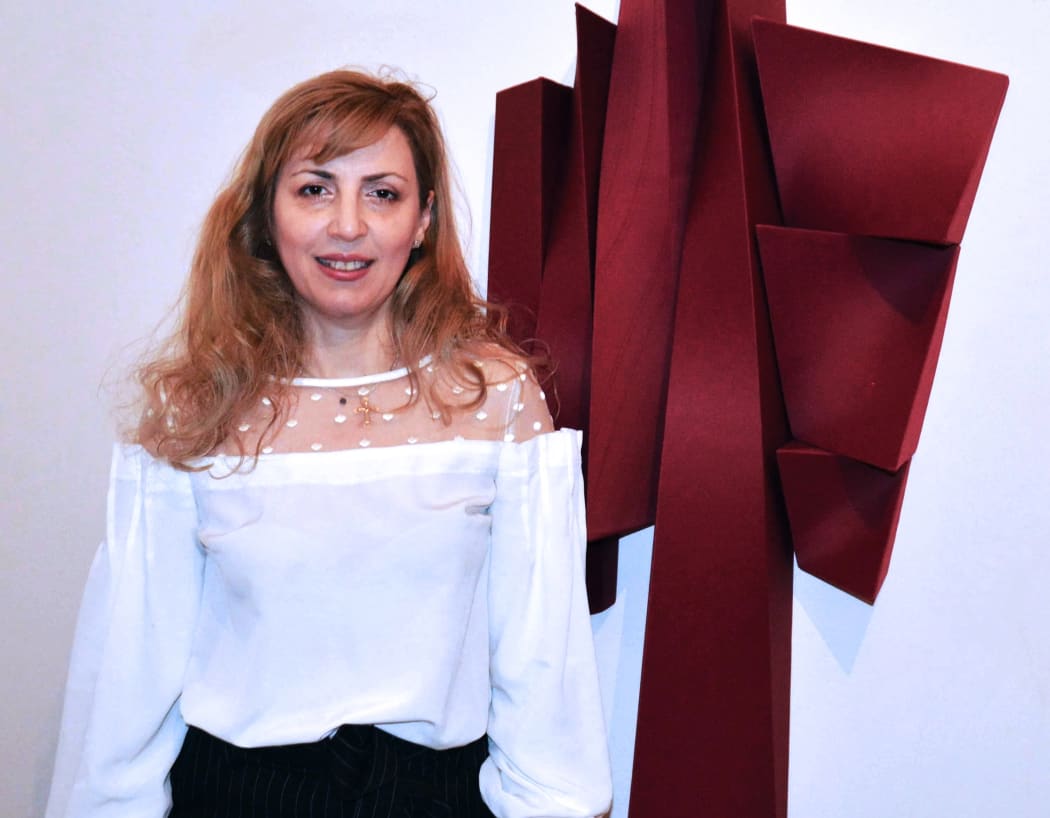 Rania Schoretsaniti is a Greek artist who draws on a rich cultural and artisanal heritage of craftsmanship, spirituality and family values. From a young age, she was taught the importance of self-sustainability, and her grandmother offered her valuable instruction on how to make things by hand. The core lesson being that in times of hardship you can draw on your strength and 'use your hands and your head' to make something of value and integrity in your life.
As a child, Rania grew up playing in the workshop of her family's furniture-making business, where she observed the mechanics of sofas being built from raw cuts of wood knocked together into frames before being clad by beautiful upholstered fabrics.
Nostalgia for the purity of this time is deeply imbued in processes behind her works, which range from energetic, abstract oil on canvases, such as "Big Smile" or "Pink Sky", to her finely rendered lines in ink and oil on canvas (like "Jacob's Ladder" and "Synanteseis").
But it is in her reliefs that the physicality of "using her hands" really comes into fruition. Every part of the soaring forms behind her works such as "Silk 1", "Sea" or her "Trikke" series are constructed by hand, starting with the wooden frames, which are covered in bright fabrics, many of which she hand-dyed using traditional techniques.
Rania describes her works as her "words" which she uses to interpret and express a conscious and subconscious experience of the world, and which form a bridge to the divide between the known and the unknown (Heaven and Earth). Her symbolic use of lines and ladders are conversations that express the choice we have as humans to take steps "and build" so that we evolve from a position of suffering to one of empowerment or enlightenment.
---

Lisa Johnston: THE STARTING POINT FOR A LOT OF YOUR WORK IS A PHILOSOPHICAL INQUIRY INTO THE HUMAN CONDITION, DRAWING INITIALLY FROM THE RELIGIOUS ICONOGRAPHY OF THE BYZANTINE PERIOD AND ALSO ON THE WORKS OF THE ABSTRACT EXPRESSIONIST AGNES MARTIN. WHAT IS IT ABOUT THESE SEEMINGLY DISPARATE ART FORMS THAT INSPIRE YOUR WORK?
Rania Schoretsaniti: Throughout history, the human condition is one in which we are faced with the effort to survive and to overcome obstacles to evolve and thrive as creative beings. The steps we have to take to improve ourselves as humans are similar to the processes an artist has to follow to create a piece of work.
In the Orthodox Byzantine tradition, iconography represents the decay of the physical world, and offers a solution by presenting the "new" in the depiction of heaven, in other philosophies this could be a state of enlightenment. My art exists in suspension between these spaces.
Similarly, Agnes Martin's work looked at Asian spirituality as a code of ethics and practical steps to get through life. Her dedication to contemplative repetition creates fields of a sublime spirituality that are a constant source of inspiration to me. The fields of abstract expressionism and the enormous scale of the works remind me of the limitless possibilities of the pictorial field.
LJ: THERE IS A RECURRING SYMBOL OF LINES AND LADDERS ACROSS MUCH OF YOUR WORK, WHICH ORIGINATED FROM THE MEMORY OF INDIVIDUAL STRANDS OF THREAD IN THE FABRIC IN YOUR FAMILY'S FURNITURE BUSINESS. HOW HAVE THESE SYMBOLS EVOLVED AND WHAT DO THEY MEAN TO YOU NOW?
RS: The lines and ladders form paths that individuals have to walk in everyday life. They are steady, ascending routes towards the ultimate outcome, which is to find a purpose in life. Each of the marks symbolizes the points in this journey and the success or failure of their fulfilment.
In works like "Synanteseis", I explore the idea of synthesis, or the experiences and inner journeys that are common to all human beings. The lines are similar and moving in the same direction, but no two lines are the same.
Similarly, in "Jacob's Ladder", which draws its name from the biblical story in the old testament. I have created a field of ladders. The work has five squares comprising vertical and horizontal lines which form a repetitive pattern of small ladders, which combine to make up a larger ladder in a motif, which is similar to that of a carpet.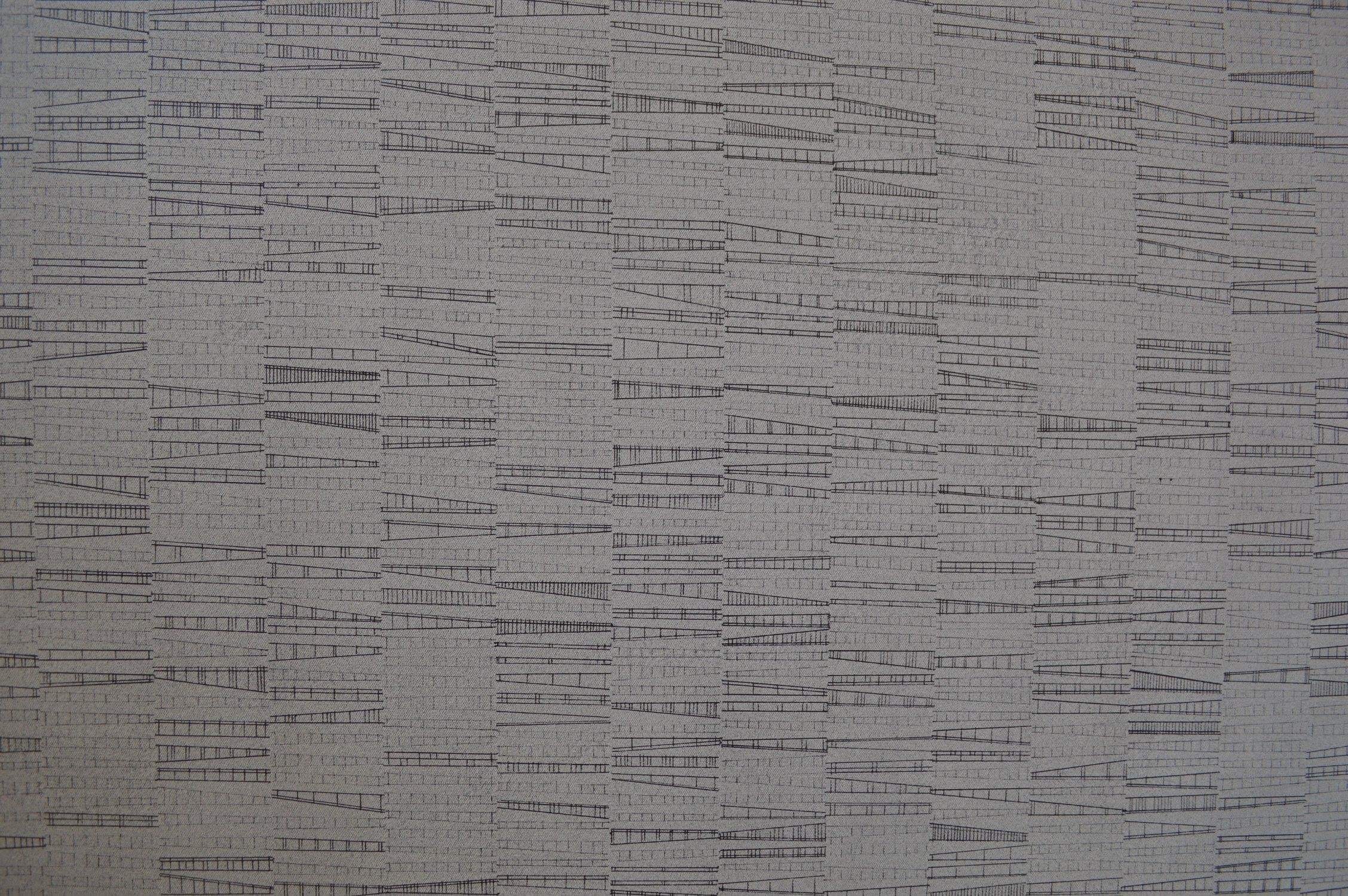 Rania Schoretsaniti, "Jacob's Ladder", 2017, ink, oil on canvas, 412cm x 80 cm (5 panels 80 x 80 cm each).

LJ: THE COLOR PALATE ACROSS ALL OF YOUR WORKS IS CONFINED TO BLACK, WHITE, REDS, YELLOWS (INCLUDING GOLD) AND BLUES. WHY ARE CERTAIN COLORS MORE IMPORTANT THAN OTHERS?
RS: Certain colors and shapes have a universal symbolism. For example, gold is valued for the actual preciousness, or material value, of the metal and has come to embody a spiritual preciousness too. Gold is used universally as a sacred color in religious iconography, whether it is in the Buddha's in Thailand and elsewhere in Asia, or in Christian iconographies, such as in the unified golden backgrounds of Byzantine mosaics. Red and blue were also used during this period to symbolize the Virgin Mary.
In ancient Greek painting, the colors were limited to red, yellow, black and white, which were derived from the natural pigments available but also supported by philosophical ideas. By mixing these, they increased their color range which they painted on frescos. I'm fascinated by these ancient marbles, so I draw part of my palate from there. But these colors also have a distinct impression on my memory. My mother used to love making carpets. I would go with her to my grandfather's village where she would buy raw wool, which I would help her dye with natural pigments into red, yellow and blue strands. I still use this traditional process to dye the fabrics in some of my relief works.
Black on the other hand, is a combination of primary colors and awakens a primitive instinct of creation and of the spiritual power of lines and gestures.
LJ: YOU BUILD YOUR LARGE-SCALE RELIEFS BY HAND FROM MEASURING AND CUTTING THE WOOD WITH HEAVY MACHINERY TO MAKING THE STRUCTURE FROM INDIVIDUAL COMPONENTS. WHAT MATERIALS DO YOU USE AND WHY? CAN YOU WALK US THROUGH YOUR PROCESS?
RS: Sometimes I start with an idea in mind; other times I just start drawing. Once the sketch is finished, the geometry of the work becomes clear almost immediately.
I work out the dimensions of individual pieces and cut them from plywood with a bandsaw. Plywood is easier to cut and to shape into multiple complex sides. Also, wood is an organic material and one associated with most religions.
Then I assemble the pieces to create individual geometric frames, which I cover in fabric. It might be a fabric that I've dyed by hand, or that I've bought from the market because a particular color appealed to me. The materials are chosen for practical and symbolic reasons. I look for the right fabric for the piece. I think of the structure as being like a skeleton, a human body, that needs clothes.
The individual geometric pieces are then joined together to form the desired structure.
I like to start and finish the project over four to five consecutive days, stopping only to eat and rest. It is a very peaceful process.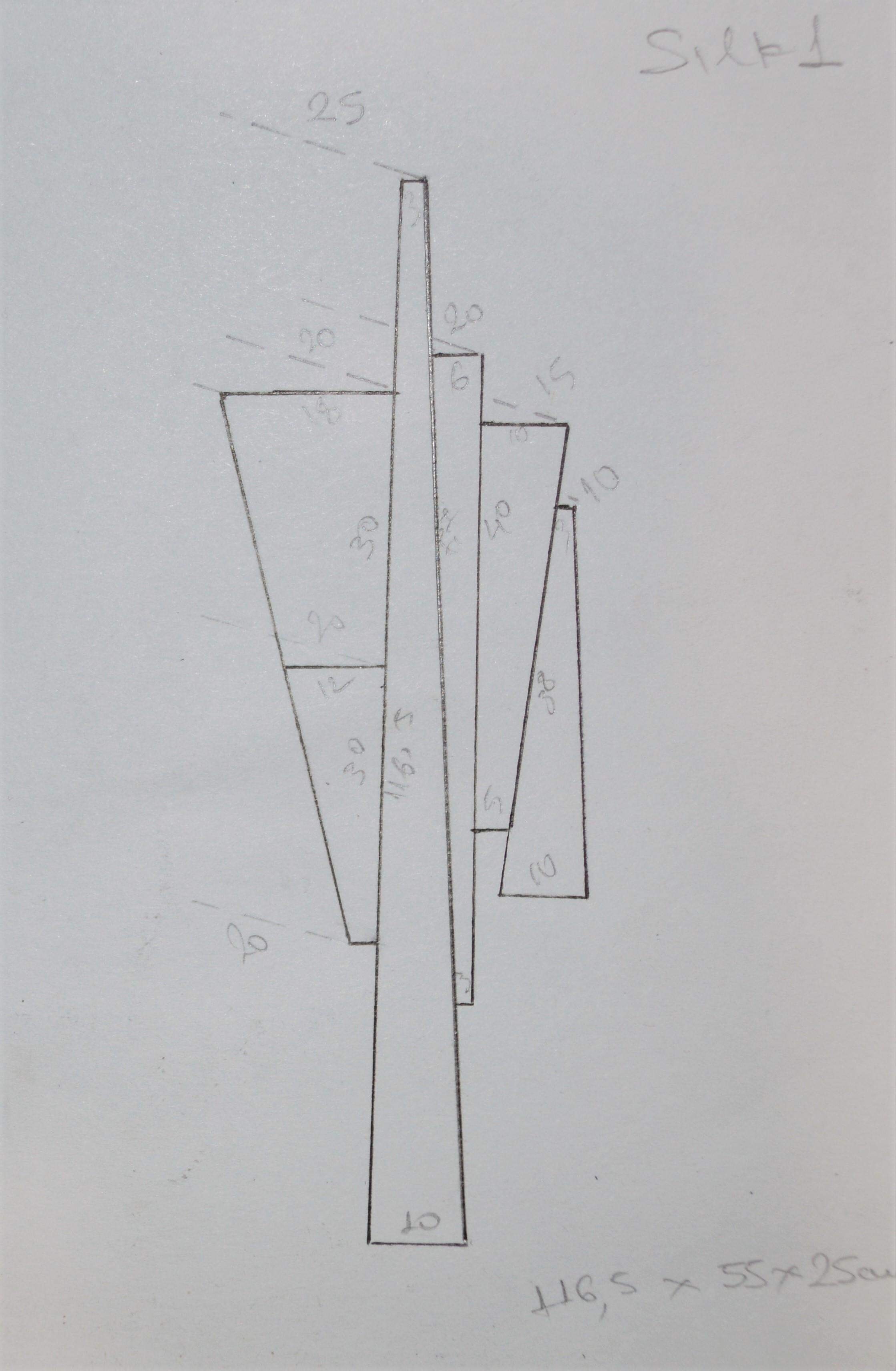 Rania Schoretsaniti, pencil sketch on paper of "Silk 1" relief sculpture
Rania Schoeretsaniti, "contrustion of "Red Trikke, 2019
LJ: YOU FREQUENTLY DRAW FROM THE PHILOSOPHIES, COLORS AND ART PRACTICES FOUND IN ANTIQUITY. WHAT IS IT ABOUT ANCIENT CULTURES THAT INSPIRES YOU?
RS: For my recent work "Silk 1", I used beautiful yellow and purple fabrics. I like to study ancient cultures from around the world and this particular work was inspired by a visit to the Acropolis and an exhibition at the Acropolis Museum – From the Forbidden City, which showcased objects from the apartments of Qianlong, China (1711-1799), including artworks, furniture, fabrics and personal items. I'm also inspired by the Byzantine silks, which were made for the alters of their churches and for priests' robes. There is something about the physical and spiritual preciousness of the fabric that appeals to me.
I love visiting old temples and ruins, it really brings calm and focus to my work. We have many ancient temples in Greece, but the internet has allowed me to visit many temples across the world.

The city of Trikala, where I come from, also dates back to antiquity and inspired my series Trikke. Trikala was built on the settlement of Trikke, which dates back to around the 3rd millennium BC. I've walked those streets since I was a girl visiting friends and family. They are the same streets walked by people from ancient times.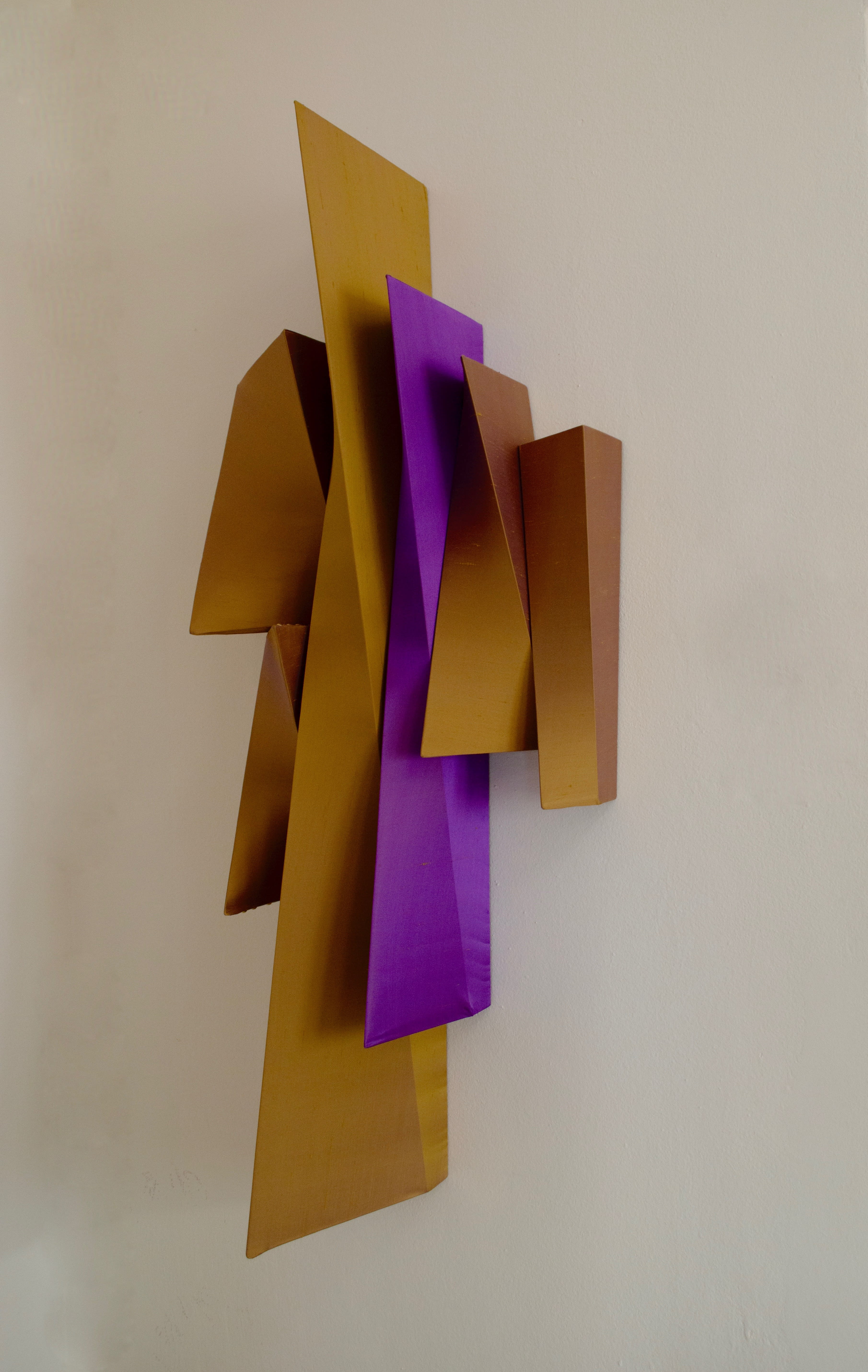 Rania Schoretsaniti, "Silk 1", 2019, silk fabric on wood, 117 x 55 x 25 cm.
LJ: YOU WILL BE EXHIBITING IN BANGKOK, THAILAND SOON. TELL US ABOUT SOME OF THE WORK YOU WILL BE SHOWING AND HOW YOU THINK THEY WILL TRANSLATE TO AN ASIAN AUDIENCE.
RS: I am currently working on a series of reliefs. I am in the process of constructing the wooden frames and researching and looking at a lot of images from Thailand to absorb the colors and energy of the place. I love the vibrant golds and greens found in Thai temples. I will use this information to select my fabrics.
The idea of transcendence and the journey humans take to get there is also a universal theme that is explored by both cultures.
The Thai and Greek cultures and philosophies are among the most ancient in the world, and I'm looking forward to exploring the similarities. For instance, there are certain symbolic colors and symbols that recur across both Greek and Asian philosophies. I'm certain that meeting people in Thailand and visiting the temples will be a learning experience, that will inspire future works.
View more works by Rania Schoretsaniti here
---
Ronewa Art Projects:
Friedrichstraße 171, 10117 Berlin, Germany
Hours: are Monday through Friday 14:00 to 18:00, Saturdays 12:00 to 17:00
By appointment only. Tel.+49 30 366 0878
Email: contact@ronewa.com Website: www.ronewa.com