Oksana Bergen is a visual artist living and working in Germany. She was born and raised in the town of Kedrovy Shor, in Russia. At the age of 15, Oksana and her family moved to Paderborn, Germany, where she now lives with her husband and their two sons.
I had the pleasure of interviewing Oksana where I was captivated by watching live demonstrations of her agile and graceful hands snipping paper, while the fine paper "hair" floated gently onto the table. Oksana skillfully cuts and shapes design elements unifying them to achieve works of art.
Ecologically minded, Oksana uses colored advertisement paper, choosing it for its malleability and stability for building her relief work. She collects unsolicited promotional print material most people would toss in the recycling bin. Instead of discarding it, she expertly manipulates this glossy, colored print material rendering it depth and elevating it to an aesthetic relief artwork. Oksana is like an alchemist of paper, transforming junk mail and imparting it with an aesthetic form, fundamentally turning "trash to treasure."
Oksana is represented by Ronewa Art Projects - Berlin, Germany.
---
Liz Elissa-Stuart: YOU STATE THAT YOUR CREATIVE POWER COMES FROM A CONNECTEDNESS TO NATURE, INSPIRING YOU TO WRITE POETRY. WHEN DID YOU FIRST DEVELOP AN INTEREST IN ART AND WHY IS PAPER YOUR MEDIUM OF CHOICE?
Oksana Bergen: Throughout my childhood in Russia,I spent a lot of time outdoors, and was inspired to express myself through drawing, painting and writing.
During a two year stay in the city of Nanjing, China, I studied the art of Chinese ink painting on bamboo paper. While living there, I explored innovative ways to up-cycle paper food packaging.
I choose to work with paper for its supple nature and versatility for exploring new techniques. The mechanical work of handling and processing the material is a satisfying experience in itself. Through my manipulations, I resurrect printed advertising material, granting it a new form.
LES: YOUR WORK TITLED "REFLECTION" APPEARS TO BE A COMPLETE SPHERE OR GLOBE OF FINELY COILED WIRE THAT PASSES THROUGH THE WALL AND CONTINUES ONTO THE OTHER SIDE. HOW DID YOU ACHIEVE THE ILLUSION OF A 3-DIMENSIONAL SPHERE?
OB: I constructed a tightly woven domed structure of raw paper "cables" on a satellite dish, which served as a mold. After drying, I lifted the finished 20cm deep structure off the satellite dish flipping it over, resulting in its arched form. Gold metal leaf was applied to the inner side of the mesh-like structure facing its black plexiglass support. From close proximity, a dim glow is perceptible from within. I surprise the viewer with the 3-dimensional effect of a globe appearing to pass through the wall.

Oksana Bergen, "Reflection" , 2018, paper, plexiglass, spray paint, gold leaf, 150 x 150 x 30 cm. "REFLECTION" SERIES: Image credit: Oksana Bergen
LES: METICULOUSLY ROLLING THOUSANDS OF THIN ROLLS OF PAPER "STRAWS" FOR CREATING AN ARTWORK ON THIS SCALE IS A MAMMOTH UNDERTAKING. CONSTRUCTING A RELIEF TO COVER A 1.5 METER SUPPORT WHILE STARTING WITH A "STRAW" IS FORMIDABLE. WHY DID YOU CHOOSE TO WORK IN SUCH A LARGE FORMAT?
OB: I create large-scale works to command the viewers' attention and field of vision, thereby stimulating a more intense emotional reaction. Large dimensions exercise more impact, focusing the viewers attention on their own sensorial perception and allowing them to make associations based on their own experiences.
LES: WHEN I FIRST SAW A PHOTO OF YOUR ARTWORK TITLED "ALIVE" (Red"), I ASSOCIATED ITS FAN-SHAPED DESIGN ELEMENTS WITH FEATHERS. CAN YOU DESCRIBE YOUR PROCESS FOR HOW YOU ACHIEVED IT?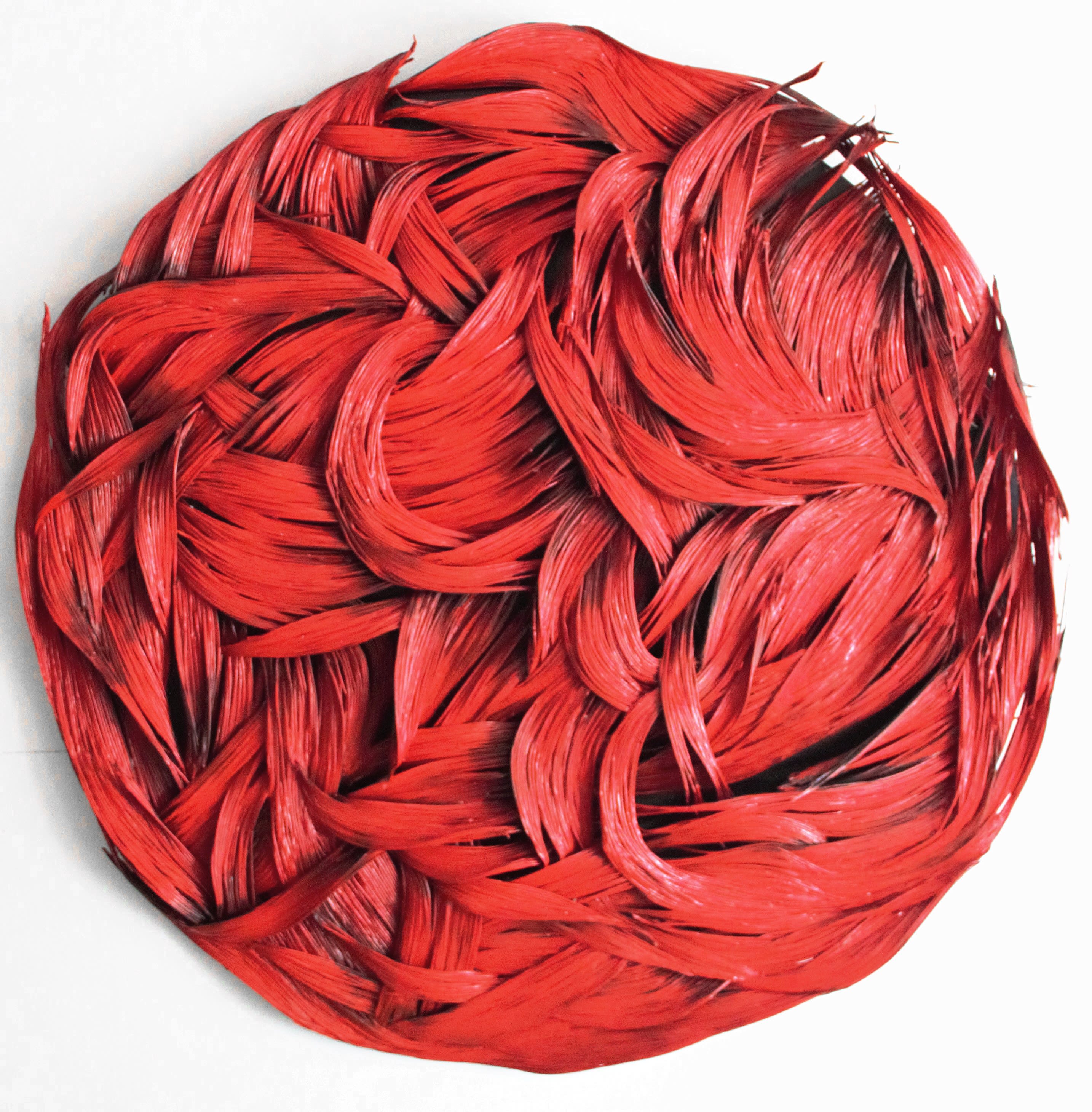 Oksana Bergen, "Alive" (Red), 2018, paper, red and black varnish on wood, 150 x 150 x 20 cm. "ALIVE" SERIES: Image credit: Oksana Bergen
OB: "ALIVE" is a relief composed of 3,000 organic paper elements mounted on a 1.5 diameter circular wooden support. I roll individual paper rectangles onto a sturdy metal wire resulting in hollow rolls. I later soak them in a glue paste to render them malleable, while adhering them to each other.
The individual design elements you describe as resembling feathers, are connected bundles of rolls. I carefully arrange and overlap them to achieve an aesthetic composition. During the seven-week drying period, these elements appear to struggle by rising and slightly unfurling. It is as if the elements are being reborn, and through this process the final form of the artwork takes shape. To ensure stability, the structural relief is coated with an additional layer of glue, varnished and mounted on a lacquered support.
LES: DO YOU ANTICIPATE CREATING MORE ARTWORK IN THIS SERIES OF LARGE-SCALE RELIEFS, AS IN YOUR PIECE "ALIVE", OR IN THE SCULPTURAL RELIEF "REFLECTION"? WHAT ARE YOUR CURRENT PROJECTS?
OB: I am currently making new pieces using the technique where I roll paper into thin rolls. This time I am reducing the surface area of the support to 70 cm in diameter, instead of 1.5 meters. These proportions are suitable for smaller wall surfaces and more modest spaces.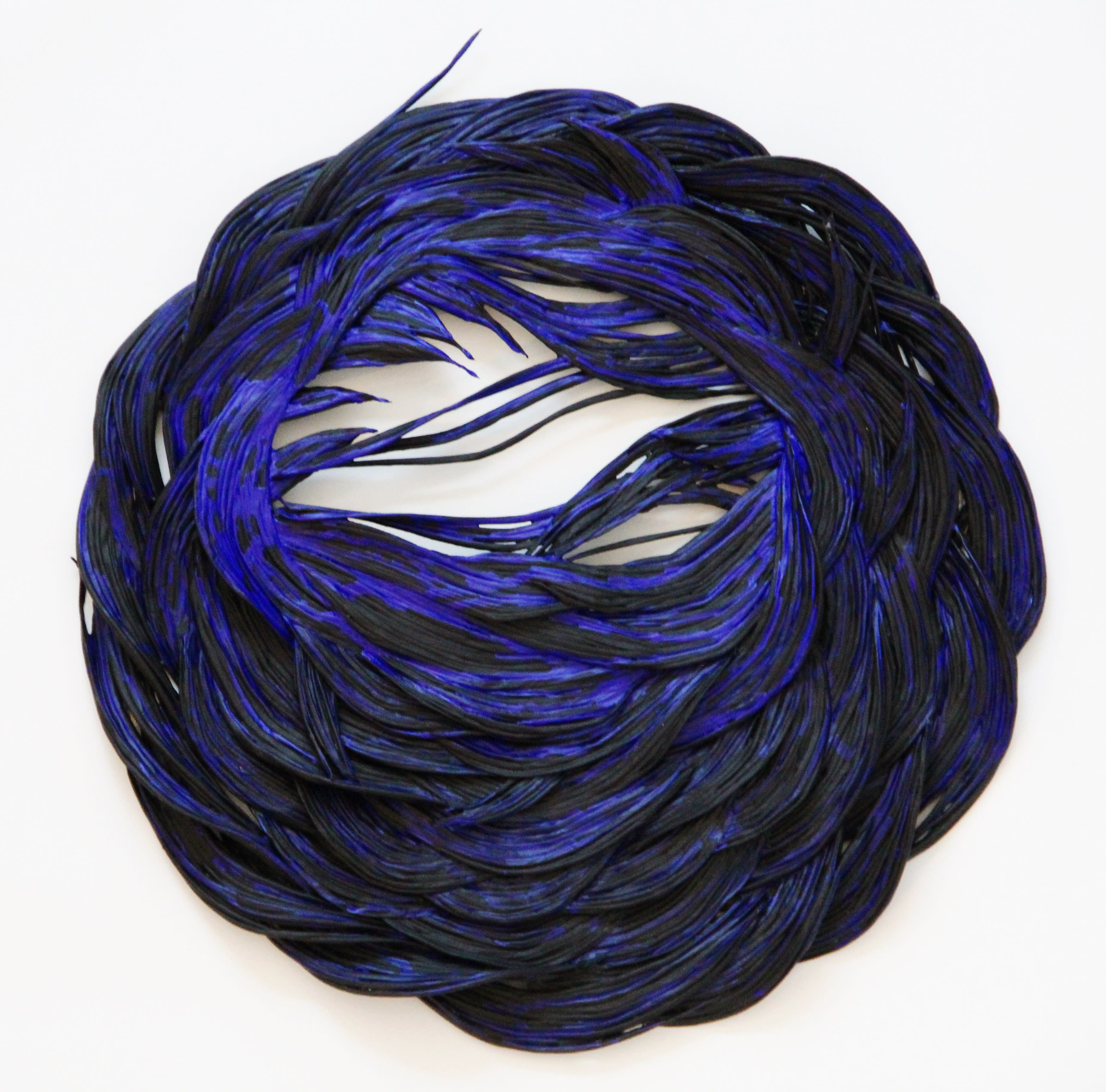 Oksana Bergen, "Alive" (Blue), 2018, paper, red and black varnish on wood, 60 x 60 x 4 cm. "ALIVE" SERIES: Image credit: Oksana Bergen
I also create paper structures by cutting fine paper "hair", which I arrange densely, until it resembles fur. The visual effects of the paper structure is determined by its length, whether the paper "hair" stands straight or is bent like blades of grass, combined with the direction in which the "hair" stands.
When cutting the paper, I cannot see the fine hairs I am snipping because, at a breadth of only 1-2 mm, they are narrower than the scissor blade. I audibly recognize if each hair has the same width by the sound of each snip. I can feel if the paper hairs all share the same breadth when I hold them between my fingers.
LES: AS YOUR ARTWORK IS A FUSION OF MANY SMALL PARTS, PAINSTAKINGLY FORMED AND ASSEMBLED TO CREATE LARGE COMMANDING SCULPTURAL RELIEF, DILIGENCE IS CLEARLY INTEGRAL TO YOUR WORK ETHIC. WHAT IS ESSENTIAL FOR THE SUCCESS OF A PROFESSIONAL ARTIST?
OB: Professional artists become successful through hard work and discipline. But being an artist also requires creative exploration of the medium, combined with an intrinsic desire for artistic expression.
I religiously reserve mornings for my artwork. During these sacred windows of time, I immerse myself in my work. At intervals throughout the day, I alternate between the more systematic preparation of rolling and cutting paper to create my design elements.
Paper offers limitless possibilities for the exploration and creation of new artwork. Given the endless supply of printed advertising material in circulation, I have a constant source of paper at my fingertips! It is an absolute luxury to be able to work as an artist.
---
Ronewa Art Projects:
Friedrichstraße 171, 10117 Berlin, Germany
Hours: are Monday through Friday 14:00 to 18:00, Saturdays 12:00 to 17:00
By appointment only. Tel.+49 30 366 0878
Email: contact@ronewa.com Website: www.ronewa.com