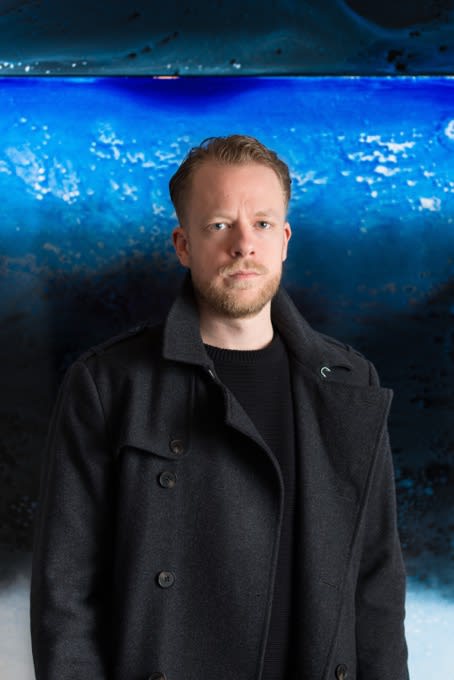 Veit Schmidleitner
German artist Veit Schmidleitner's paintings from his Coupure Series of abstractions fuse a sense of the industrial with inherent elegance that create new surfaces that defy tradition. These sometimes dramatically contrasting notions are brought together in compositions that evoke both a new visual topography and a sense of grace that nod to industrial roots, but that in some ways deflect traditional artistic methods.
The works range in scale from moderate to those that anchor an entire gallery wall, and as the spacious galleries include natural light at certain times of the day, many nuances and visual textures are revealed to the delight of the viewer.
At first glance, compositions appear to feature a traditional paint application of washes that harbor the subtlety of watercolor work, but there is more. A variety of color tones and greys that shift and evolve of their own accord take over the compositions. In some areas, there are bursts of intense color that grab the eye and interrupt initial readings. Simultaneously, curiosity is piqued as these works have what appear to be a mix of traditional and industrial pigments, and high-gloss varnish that gives the work an extreme polish or sheen that is intriguing. The treatment of surface is reflective and as the viewer approaches the work they may see their reflection and elements in their space. This is not a classic painting approach, it is something very new indeed.
Schmidleitner creates with cut panels that are often times irregular, but that are joined to make finished stable rectangular or near-square compositions. Orientations may be primarily vertical or horizontal depending on the piece.
I had the opportunity recently to speak with Schmidleitner by Skype and also in person in Berlin, before the vernissage.
---
Michele Colburn: I UNDERSTAND YOU HAVE WORKED EXTENSIVELY WITH METALS IN YOUR EARLIER SCULPTURES AND WHEN YOU WERE AN APPRENTICE USING INDUSTRIAL PAINTS AND TREATMENTS ON METAL. YOUR PAINTINGS CLEARLY INCLUDE A SKILL LEVEL AND KNOWLEDGE OF MATERIALS FROM THOSE YEARS. HOW HAVE YOU ACHIEVED THESE INTRIGUING SURFACES IN YOUR PAINTINGS?
Veit Schmidleitner: My process is one that incorporates many aspects and complexities. I work on a variety of metals such as steel, aluminum, and copper. Initially, I cut the metal into pieces and begin with a specific primer on the metal and add abrasion techniques, after which paints are applied in layers by spraying. Media includes industrial paints, gouache, and other media. My process also includes a heat treatment, meaning the work is literally baked at one point and the color fuses to the panel.
MC: THERE ARE BEAUTIFUL ANOMALIES THAT APPEAR ON THE SURFACES THAT ADD INTEREST AND CREATE VISUAL TEXTURES AND DEPTH. HOW DO THESE MATERIALIZE?
VS: Once the primer is applied, I hand-abrade the surface. Although I use a variety of machine tools for metal work and painting, it is important to me to have hand work in my process. Not only is paint applied directly onto the surface, but I create a grid-like support system that allows me to work with the panels and sometimes drill small holes into them that allow me to introduce or inject paint in another way onto a panel. The painting application that sometimes appears to be rather expressionistic and untamed is actually quite manipulated with specific guidance and intent. I know precisely what actions will produce what forms and even control the pooling of the paint.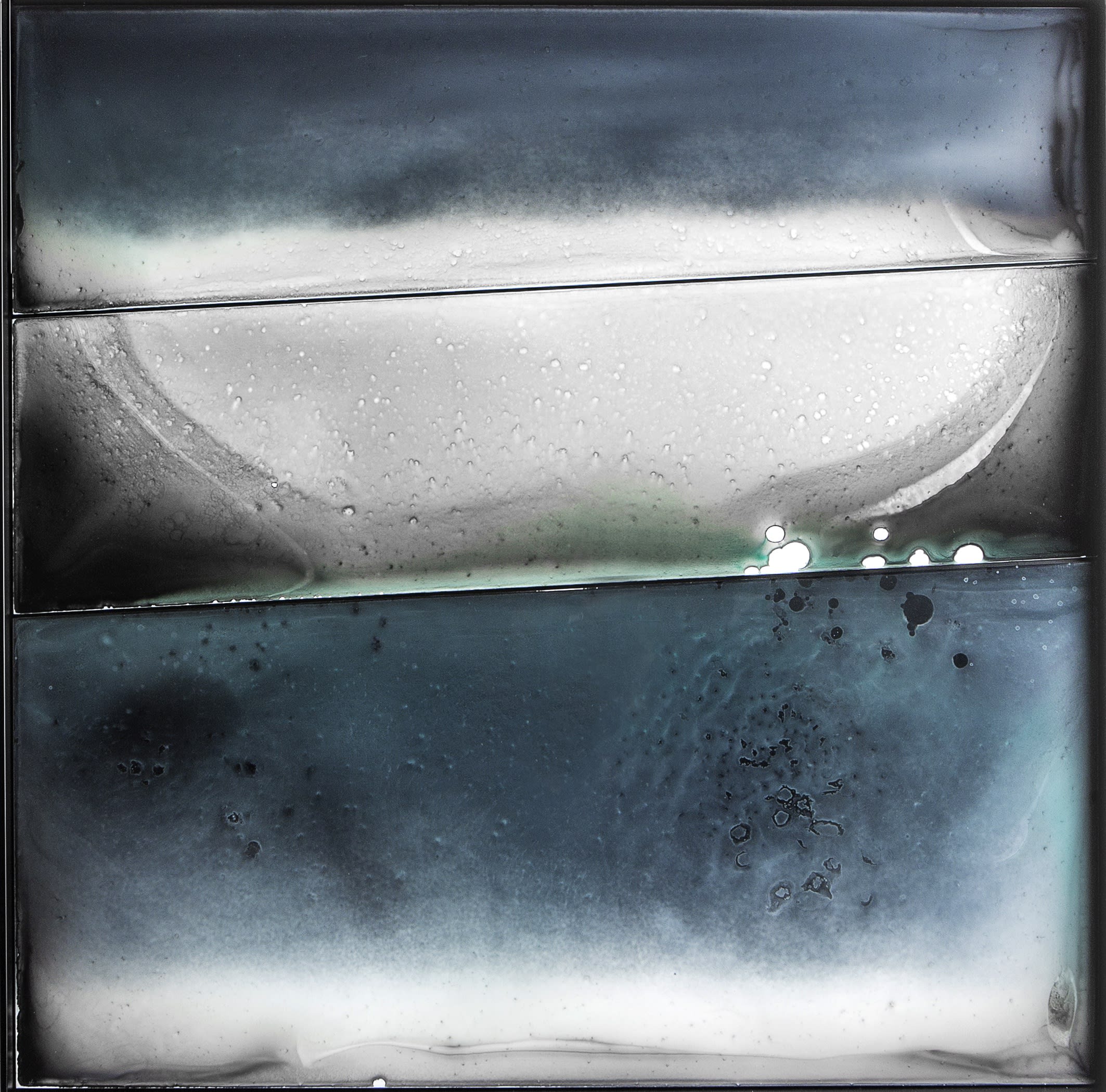 Veit Schmidleitner, "Coupure n. 14", 2017, varnish, gouache: black, white, phthalic green, on steel panels, 80 x 80 cm
(aluminum frame)
MC: YOUR WORK HAS HIGH-GLOSS, HIGHLY POLISHED INDUSTRIAL SHEEN ABOUT IT. HOW ARE YOU ACHIEVING THIS ASPECT IN YOUR WORK?
VS: I am personally interested in and have studied Chinese applications of finishes and lacquers, which are quite traditional and ancient. I have studied their craftsmanship and the precision of their approach. This has been an inspiration to my work. I use multiple layers of clear coat.
MC: YOUR PROCESS IS QUITE LABORIOUS WITH METICULOUS CRAFTMANSHIP. HOW LONG HAS IT TAKEN YOU TO DEVELOP THIS HIGHLY TECHNICAL AND UNIQUE PROCESS OF WORKING?
VS: I have been developing, working with, and evolving this process for close to five years now. It is quite intensive. I know how the paint is going to react in instances when I apply it by using spraying methods. I can guide and control the output and results.
MC: WHAT HAVE BEEN SOME ARTISTIC INFLUENCE FOR YOU AND YOUR WORK?
VS: I am very interested in the work of American painter Mark Rothko and extremely concerned with surfaces and surface treatments, and what can happen in terms of applications and combinations of techniques. Rothko mastered many aspects of this idea and I find his work fascinating.
MC: WHAT IS UP NEXT FOR YOU?
VS: Well coincidently, I was recently in a group show in London with the Store Street Gallery. I am currently working on a new series of paintings, and after my solo exhibition here at Ronewa Art Projects, in Berlin, I may participate in an exhibition at Art Basel later this year.
Many of the works in this exhibition by Schmidleitner offer a variety of experiences. The surfaces often take on a life of their own as fluctuations in intensity of paint and visual elements create a variety of textures.
Although Schmidleitner's paintings appear completely abstract in nature, one cannot help but see relationships to landscape, topography or geography. Although cut and fragmented purposefully by the artist, metal panels are combined into cohesive compositions, but there is a sense of disruption.
As we view the work, we are taken on a journey through compositions that are atmospheric, but that sometimes remind us of land or geological strata or some sort of inclination towards stability or regularity, yet nothing is static at all.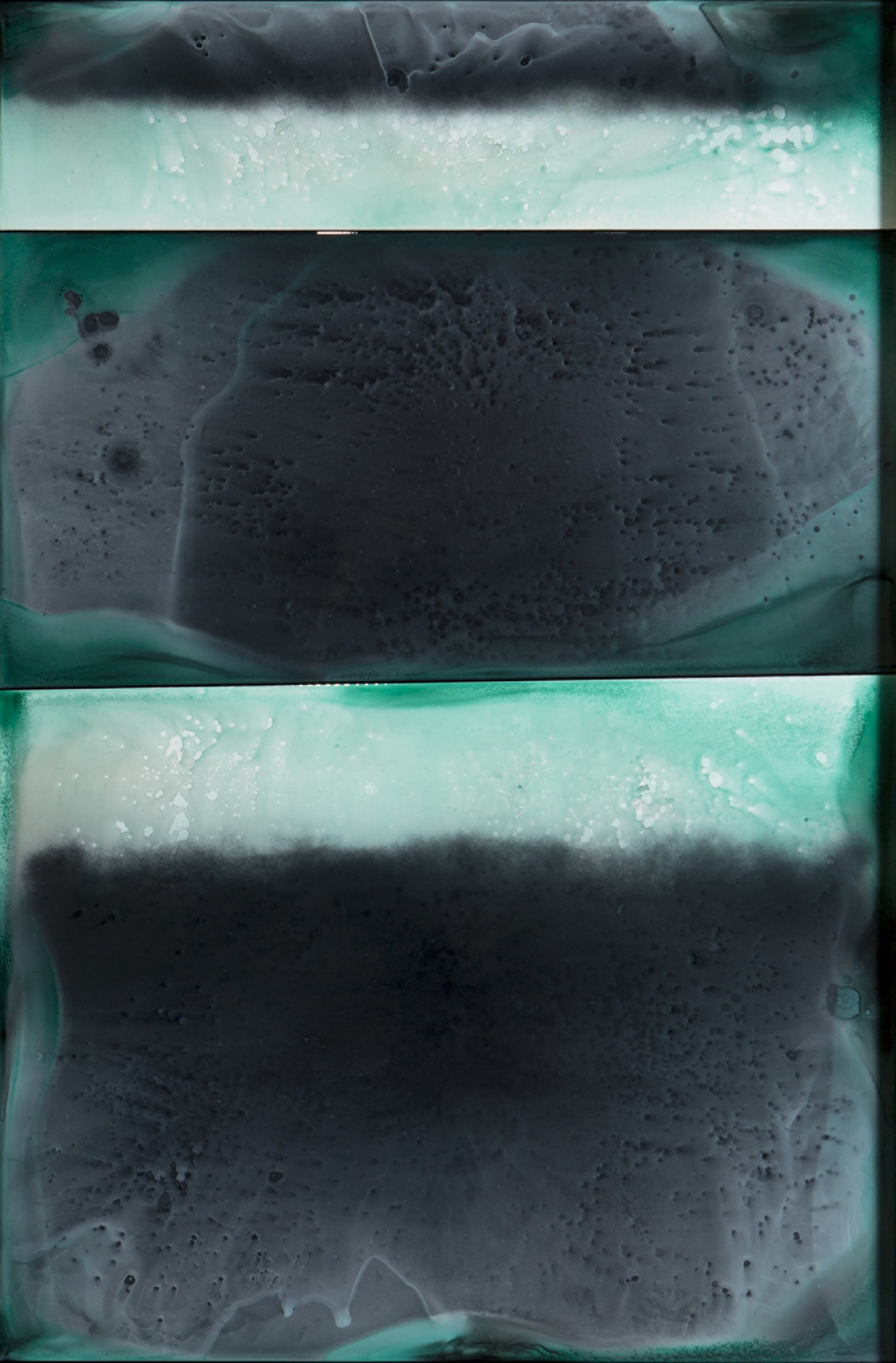 Veit Schmidleitner, "Coupure n. 20", 2017, varnish, gouache: black, white, ultramarine blue, on steel panels, 180 x 120 cm
(aluminum frame)
The application of paint and the combination of panels create a sense of instability. In other paintings, we see movement as if a planet is forming in some unknown cosmos. This evocation of the primordial parallels the process of the artist that includes fusions of materials, heat and pressure, as well as reactions that culminate into something new and exciting.
Veit Schmidleitner, "Coupure n. 12", 2017, varnish, gouache: black, white, ultramarine blue, on steel panels, 180 x 120 cm
(aluminum frame)
---
Veit Schmidleitner's exhibition "Coupure, Cutting Through Spaces" continues through Wednesday, April 5, at 18:00
A finissage will take place at the gallery on Thursday, April 6 from 18:00 - 20:30.
Ronewa Art Projects:
Friedrichstraße 171, 10117 Berlin, Germany
.
Hours: are Monday through Friday 14:00 to 18:00, Saturdays 12:00 to 17:00
By appointment only. Tel.+49 30 366 0878
Email: contact@ronewa.com Website: www.ronewa.com